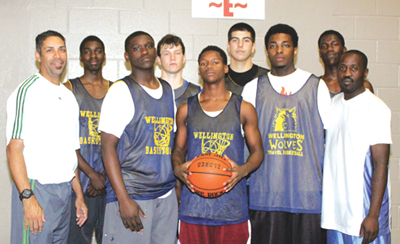 This summer, Wellington children interested in basketball will have an opportunity to learn from the best as the Wellington Wolves Travel Basketball Association will offer free clinics starting in August.
"We take a month off and host these fundamental clinics," Wellington Wolves President Chris Fratalia said. "Anyone can come, but ideally it's for children interested in playing travel basketball. They're free, but it's limited to maybe 15 or 20 kids."
The free clinics are funded by Wellington and provide an opportunity for kids who enjoy the game to learn better skills.
Fratalia said that those interested can find out more information by visiting the association's web site at www.wellingtonwolves.com.
The organization will end a banner season this summer, with several Wolves teams making waves in the Amateur Athletic Union national championship tournament.
"Our sixth- and seventh-grade teams are at nationals right now," Fratalia said. "Then our eighth, ninth and 11th teams will be going next week."
The organization will hold its tryouts for third- through eighth-grade students in November, with competition to begin in January. In February, the teams will hold tryouts for ninth- through 11th-grade teams, and the popular March Madness tournament kicks off the season with a bang.
"We completely sold out this year," Fratalia said. "This is our fifth year selling out our tournament. Really, the whole travel basketball season kicks off at our tournament. We use gyms all across the western communities, and we get more than a hundred teams from all over the state to come play."
Currently, the Wolves are looking for businesses to sponsor needy children who want to play travel ball but can't afford it.
"We gave out 11 scholarships to financially challenged families for the first time this year," Fratalia said. "We paid for them, through the organization, to be a part of it. They had to fill out an application and show financial need. We wanted to give kids who normally wouldn't be able to play a chance."
And not only do the players benefit from the game of basketball, but they also have opportunities to be recruited for college, he noted.
"We already have colleges that have approached some of our players," Fratalia said. "We have relationships with high school coaches. The coaches at Wellington and Palm Beach Central high schools are on our board. It benefits them because when these kids come to school, the coaches know they have a good foundation."
Above: Coaches Carlos Pino (left) and Ronald J. Jacques (right) with members of the 11th-grade team.