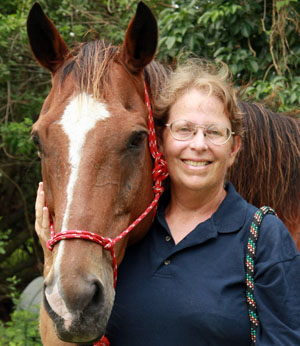 TAILS FROM THE TRAILS
I first met Jennifer Dachton some weeks back at the Caloosa Extreme Trail Challenge, and she impressed the heck out of me. She was the first entry into the pasture, and her horse, a tall gray named Nirvana, negotiated every obstacle quietly and willingly, even the really scary dummy drag. But what made their ride so remarkable was Nirvana's tack. Dachton rode the Thoroughbred not in a bridle but in a halter with two lead ropes attached. Now, that was confidence.
A native Floridian, Dachton said she probably learned to ride before she could walk, and horses have always been a big part of her life. Her heart is especially touched by horses and other animals in need, so she decided to do something to help out.
"Just in traveling around, it seems as if I'm always coming across animals who need help," Dachton said. "A stray kitten, a starving horse, and especially Thoroughbreds off the track at Calder who are done racing and now need good homes. I began taking them in, and soon I was getting known for that, so more people started contacting me. That's when I decided to get organized."
Dachton and her friend Nancy Piacentino, who both live in Broward County, formed a nonprofit corporation this past January and run the small rescue group Erinwood Elite Animal Rescue in Southwest Ranches, near Davie. They take in any kind of animal, whatever they have room for: cats and dogs, lots of farm animals such as chickens, geese, cows, pigs and alpacas, and, of course, horses.
"A lot of the horses we get were originally off the track, given free to someone who had no idea what they were getting into," Dachton explained. "All they see is a gorgeous horse, plus it's free, so they say yes. Then all the trouble starts."
Dachton said some of the horses she gets have been starved or neglected, but more of them have been abused or misunderstood, because the new owner simply didn't have enough horse background and knowledge. A 3- or 4-year-old Thoroughbred that has been raced is not exactly a quiet, backyard mount. Until after Dachton works with it, that is.
"We are limited, in terms of time, money and space," she said. "Right now, we have two rescue horses. We just adopted out three, two to North Carolina and one to Naples, Fla."
The most important thing is making sure these horses are a good fit with their new owners. "I take a lot of time talking with them, finding out about their riding and horse ownership background," Dachton said. "I have them come out and ride the horse here with us five, six, seven times. I get to know them and watch them interact with the horse. I check their references, from their vet, neighbors, friends. I want to know how they treat their other animals."
So far, she hasn't had a problem with a placement.
"We've been very lucky in placing our horses. No complaints yet," Dachton said. "We also do a lot of follow-up calls and visits, to make sure everyone's still happy and healthy. People who adopt from us sign a contract, which states that they're not allowed to sell or give the horse away unless the new owner has also been approved by us."
The two horses she is currently working with are a 4-year-old Thoroughbred gelding, very sweet, relaxed and 100 percent sound who has never raced. The other's a paint mare whose former owner ran out of resources. Like Nirvana, they were lucky to end up with Dachton.
"Nirvana's like the poster child for rescue horses," she laughed. "He raced, he got older, no one wanted him, and keeping a horse is expensive."
When a woman named Linda was offered this gorgeous gray horse for free, she said yes, even though she knew nothing about horses.
"She brought him to a nearby barn, and rather quickly found out how dangerous things can get," Dachton said. "After she fell off and broke her arm, she knew she need a lot of help, but trainer after trainer told her the horse was unrideable. Finally, she contacted me — not to train the horse, but to help her rehome him. I came out and rode him."
It wasn't easy at first. "He was a handful. He bucked, he freaked out at everything, he bit other horses and ripped out the crossties in the barn," Dachton said. "He was very smart, but something was definitely wrong with him. I had a vet check him for ulcers, and sure enough, he had terrible gastric ulcers, which is common in race horses because of their diet, routines and their stressful lifestyle."
Dachton took Nirvana, started him on Ulcer Guard and changed his diet, especially his hay.
"I put him on straight alfalfa, which people think makes a horse hot, but that's incorrect. I made sure he had lots of turnout time with buddies, so he could be a herd animal again," she said. "I worked with him for at least a year, and he changed completely.  Now he's 6 years old, and Linda rides him safely at the walk, trot and canter, and he'll do just about anything quietly."
Dachton's goal is to help all kinds of animals and to place the right animal with the right owner, especially horses.
"There are hundreds and thousands of really nice horses out there looking for a good home," she said. "Not all of them have issues. But each one can be someone's special, perfect horse."
Contact Erinwood Elite Animal Rescue at erinwoodrebel@aol.com for more information.