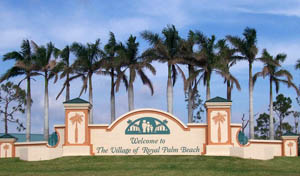 The Royal Palm Beach Planning & Zoning Commission last week recommended denial of a request to grant village staff authority to approve signage for national logos.
The request came as part of a June 26 discussion regarding signage for a Pet Supermarket store in the Village Royale Shopping Center at the northwest corner of Royal Palm Beach and Okeechobee boulevards.
The applicant wanted the right to use its national colors of red and yellow in its signage.
"We do have some history here that some centers have had the ability to put their national logo on either the monument sign or the wall sign, and in some instances, they have been able to get them on both," Development Review Coordinator Kevin Erwin said.
Erwin pointed out that Village Royale's current color criteria is red, but Wells Fargo got its company colors on the monument sign with some compromise on the wall colors. He added that Bud's Chicken and Burger King got their colors in the center's signage as well.
Robert Eisen of Government Process Services, representing Pet Supermarket and the shopping center's owners, said the village's code requires that national trademarks be given strong consideration. Eisen noted that Pet Supermarket has 133 stores across the nation.
Furthermore, Eisen said the center is also requesting that future sign approvals only require staff's OK.
Commissioner Jackie Larson said the zoning panel has strived for consistency in the past, but that there has been some confusion over a nationally registered trademark and a national company. Her goal is to make sure that such approvals do not get out of hand.
"We're not trying to be like some municipalities where if you don't know where something is, you can't find it, signs or not," Larson said. "But we don't want to reach the point where some things are so glaringly unattractive."
Other than that, Larson said she would have no problem with allowing staff to approve and make the applicant's job easier.
Commissioner Michael Newkirk, coming from a business standpoint, said branding is everything. "I want to take a holistic look at this, but businesses spend billions of dollars researching and knowing what they've got to have, from branding, to signage, to trademark," he said.
Newkirk said he would rather err in favor of the business than require that a business have an all-red sign that might be detrimental to its success.
"What looks worse to me is a business whose sign has been ripped down and a door that's closed," Newkirk said. "I really think it's time to look beyond consistency just for consistency's sake."
Commissioner Richard Becher said village ordinances currently grant the commission authority to review changes, and the ordinance would have to be rewritten in order to turn that responsibility over to staff.
Erwin said staff level review only would be to affirm that they are a national company.
"You're not abdicating your authority," Erwin said. "You're just saying that the criteria for the center are red signs for local tenants, but for national tenants, if they can show that they have whatever number they need to make them national… it would be up to staff to determine whether or not they meet that threshold."
Erwin also pointed out that national tenants tend to occupy more space and serve as an anchor tenant, and that regulations for the size of the signs would still apply.
Commissioner Darrell Lange said he had a problem with blanket approval of a master site plan, and that he agreed with Newkirk's point that regional businesses such as Publix have high local recognition, although he has seen Publix signs in teal and pink.
"The idea is to have that consistency, and to allow the commission to make those concessions," Lange said. "The idea is to allow more people to have that input, especially when you have ordinary citizens up here volunteering to make those suggestions."
Lange added that some national companies such as Wells Fargo, that were adamant about their national logo, were ultimately persuaded to tone down some of their colors. "You want something that's pleasing and you want something that's successful for the business," Lange said.
Commission Chair Barbara Powell said she agreed that the commission's input is important.
Lange made a motion to recommend denial of the application for blanket approvals, which carried 5-0.
Lange also made a motion to approve Pet Supermarket's request to allow the national colors of red letters on a yellow background for the wall sign, but require that the monument sign have consistent colors of red letters on a white background and allow the national trademark font, which carried 5-0.
The commission also recommended denial of an application by Inland Western Royal Palm Beach Commons located on State Road 7 south of Southern Blvd. to modify its previously approved master sign plan to allow for national brand logos, letters and colors of signage. Lange made the motion, and it carried unanimously.
In other business:
• The commission recommended approval for a storefront church in the Royal Plaza shopping center. The Potter's House, a congregation of about 60, previously has been meeting in various locations.
Erwin said the church will be in the northwestern building of the plaza, located at Royal Palm Beach and Southern boulevards.
The Potter's House Executive Pastor Leslie Colon said the church has been in the area since 1999.
"We have been a mobile church, so we have been located in the Royal Palm Beach Cultural Center and also in Loxahatchee Groves Elementary School," Colon said. "We have an opportunity to go into a permanent facility where we can, we believe, better serve the community by being permanent."
The church will be holding services on Sunday at 10 a.m. and on Wednesday at 7 p.m. "We are excited about the opportunity," Colon said.
Lange said it was nice to see activity returning to the shopping center. "That is the fourth or fifth in the last few months," he said. "It was getting empty. Now it's getting full real quick."
Newkirk made a motion to approve the application, which carried 4-0 with Larson absent.
• The commission also recommended architectural approval for Primary & Urgent Care Center at 11476 Okeechobee Blvd. to replace wall and monument signs.
Erwin said the center is in the neighborhood commercial zoning district composed of numerous small businesses each with small individual monument signs. "They are all back from the road quite a distance," he said.
The application asked to essentially reverse the colors from maroon letters on a white background to white letters on a more reddish burgundy background, moving the phone number from the bottom of the sign to the top.
Lange asked about the phone number being moved up, which had been a subject of discussion in an earlier application. Erwin said he reviewed the application with the village attorney, who said the commission's responsibilities do not include sign content, but size of the sign itself.
Commissioners also asked that landscaping be restored around the bottom of the sign. Lange made a motion to recommend approval with the condition that landscaping be restored, which carried 4-0.