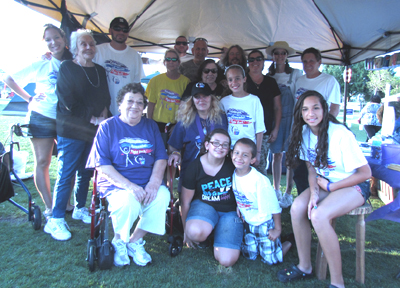 Two-time cancer survivor Diane O'Connor is asking for support from the community for the 2013 American Cancer Society Loxahatchee/Acreage Relay for Life. As the 2013 event chair, she is gearing up early, recruiting committee members and getting fundraising efforts started.
The theme for the relay is "Carnival," and it will take place April 13-14 at Acreage Community Park. The event consists of teams of community members, ranging from cancer survivors to local students, gathering to camp out overnight to raise money for the American Cancer Society's programs and services in the community. The relay includes a survivors walk and dinner, live entertainment, food, games and various activities.
According to O'Connor, the 2013 relay will be a little different from the 2012 event. It will be opening to the public at noon, earlier than in previous years. "We are gearing it more toward the community and family, so that people with kids can bring them out to the relay in the daytime," she explained.
Guests will be allowed to stay until 11 p.m. "The general public after that has to leave, and then we will have it only open to relay teams and committee members until 6 a.m. the next morning, when it ends," she said.
This will give the community more time to participate in the relay and support the cause. "We want people to come out and have fun," O'Connor said. "Starting earlier will definitely help us raise more money."
O'Connor is looking for a team development chair — someone who has a passion for helping cancer victims and their families. The chair would be responsible for creating a subcommittee for team retention and team development. "These people recruit new teams and keep in touch with other teams to make sure that the other teams are still on board," O'Connor said.
This is an important role, and O'Connor really needs people who are willing to give it their all — "someone who knows their community and is strong-minded enough to run the committee, and make sure they are doing what they are supposed to do," she said.
The team development chair will also be involved in all events and fundraising initiatives leading up to the relay next year. "For example, we have the Acreage Fall Festival coming up Nov. 3," O'Connor said. "We are going to have a float where we will be giving out candy to kids and cards about the relay."
O'Connor is also looking to put together several relay committees. She needs a fundraising committee, someone to control web content and someone with accounting skills. "This person would be responsible for tracking all the money that comes in," she said.
There also needs to be a preparations committee for the actual relay event. "There's quite a few committees, and I want the community to be involved and be a part of them," O'Connor said.
The committees will be putting together events throughout the year to raise awareness and money. "We are going to be doing community garage sales, bake sales and all types of fundraisers around the community so that we can keep everyone involved," O'Connor said.
Money raised from the Relay for Life provides many services for cancer patients, from research to uplifting personal activities. Some of its services include Camp Rock for children suffering with cancer, a 24-hour help line for people having a difficult time emotionally and Look Good Feel Better, a program that sends volunteers into hospitals to give makeovers to cancer patients.
"This is all about the survivor," O'Connor said. "We want as many survivors as we can."
After the kickoff, the survivors will be given a ticket, which will allow them access to have lunch at any table during the relay. "Then before the luminaria ceremony at 6 o'clock, the survivors are going to have a beautiful sit-down dinner, which will be catered," O'Connor said.
The next committee meeting will be at 6 p.m. on Monday, Sept. 10 at Horizon Baptist Church, 12965 Orange Blvd. in The Acreage.
For more information, e-mail dslyder522@aol.com or call (561) 904-9196, or visit the 2013 Loxahatchee/Acreage Relay For Life page on Facebook.
Above: Diane O'Connor (center with hat) with her family and relay team at the 2012 event.