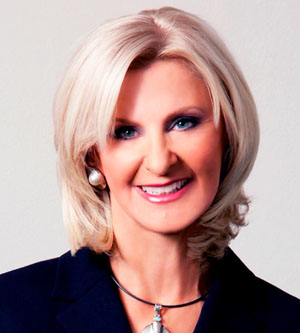 Palm Beach County Clerk & Comptroller Sharon Bock is hoping residents see her experience and dedication, granting her a third term in the Aug. 14 primary election.
Bock faces opposition from mortgage fraud activist Lisa Epstein. Both Epstein and Bock are Democrats, but since there are no other candidates in the race, this month's primary is open to all county voters. The winner will claim a four-year term.
"I have the experience," Bock told the Town-Crier. "There are very few constitutional offices that you can start from scratch. The one I assure you that you cannot start from scratch is the clerk's office."
Bock earned her bachelor's degree from Slippery Rock University in Slippery Rock, Pa., and her law degree from South Texas College of Law. Prior to working for the clerk's office, she spent 25 years in the private sector as a financial consultant, general manager, real-estate lawyer and title company owner.
She joined the clerk's office in 1998, when she was hired as chief deputy for court services. In 2003, she was promoted to chief deputy clerk.
Bock said that her experience prompted then-Palm Beach County Clerk Dorothy Wilken to hire her and, later, to ask her to run for office.
"I was the first attorney ever hired to run the court system," Bock said. "I brought in a lot of private-sector efficiencies and ideas, but I also learned a lot. By the time the seven years were up, I was ready to take the job [of clerk] over and hit the ground running."
Bock was elected in November 2004 and re-elected in 2008. In her time in office, Bock said she has helped to professionalize the staff and make the office more efficient, all in the face of a shrinking budget.
"My top accomplishment is my staff," she said. "Over the last 14 years, I have really professionalized the office. When you come into the office, they may call them clerks, but what you are getting is a professional."
Bock said this is especially necessary given the budget cuts her office has faced, which led to layoffs and the closing of the office's Royal Palm Beach branch.
"I was cut 25 percent in the last three years," she said. "That was 111 positions I had to lay off."
Bock pointed out, however, that her office sends about $250 million each year to the state in revenue but gets back only $29 million for its budget. "There is more than enough money for Palm Beach County coming out of the pockets of its citizens," she said.
One of the ways she has helped to maximize efficiency in the office is by reclassifying employees' positions based on the work they actually do.
"We hired a consultant who is reclassifying every single job," Bock said. "We now go in and see what it is an employee does, and we have been able to consolidate functions under one person."
This process has also provided an opportunity for Bock to evaluate where technology can help save time and money. "We have begun the process of finding out where we can use technology, and actually allow better use of the time for each member of our staff," she said.
Every four years, Bock drafts a new strategic plan, and this time technology is at the top of the list. "We are moving from a complete paper environment to a paperless environment," she said. "It's a complete digital environment. That means that everyone who uses our courthouse will be using it digitally."
Bock said she does not believe that having Palm Beach County's new Office of the Inspector General is a duplication of services, as the clerk's office continues to have oversight.
"The inspector general actually has to come to me to get records," she said. "Without some controls on the inspector general in terms of policy and funding, could that office potentially become an uncontrolled bureaucracy? Of course it could. Do we have to keep an eye on any government agency? Yes."
In light of a lawsuit regarding financing of the office, Bock decided to hold $315,000 sent last year by the municipalities, a decision many have criticized her for.
Bock said that she is tasked with making sure all money that is paid through her office is in the budget, lawful and serves a public purpose. But the lawsuit suggested that payment of the money was illegal.
The municipalities' lawsuit alleged that their payments were illegal, she said, which "triggered my absolute need to get involved and stop it." Additionally, Bock noted that neither party would indemnify her for releasing the money, for which she said she can be held personally liable.
She said that she has stayed out of the lawsuit, instead waiting for direction from the court. "I do not make decisions with the lawsuit," Bock said. "I don't want to be tagged with doing something in the lawsuit with a political motive."
Bock said she believes in a strong checks and balance system and has used her auditing arm over the years to expose potential and verified corruption in Palm Beach County.
"I did an audit and discovered the bond issue problems years before it came to light," she said. "The only thing you can do is bring it to the attention of the people you are auditing."
Bock's opponent has criticized her for not policing the records, especially in the area of mortgage fraud, but Bock said that is not her job.
"I have presented her with 100 years of case law that demonstrates over and over that my job is to keep the records," she said. "I do not police the records; I am prohibited from doing a forensic audit. My job is to create a level playing field for the judiciary and protect the integrity of the public records."
Bock labeled herself as a tenacious person who fights for what she believes is right. She said that she hopes voters will believe in her experience and return her to office.
"I have the experience to do the job," she said. "I have proven over the last eight years to keep the office pure in what it is supposed to be doing. I have always worked tirelessly for the citizens of Palm Beach County."
For more info., visit www.sharonbock.com.