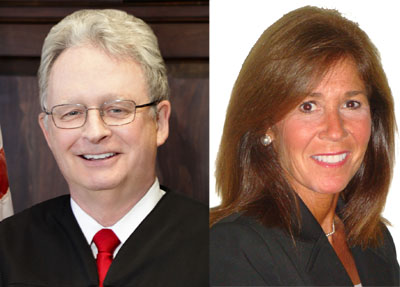 Circuit Court Judge Tim McCarthy (above left) faces a challenge from former Palm Beach Gardens Councilwoman Jody Lane (above right) in his bid for re-election.
The two are vying for the Group 2 seat on Aug. 14. The election is nonpartisan and open to all Palm Beach County voters.
Lane is a 25-year Palm Beach Gardens resident who served on the council from 2005 to 2010. A native of New York, she spent a decade on Wall Street working in financial management before earning her law degree from Nova Southeastern University.
Lane was hired as an assistant state attorney in Palm Beach County and spent three years there, winning a promotion to division chief. She then went into her own practice, working in property, criminal and civil law. "As a circuit court judge, I can be placed in any of those divisions. I have experience in all of them," she said.
Lane said she decided to run because she was concerned McCarthy would not able to serve his full term. He must retire when he turns 70, which will occur a little less than halfway through his term if he's re-elected.
"I'm ready to go on the bench, while he's ready to retire," Lane said. "Then the government gets to appoint someone, and voters lose the power of their vote. We trust the electorate to choose our judges, but they are only getting half their vote."
Lane also said she thought McCarthy does not show the level of respect she believes the office deserves, pointing to part of a bar poll where many lawyers ranked him low in demeanor. "He doesn't show respect when people come in his courtroom," she said.
Lane also raised concerns that McCarthy has taken contributions from lawyers that she said have open cases before him. "I would never do that," she said.
If elected, Lane said she would make time for every case, come into court prepared and try to be efficient. "That means taking the time for every litigant and reading all the motions filed by lawyers," she said. "I understand the importance of budget problems and that it's important to keep the docket moving, but that is secondary to making sure that every litigant gets a fair and impartial consideration."
Lane said a change in the seat is guaranteed, whether it's now or in three years. "The future is now," she said. "I'm a good candidate. I'm fair and impartial, and I will fulfill the term."
For more info., visit www.jodylaneforjudge.com.
McCarthy has spent 14 years as a circuit judge in Palm Beach County, presiding over civil, criminal and juvenile cases since 2000. Prior to that, he was a family court judge in Delray Beach.
He received his law degree from Notre Dame in 1971. In 1973, he started at the State Attorney's Office, where he was eventually made felony division chief. In 1975, he left the office to go into private practice.
For 22 years he represented clients mostly in civil cases. He received his Florida Board Certification in civil trial law and business litigation. He was also given the highest rating by Martindale-Hubbell, a peer-review board.
McCarthy was appointed a circuit court judge in 1998. He now also serves as judicial mentor coordinator, helping to train new judges.
McCarthy points to his long experience as the reason voters should choose him. "I have been a judge for 14 years, and before that, I worked hard to gain the experience necessary to preside over these cases," he said.
McCarthy said that he strives to be a fair and impartial voice and to give every person who walks in his courtroom a chance.
McCarthy said that though he is required to retire, he hopes to continue to serve as a senior judge. "I will be serving two years and nine months of the term, and then I can become a senior judge when I retire in 2015," he said.
Regarding the bar poll, McCarthy said that he rated highly in the other eight categories of the poll but has acknowledged the criticism.
"I do accept that if 115 lawyers tell me I need improvement, there may be an issue," he said. "I have taken steps to try to improve and talked to a professional."
But, he said, tough judges require punctuality and professionalism in the courtroom. "I may have imposed old-fashioned standards that some people don't like," McCarthy said.
He also addressed claims that he should not take campaign contributions from trial lawyers, noting that it has been declared both legal and ethical. "She has also accepted contributions from lawyers, and there are safeguards in place to ensure it remains ethical," McCarthy said.
Ultimately, McCarthy said voters should recognize his experience and return him to the bench. "I am, by far, the most experienced person in my race," he said. "Over the last 14 years, I have ensured that everyone was treated fairly and impartially."
For more info., visit www.reelectmccarthy.com.