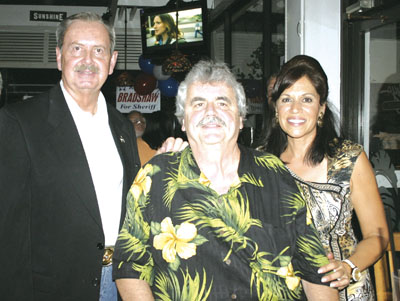 Tuesday was a great day to be an incumbent constitutional officer in Palm Beach County. Five countywide officials were up for re-election, and all five were returned to their positions by large margins.
Sheriff Ric Bradshaw easily defeated two challengers, taking 78.5 percent of the vote (97,473 votes). Challenger Joseph Talley garnered 17.6 percent (21,829 votes) and Cleamond Lee Walker took 3.9 percent (4,833 votes).
"That is a mandate by the citizens of Palm Beach County that the men and women of this agency have been doing a great job for the past eight years," said Bradshaw, who celebrated his big win with supporters at E.R. Bradley's in West Palm Beach. "They want to keep doing what they've been doing, which is to stop these gangs and stop this violent crime. It's all about keeping their neighborhood safe."
While operating Tuesday's election, Supervisor of Elections Susan Bucher was also on the ballot seeking a second term in office.
Despite a few high-profile election glitches over the past four years, Bucher became the first elections supervisor to win re-election in Palm Beach County since the disputed 2000 presidential election.
Bucher received just under 68 percent of the vote (81,801 votes) in a three-way race. Delray Beach Mayor Nelson "Woodie" McDuffie took 28.1 percent (33,845 votes), and former elections office employee Caneste Succe received 3.9 percent (4,729 votes).
"I'm ecstatic that it's complete," Bucher said. "It will allow me to get back to work so that we can properly set up the presidential election in November."
Bucher said she is especially relieved that she will not have to campaign this fall. "It's an interesting prospect to run in a presidential election when you are the supervisor," she said.
The office also has an interesting canvassing board that it has never had before, with no county commissioner and no supervisor. "They're doing a great job," she said. "We have a judge, a lawyer and a municipal clerk, but I am certainly pleased that we completed yesterday."
Bucher said she had hoped for a greater turnout, which was just above 15 percent. "I think that because it was a very early primary, one of the earliest we've had, and we also had some weather, we didn't see a real large turnout," she said.
Palm Beach County Clerk & Comptroller Sharon Bock received 76.3 percent of the vote (86,956 votes) in a two-way race against mortgage fraud activist Lisa Epstein, who garnered 23.7 percent (27,016 votes). With the win, Bock earned herself a third term. She was also at E.R. Bradley's celebrating with supporters Tuesday.
"I am truly honored to be re-elected by the people of Palm Beach County, and I think it's a testament not only to my leadership, which I greatly appreciate, but really the 750 employees that are so well-trained and so dedicated to the people of Palm Beach County, so I thank them for their support," Bock said.
After 20 years on the job, Property Appraiser Gary Nikolits was returned to office by county voters. Nikolits took 70.1 percent of the vote (84,331 votes) against attorney Robert Weinroth, who received 29.9 percent (35,991 votes).
"We're very pleased with the results last night, and especially the confidence that the voters showed in our ability to do the job that we do for them," Nikolits said. "I look forward to the next four years of continuing to maintain a high level of service on behalf of the taxpayers of this county."
In the Democratic Primary for Palm Beach County Tax Collector, incumbent Anne Gannon easily defeated former Tax Collector Peter Carney. Gannon received 87.1 percent (58,065 votes), while Carney took just 12.9 percent (8,611 votes). Gannon faces only a write-in opponent in November.
"It was because of our focus on customer service," Gannon said. "They're quick and efficient in our office. It says to me that the voters like what we're doing in our office and that they believe in the service that we give. Our employees have done a great job of following the leadership in our agency to improve customer service."
Above: Sheriff Ric Bradshaw celebrates his victory with Wellington residents Michael and Ellie Michaud.