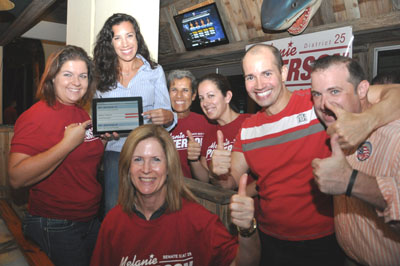 Equestrian activist Melanie Peterson's narrow victory over attorney Geoff Sommers in Tuesday's Republican Primary for the newly drawn District 25 Florida Senate seat has set the stage for a faceoff against State Rep. Joseph Abruzzo (D-District 85), the Democratic nominee for the seat.
Peterson received 8,539 votes (50.54 percent) to Sommers' 8,357 votes (49.46 percent).
"I appreciate the opportunity, and all the voters who came out and voted for me," Peterson told the Town-Crier Wednesday. "I am looking forward to representing Palm Beach County in the state senate."
Peterson said that while the race was closer than expected, she is proud of the campaign she ran. "We went to all the editorial boards," she said. "We were very transparent with who I am and what the issues are."
But, she said, her eye has been set on the general election from the beginning.
"I think we always had our eye on November and on job creation in the county," she said. "We've taken a pretty large approach. There are so many different needs in different areas of the county."
The top issue for all areas is jobs, she said. "We have got to get people in Palm Beach County back to work, and create an environment where small businesses can grow and thrive, Peterson said.
She noted that Palm Beach County has a high home vacancy rate, which continues to be an issue for her. Another issue she is focusing on is homeowners' insurance.
But all of these issues tie back to one thing: jobs.
"If we can get more jobs here, we can get people in homes," she said. "We can make the insurance market more competitive and see more realistic rates."
She also wants to focus on helping the Glades area.
"We need to get an enterprise zone out there," she said. "We need to get jobs out there by stimulating businesses to invest, then have job training available for citizens."
In the rest of the county she said she'd continue to focus on building infrastructure.
Abruzzo said his top issues are the economy, insurance, public safety, education, healthcare and property taxes.
"When I took office in 2008, we were in a global recession," he told the Town-Crier Wednesday. "Coming out of it, we need to make sure Florida is in the best position to take advantage of our global economy."
He said he hopes to pass the Student Global Education Act, which would offer incentives to university students to take courses in Mandarin or Portuguese.
"Most of our domestic trading partners are from China and Brazil," he said. "Yet we have a work force that doesn't speak the language."
The act would enable a student who receives a B or higher in a low-level language course in either language to have the cost of their upper-level language courses covered by the state.
Abruzzo said he also hopes to help business start-ups by passing a bill that would allow new startup companies to pay no corporate income taxes for three years.
"What are you doing in your first three years as a business owner? You're reinvesting into your business," he said.
Abruzzo stressed that he has a proven track record over the past four years. He has gotten 20 bills passed, many of which support business in Florida. He also noted that he has been a champion of bringing an inland port to the Glades area.
"Not only do I have the ability to work across the aisle with the majority party," he said, "I now will have the ability to work across the hall with members of the House of Representatives. I have strong relationships in both chambers."
Senate District 25 takes in all of western Palm Beach County, from west Boca Raton, north to parts of Palm Beach Gardens, taking in all of the western communities and the Glades.
Tuesday's election also saw the return of several incumbents in the Palm Beach County judiciary races.
In the race for the Circuit Judge Group 2 seat, Judge Timothy McCarthy was re-elected with 70,088 votes (62.3 percent) to attorney Jody Lane's 42,342 votes (37.7 percent). In Group 9, Judge Ron Alvarez narrowly defeated attorney Jaimie Goodman with 59,013 votes (51 percent) to Goodman's 56,747 votes (49 percent). Judge James Martz defeated attorney Margherita Downey in Group 26. Martz took 64,625 votes (58.1 percent) to Downey's 46,550 votes (41.9 percent).
Voters also returned Group 4 incumbent Judge Peter Evans to the County Court. Evans took 80,332 votes (73.5 percent) to attorney Kenneth Lemoine's 29,040 (26.6 percent). In the County Court Group 6 race, retired Judge Edward Garrison was returned to the bench, defeating attorney Jane Sullivan. Garrison took 64,414 votes (58.4 percent) to Sullivan's 45,831 votes (41.6 percent).
Port of Palm Beach Commissioner Wayne Richards won his Democratic Primary election. Richards took 13,176 votes (62 percent), defeating builder Joseph Anderson, who took 8,085 votes (38 percent). Richards will face Republican George Allen Black Jr. in November.
In the race for U.S. Congress in the newly drawn District 18, voters set up a race between U.S. Rep. Allen West and businessman Patrick Murphy.
West defeated his opponent, Martin County Sheriff Bob Crowder, 45,761 votes (74.4 percent) to 15,744 votes (25.6 percent).
Murphy easily defeated his two opponents, taking 26,762 votes (79.7 percent). Jim Horn received 3,838 votes (11.4 percent), and Jerry Buechler took 2,975 votes (8.9 percent).
District 18 takes in parts of Royal Palm Beach, Loxahatchee and The Acreage, as well as northern reaches of Palm Beach County and all of Martin and St. Lucie counties.
Above: Melanie Peterson (second from left) and supporters celebrate the election results Tuesday night at Flanagan's in Wellington.