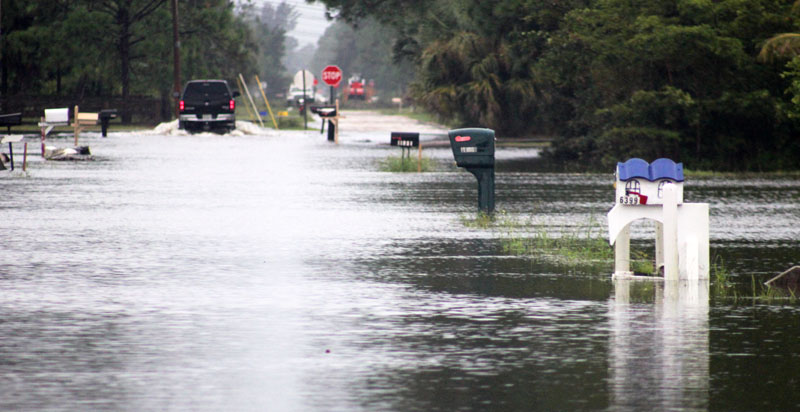 Monday, Sept. 27, 2012 — Localized flooding has been reported across the western communities today as a result of Tropical Storm Isaac. While the area appears to have been spared significant windstorm damage, two days of heavy rainfall has led to overflowing canals in several areas.
Shown above: A flooded street in The Acreage.
WELLINGTON
Wellington is reporting that 13.47 inches of rain has fallen in the community over the past two days.
On Monday afternoon, Wellington placed the following Code Red automated phone call to village residents: "The Village of Wellington is experiencing pockets of localized flooding due to Tropical Storm Isaac and several roadways are closed. We encourage residents to stay indoors and avoid unnecessary driving."
Road closures have been reported in the following areas:
•Big Blue Trace is closed to all traffic except local traffic between Barberry Drive and Paddock Drive due to flooding.
•South Shore Boulevard is closed to all traffic except local traffic between Lake Worth Road and 50th Street due to flooding.
Isolated flooding has been reported in the following areas:
• Greenbriar Boulevard between Greenview Shores Boulevard and Ousley Farms Road
• Pierson Road between South Shore Boulevard and 120th Street
• Greenview Shores Boulevard between Goldenrod Road and Meadow Avenue
• Meadow Avenue at Greenview Shores Boulevard
• Indian Mound Road at South Shore Boulevard
• Neighborhood flooding in Margate Place and Oakmont Estates.
The Palm Beach County Sheriff's Office is assisting with road closures throughout Wellington.
However, the village's utility reports no significant issues with water and wastewater services. Solid waste pickup continues to run its normal schedule with sporadic delays.
All of Wellington's parks are closed until further notice.
LOXAHATCHEE GROVES
Palm Beach County has reported that Okeechobee Boulevard is impassable for low clearance vehicles from Folsom Road west to A Road in Loxahatchee Groves.
THE ACREAGE/INDIAN TRAIL
Street flooding has been reported throughout The Acreage. Residents are urged to avoid all travel. When travel is absolutely necessary, use great caution.
PALM BEACH COUNTY SCHOOLS
After being criticized for its late decision to close schools Monday, Palm Beach County School District officials decided at approximately 4 p.m. Monday to close all public schools Tuesday. Here is the statement from the school district:
"All Palm Beach County public schools and activities will be closed Tuesday, Aug. 28 for students and staff. Employees in Categories A and B should report to work tomorrow when it is safe to do so.
"Weather conditions continued to deteriorate throughout the day, and there is major flooding in many areas, particularly in the western parts of the county. Flooding, described as 'unprecedented' by weather experts and is preventing access to numerous streets, roads, bus stops and schools.
"The safety of our students, parents and employees is our top priority. Decisions regarding make up days for students and activities will be announced in the near future."
If you know of specific instances of flooding you would like to point out to Town-Crier readers, we encourage you to place the information as a comment under this article.