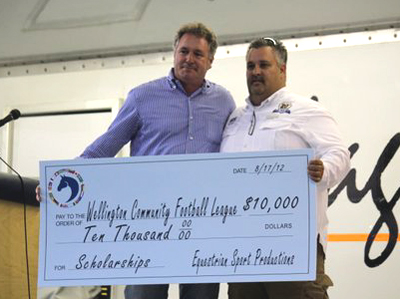 Last Friday night, nearly 2,000 people gathered at Village Park in Wellington to celebrate two decades of football, family and community as the Western Communities Football League celebrated its 20th anniversary.
What began as a small football league playing on a patch of grass in front of Wellington High School has grown by leaps and bounds in its two decades, launching a new generation of football players, academic scholars and stand-up citizens.
"When the grass would flood, we'd have to play on the other half," WCFL President Gus Pasquale recalled. "The organization began with a few hundred players. This year we're at 650 players for tackle football, 550 for flag and 150 for cheerleading."
League founder Joe Piconcelli was honored with a Legacy Award at the celebration.
To league officials, WCFL was founded not only to provide recreational sports for young children, but to build character and discipline.
"It has been a great program for the community," Pasquale said. "We're so proud of what it does beyond football. We're excited to be able to keep the momentum alive."
The WCFL legacy can be seen in the faces of honored alumni such as Anthony Nelson, Brandon Pendergrass, John Bostic, and Tyler and Shane McDermott, who were inducted into the first class of the organization's Alumni Honor Roll last Friday.
"These are five young men who grew up playing WCFL football," Pasquale said. "They have had distinct accomplishments not only in football at the college level but also academically. We wanted to showcase them as an example for our current players."
Nelson is a University of Massachusetts graduate, while Pendergrass is a Wake Forest University alum. Tyler McDermott played for Colorado State University, where he is now an assistant football coach. Bostic is a senior starting linebacker for the University of Florida, and Shane McDermott is the starting center on the Miami Hurricanes football team.
"There are bonds created [in the organization] that last forever," Pasquale said. "It's become about more than football."
The organization offers tackle football for children ages 6 to 13 and flag football for kindergarten through eighth grade, staging 300 games a year. Additionally, it offers a cheerleading program.
Games are held at Village Park on Pierson Road, with this season kicking off Saturday, Aug. 25.
"We are so fortunate, as a service provider, to be within the Village of Wellington," Pasquale said. "We know we have support from everyone — from the mayor to the parks and recreation department. We travel the region and we see that we are truly blessed to have gone from that little patch of grass to the world-class facilities we have now."
Many of the program's alumni have gone on to join local high school football and cheerleading teams — something evident by the number of jerseys on display at Friday's event.
"There were a slew of former players out there," Pasquale said. "One of the neatest things was watching all of the little kids out there interacting with the older kids who are now in high school. It's a great gift to see kids I've known since they were 6 years old in Wellington, Palm Beach Central and King's Academy jerseys."
Thanks to a scholarship provided by Equestrian Sport Productions, WCFL will be able to ensure that every child who wants to play can — no matter their financial hardship.
"Part of our mission is to never deny families from participating in the league, no matter their finances," Pasquale said. "Mark [Bellissimo] wanted to get involved and set up a hardship scholarship."
Pasquale said these funds are crucial, as league sponsorships have dwindled.
"It's a combination of individual folks who have financial challenges and a significant detraction in sponsorships," he said. "Many of our sponsors were construction companies, Realtors and other industries like that. This community was hit really hard in the real-estate department."
Equestrian Sport Productions has pledged $10,000 a year for three years to help needy children participate. Bellissimo, the company's CEO, said he first heard of the league from board members who attended events at the Palm Beach International Equestrian Center last year.
"We invited the schools to come to our events," Bellissimo said. "I had met Nick Iannone — one of the board members — at our event. We got to know each other and struck up a conversation about WCFL."
Bellissimo said he attended a flag football game and was sold on the close-knit community surrounding the game.
"They told me that they were having challenges with sponsorships and trying to provide resources for kids who didn't have the money to play," Bellissimo recalled. "I was impressed with the amount of participation from the community and what a great job they'd done with the organization."
Bellissimo said he and his wife, Katherine, were touched by their story.
"We want to provide resources for children to participate in this great organization," he said. "It represents all that's great about this community. It's a special organization that I would not have been exposed to had we not done our Wellington schools program."
As a frequent coach of his children's sports teams as they grew up, Bellissimo said he recognizes the benefit that the organization brings to the community.
"My wife and I both realize how important it is that kids are out there being active and pursuing a goal, whether its football, equestrian sports or music," he said. "Unfortunately, in difficult times it's more challenging for families to participate. Hats off to a great group of people who are really making a difference in this community. Anything we can do to help is great."
For more information about the organization, or to become a sponsor, visit www.wcflfootball.com.
Above: Mark Bellissimo presents WCFL President Gus Pasquale with money for the financial hardship scholarship program.