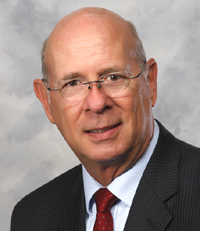 Palm Beach County Property Appraiser Gary Nikolits hopes that his experience and dedication to being fair will sway voters in the election Tuesday, Aug. 14, garnering him a sixth term in office.
The Property Appraiser's Office assesses property values based on state law, which then determines a property owner's ad valorem taxes once rates are set by various taxing bodies.
Nikolits faces a challenge from Boca Raton businessman Robert Weinroth. Palm Springs resident Charles Stahman is also running as a write-in candidate. The nonpartisan election is open to all county voters.
Nikolits, 62, is a 58-year Palm Beach County resident. He was first elected to the post in 1992. "I'm completing my 20th year in office," he said.
A former real-estate appraiser, he spent almost 20 years in the tax-assessment field prior to his election, including 12 years working at the Property Appraiser's Office.
He also served eight years on the Riviera Beach City Council before his election.
Nikolits is a Certified Florida Appraiser and is past president of the Florida Association of Property Appraisers. He is a member of the International Association of Assessing Officers.
He said one of his biggest challenges in office has been keeping up with laws passed by the state legislature that affect how he calculates property values.
"They like to pass a lot of laws that affect property valuation," Nikolits said. "You never know, from year to year, what is going to pass and how much it will cost to implement it."
Nikolits said his top accomplishment has been maintaining a fair and equitable tax roll each year for 20 years.
"For the past 20 years, we have submitted assessment rolls to the Department of Revenue to make sure that we've met all the criteria," he said. "We have never had a defect on our assessment rolls in the 20 years that I've been there."
Nikolits noted that when he came into office, there had been defects incurred by the previous property appraiser.
"I was told that it was not uncommon for the department to write a letter saying that they had a systemic problem in the assessment rolls that needed to be fixed," he said. "We fixed the defect when I came into office, and we've been clean ever since."
Proof of the fairness, he said, is in the dwindling number of claims challenging property assessments. Nikolits noted that his office had about 7,500 challenges last year, compared with 23,000 in Broward County and more than 60,000 in Miami-Dade.
"Many of [our challenges] are exemption issues, where people were denied exemptions because they did not have the paperwork to show they qualified," he said.
Additionally, Nikolits pointed out that his office has its petitions cleared up with the Value Assessment Board while other counties are still working on challenges from 2010.
"We get the job done right," he said. "We get the job done quickly. When there are problems, we resolve those problems."
Although his opponent Weinroth has criticized the Value Adjustment Board process for not being user-friendly, Nikolits said that is a mischaracterization.
"The purpose [of the board] is to allow someone who believes the property appraiser has over-assessed [his or her] property to challenge that assessment," he said. "If we can resolve the issue before it goes to a hearing, we resolve the issue."
Nikolits said that the quasi-judicial hearings are not adversarial by nature. He noted, however, that some taxpayers consider the office's unwillingness to settle cases simply to move the process along as being difficult.
"You don't just file a petition and expect that you're going to get a reduction just for filing," he explained. "In [other counties], because of the volume, they settle a lot more. So they appear to be friendlier than we are. They have to settle due to sheer volume, or they'd never get anything accomplished."
In comparison with other counties, Nikolits said that his office has been extremely efficient and able to save taxpayers money by fairly assessing values.
He pointed to Broward County, whose assessor's office in 2009 removed $60.8 million from the tax rolls, while his office removed only $26.9 million — saving taxpayers more than $30 million in comparison.
"In 2009, my budget was only $24 million," he said. "So that means I paid for myself and gave $9.5 million back. We pay for ourselves every year and still have money left over."
Nikolits has also been criticized by Weinroth because Palm Beach County ranks high among large Florida counties in terms of appraising cost per parcel. Specifically, Weinroth compares the county to Broward, which Nikolits said is unfair because of vast differences in the budget structure. "When you compare Palm Beach County to Broward County, that's unfair," he said. "You're not comparing apples to apples."
Nikolits said that the comparison was not valid because his office's budget includes many costs and services that, in other counties, come out of the general county budget. "Up until December of this past year, Broward did not have to pay for any of their information technology services. The county handled all of those expenses," he said. "They have automobiles that are in the county budget. If they change a light bulb in my office, it comes out of my budget."
Nikolits said he believes his office weathered the storm of dramatic rising and then catastrophic plummeting of property values.
"We haven't missed a beat," he said. "I give so much credit to my staff. It's difficult when you have more than 628,000 parcels of property, and you have to produce an annual assessment roll based on what's happening in a crazy marketplace."
He noted again that his assessments continued to be without defect. "I think we've done an outstanding job in tracking that market," he said.
Though his opponent has criticized his office for not being proactive in reaching out to the community, Nikolits said that's also a mischaracterization.
In 2009, Nikolits said his office won an award for its outreach program, which was established during the boom of the early 2000s to help residents understand the role his office plays in taxing.
"When the market started going up in 2003, and when the county began to take advantage of the increase in market value by taking in that extra tax revenue, we recognized that people needed to understand what was going on here," he said.
The county, he said, blamed increased taxes on the increase in property values, but Nikolits said that was untrue. "That's not why taxes go up," he said. "Taxes go up because when your value goes up, they do not proportionately lower the tax rate."
Nikolits stressed that his office does not set or affect market value. "We reflect what is going on in the market," he said.
Asked whether he'd have done anything differently if he'd been able to predict the real-estate crisis, Nikolits said that his office did what it had to do, including implementing new tax laws and continually producing a fair tax roll. "I'm not sure there is anything I would have done much differently," he said.
Though the appraiser's office is not subject to oversight by the Office of the Inspector General, Nikolits said he thinks that the rules of ethics under the inspector general are more lax than his own.
"We hold ourselves to a much higher standard than the ethics commission holds county employees," he said, noting, for example, that although county employees can keep airline miles for business travel, his employees cannot.
Ultimately, Nikolits said that he hopes voters will recognize him as the most qualified candidate who has a consistent record of fair property assessments.
"I'm well-qualified for the job," he said. "I do it fairly. I treat all taxpayers, regardless of their conditions or positions in life, the same."