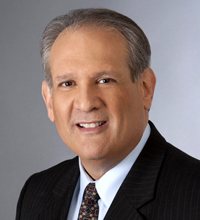 Attorney and businessman Robert Weinroth is challenging five-term incumbent Palm Beach County Property Appraiser Gary Nikolits in the Tuesday, Aug. 14 election.
The Property Appraiser's Office assesses property values based on state law, which then determines a property owner's ad valorem taxes once rates are set by various taxing bodies. The nonpartisan election is open to all county voters. Aside from Nikolits and Weinroth, Palm Springs resident Charles Stahman is also running as a write-in candidate.
Weinroth said 20 years is long enough for anyone to hold office, although there is no set term limit. He also feels the property appraiser should be more visible and take a proactive role in the community.
Weinroth hails from Long Island, N.Y. He attended New England Law School in Boston and became a lawyer in Massachusetts, where he worked for an insurance company. He was also admitted to the bar in New Jersey and eventually found his way to Florida, where he also joined the bar.
"I always had in my mind I wanted to come to Florida," Weinroth said. "I had taken the bar down here and I wanted to come down here, so I thought it would be a good opportunity to come down when I was sort of changing careers."
He wound up with an opportunity to work for a management consulting company, Southern Business Management Associates. "It was a lot of fun," he said. "These were small companies, small [meaning] less than $10 million. You'd go in and analyze the business and tell them if you did this, this and this, you'd have more profit."
Weinroth believes this experience adds to his resources as a lawyer, businessman and analyst. "It gives me the tools that I need to walk into this job," he said.
After his consulting work, Weinroth opened his own business with his wife, Pamela. "I've been a businessman now for over 10 years in a medical supply company," he said. "That, again, enhances my resources because I understand customer service. I understand that if you are not good to customers, the customer goes down the street to the next guy."
He lists his top accomplishments as having a son who passed the bar after graduating from the Hastings College of Law at the University of California. He also has a son entering his sophomore year at Florida State University. Weinroth is also proud of his wife's daughters, one of whom is in Israel in a culinary program, while the other is working for Congressman Ted Deutch.
Beyond his family, Weinroth said he's proud to have a growing business started from scratch. "It has taken care of our family, taken care of my ex-family, taken care of my wife's ex-family. A lot of mouths have been fed from the company. We've done well by the company, and we've given back," he said.
Weinroth noted that he is involved in the community through organizations including the South Palm Beach County Jewish Federation, the Anti-Defamation League, the Guardian Ad Litem Program and Jewish Adoption & Foster Care Options. "I feel that I've given as much as I've received, and I think that's the way it should be," he said.
After working with others in the political arena, Weinroth said he got into this race because he feels it was his time to make a contribution.
"I felt at this point in my life — I just turned 60 — that if I was ever going to do this, it was now or never," he said. "Frankly, I'm hoping to be elected and have two terms, and not become a lifetime bureaucrat. I'm not a politician."
In this campaign, Weinroth is calling attention to the incumbent's length in office and Nikolits' decision not to sign on with the Palm Beach County Office of the Inspector General.
"The fact that he has been there 20 years is an issue," Weinroth said. "This is a position that is independent, but not necessarily should it be without oversight… Fighting off the OIG concerns me. Not that I think there is anything wrong, but any office that is financially involved needs to have oversight."
Weinroth said he does not believe in term limits but that voters should be sensitive to an incumbent's longevity in office. "I think that in this particular office, the electors should say, 'It's time for a change,' in large part, because it has become very top-heavy," he said. "I think it's a situation that because he has been there so long, there are a lot of people who have just been getting promotions out of longevity."
Weinroth is critical of the costs incurred by the Property Appraiser's Office to get the job done. Looking at the costs per parcel for the property appraiser's offices in counties in Florida that handle more than 200,000 parcels, he said Palm Beach County (with 600,000-plus) is more expensive per parcel than most. Comparing the cost per parcel for other counties, he said the budget per parcel in Broward is $23; Brevard, also $23; Charlotte, $22; and the cost here is $34. "That's a hefty swing," he said. "Only Miami-Dade is more expensive."
Palm Beach County also scored poorly when looking at parcels per full-time employee, he added. "The incumbent will say to you, 'I'm different. This is a different county. We have different issues here.' I say this is a statistical sample of 17 counties and you can't just say it is so different in Palm Beach County than anywhere else," Weinroth said.
He said the department needs to become more efficient, with more people handling accounts and fewer people managing. "We need to get back to the basics; people need to be more hands-on," he said. "The people also need to be instilled for customer service."
Weinroth contends that the other constitutional officers have taken customer service to heart and improved. "This incumbent has done something," he said. "The web site is certainly informative, but that is not customer service, and people who go to that office with problems don't feel that they're coming away with cooperation."
He also said the officeholder should act as more of an advocate, asserting that Nikolits is oriented more toward protecting the value of property than setting a fair and equitable value.
Weinroth is critical that despite events of the past five years, Nikolits has not seen it as his responsibility to get involved. "He sees himself as a recorder versus someone taking an active role in helping constituents," Weinroth said. "For the last five to seven years, we've had a meltdown in property prices, but because of Save our Homes, the value of the house came down, but you've actually seen your tax value go up because you've seen this gap build up between taxable and actual value."
This is an issue the incumbent should have been pressing hard on, right from the start, he said.
"This incumbent should have been out there," Weinroth said. "He has suddenly woken up to the fact of outreach again over the last four to six months because there is someone in the weeds behind him. But before that, he was complacent."
Another issue Weinroth wants to address is homestead fraud. "Homestead fraud is rampant," he said.
Weinroth said that not enough is done to follow-up on property owners who file valid homestead documents and then change their situation, such as by moving and renting out the property. "Somebody needs to be following up on things like driver's licenses, rental advertisements, all the kind of stuff that you can do forensically," he said.
He also plans to return to the county a portion of the $23 million budget through cost savings and increased revenue. "I think there is an opportunity to save money and bring money back," he said.
Weinroth believes that he is the better candidate because he is more aware of issues surrounding the office. "He would say to you, 'I'm a property appraiser; he's an attorney. Who do you want appraising your property?' The fact is he doesn't appraise, and I'm not going to appraise," Weinroth said. "It's not a job where you go out and appraise. It's a job where you set a tone. It's a job where, if you are an attorney, you have a better insight into legal issues going on around you."
For more information, visit www.weinroth2012.com.