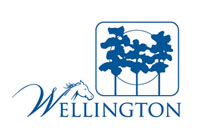 Calling all kids — come swim, bike and run your way to better health and fitness during the inaugural Wellington Kids Triathlon on Saturday, Sept. 22.
Children between the ages of 4 and 14 are invited to take part in the triathlon, which will begin with laps at the Wellington Aquatics Complex and include a bike ride and run along South Shore Blvd.
"A lot of municipalities have started offering kids triathlons," Community Programs Manager Michelle Garvey told the Town-Crier. "It's for kids of any level. Every kid who participates will get an award, and the top male and female from each age group will get a trophy."
Garvey said that Wellington has collaborated with the Wellington Runners Club and other organizations to make the event work for children of all abilities in a positive and fun environment.
Participants must have been born between 1998 and 2008, and will be divided into five separate groups that must complete different distances.
"It will begin with a swim in the Wellington Aquatics Complex," Garvey said. "Then they will bike from the parking lot along South Shore and back. The run will be on the same course."
For safety, the road will be closed and there will be volunteers along the route to help children, Garvey said. There will also be lifeguards on duty in the pool.
The competition is divided by age group, from the youngest group — the "Trikes" — to the "Super Seniors."
The Trike group is for children ages 4 to 6 (born between 2006 and 2008). They will swim 25 yards, bike 0.4 miles and run a quarter of a mile. Children ages 7 and 8 (born in 2004 and 2005) — the "Juniors" — will swim 50 yards, bike 1.6 miles and run 0.7 miles.
The next group, the "Super Juniors" will include children ages 9 and 10 (born in 2002 and 2003). They will swim 100 yards, bike 2.4 miles and run 0.7 miles. The "Seniors" — children ages 11 and 12 (born in 2000 and 2001) — will swim 150 yards, bike 4 miles and run 1.25 miles.
Lastly, the "Super Seniors," who are those age 13 and 14 (born from 1998 to 1999), will swim 200 yards, bike 4 miles and run 1.25 miles.
Garvey said that the event would be staggered, with the oldest children beginning first.
"They'll be separated by a good amount of time," she said. "The race starts with the oldest group at 7:30 a.m. The youngest group begins at 8:45 a.m. So there's a good hour between them."
For the bike portion, Garvey stressed that racers do not need a triathlon bike. "Any bike is allowed," she said, noting that even bikes with training wheels would be allowed.
Although participants are required to be able to swim on their own, lifeguards will be on duty to help if there is a problem.
"Parents will be able to help in the transition areas," Garvey said. "That's where they come out of the pool and need to get on their bikes and put their helmet on. Parents can be in that area, but we ask that they don't go out on the course with their children."
The registration deadline is 6 p.m. on Sept. 19, Garvey said. The cost is $35 per participant. No sign-ups will be accepted the day of the race, and registration is limited to 250 participants.
For more information, or to register, visit www.wellingtonfl.gov or call (561) 791-4005.