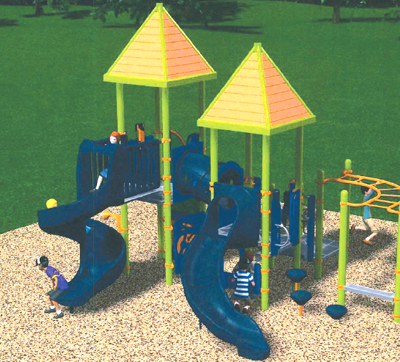 Wellington is making good on its promise to build a park for residents in the Goldenrod community.
Members of the Wellington Village Council agreed last week to award a $198,137 contract to JMW Construction for the building of Goldenrod Park.
The park was part of the plan promised to residents when council members decided last year to block Goldenrod Road as it turns into Azure Avenue, Director of Operations Jim Barnes told the Town-Crier Wednesday.
"With the road closed, it meant residents had to go further to get to Azure Park," he said. "This provides recreational facilities for the families in that neighborhood."
At the time, the road closure was a controversial topic, with many residents upset about losing access to a park. At the Aug. 14 council meeting, Councilman Matt Willhite said Wellington was keeping its commitment to residents.
"There was quite a bit of discussion about the closure of Goldenrod Road and what we were doing for the Goldenrod neighborhood to replenish the use of a park in that area," Willhite said. "I think it's important to recognize that we are going forward with the commitment that we made to the residents of Goldenrod. We said that we were going to build a park for them and make amenities available for them to use."
The new park, to be located on a vacant piece of property just east of Hyacinth Place, will include a playground, pavilion and half basketball court.
"We acquired a piece of property on Goldenrod from a resident that was not taken care of very well," Willhite said. "It was an empty piece of property. [The park] will include all those amenities that we put into our village parks."
Council members were able to choose from three playground plans and opted for a playground with two slides, monkey bars and a climbing apparatus.
Barnes said that the park could be completed by the end of the year.
"I expect to have the notice to proceed issued in early September," he said. "If everything goes well, I expect it to be complete by the end of the year or in early January."
Construction will be financed through the neighborhood parks program capital budget.
Though JMW Construction did not submit the lowest bid, because of the village's local preference policy, it was given the option to match the low bid, Village Manager Paul Schofield told council members last week.
Councilwoman Anne Gerwig said she was glad to be able to give the children of Goldenrod an answer on the park.
"I know a little boy named Anthony who I can now tell what the park is going to look like," she said at last week's meeting. "He has been asking me when the park is going to be built. I thank the council for making this happen."
Above: A rendering of the play structure chosen for Goldenrod Park.