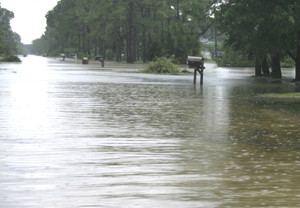 Though Tropical Storm Isaac has long since passed over the western communities, many residents of The Acreage are still searching for answers and seeking to prevent future flooding problems.
More than 100 people stopped in Tuesday at Acreage Pines Elementary School for a chance to address their situation with experts from local organizations.
But several residents expressed frustration with the responses they were receiving.
Representatives from the Indian Trail Improvement District, the South Florida Water Management District, the Florida Fish & Wildlife Conservation Commission and the Palm Beach County Health Department were on hand to answer questions and provide information.
"We're hoping that residents can get a better understanding as to what happened, get a better understanding of the storm and how we reacted to it," ITID Engineer Lisa Tropepe told the Town-Crier. "And this is also an opportunity for the agencies to be able to listen to resident concerns and input. I think it's great that each resident has an opportunity to voice their concerns to all the agencies that were involved in this tropical storm."
Resident Jacqui Davis said she is concerned that a similar disaster could occur again and that proper precautions are not in place.
"I think they are focusing on what happened, but they are not explaining how they will make it better in the future," she said.
Davis said she watched for two days as the water level rose up to her doorstep, eventually flooding her home on 56th Place North. When she called to find information about sandbags, she found no resources.
"The county wasn't providing them; there were no sandbags anywhere," Davis said. "My husband had to go to a nursery and haul in piles of sand, and we made sandbags out of garbage bags."
But even with sandbags, Davis said the water continued to spill into her house as the rain came down on that Tuesday.
"On Tuesday, the water was a foot higher [than on Monday] even though it hadn't rained yet that day," she said. "I contacted ITID, and they told me that they were waiting for the South Florida Water Management District to open the gates."
Davis said she believes the SFWMD should give emergency consideration to prevent such disasters. "They should be able to call and tell them it's an emergency," she said.
But Susan Sylvester, chief of water control and operations management at the SFWMD, told residents who stopped by that ITID had unrestricted access to the L-8 Canal to the west.
"No one restricted them," she said. "They had 100 percent capacity to go to the L-8 canal."
Sylvester noted, however, that the district was restricted on what it could drain into the C-51 Canal to the south because it is used by other municipalities as well.
"It would be like trying to add more cars to a six-lane highway during a traffic jam," she said. "These measures are in place to protect everyone."
Resident Chad Herzog, who lives west of Seminole Pratt Whitney Road near Orange Blvd., said he thought it was ITID's responsibility to fight for more drainage rights.
"That's what ITID is responsible for — roads and drainage," Herzog said. "They are supposed to work for us as residents to protect us."
Herzog said he was in one of the last areas to drain, confining him to his home all week. Although he felt the representatives were informative, Herzog didn't think residents were getting the help they need.
"I don't think it has been really helpful," he said. "I think it goes back to the [board]. I think we have to get together as a community and demand action from our elected officials."
ITID President Michelle Damone told the Town-Crier that the board will be taking action, but she encouraged residents to continue to be vocal.
"We will be demanding more than the quarter-inch [of drainage] that we are allowed," she said. "We will be demanding some protection at the Corbett berm. We will be asking Palm Beach County for Indian Trail to be at the table for discussion of the Mecca Farms property, so either we or Corbett can get some additional discharge. We need residents to help us accomplish that."
But several residents said they thought ITID could make its own improvements, including instituting measures to help stranded residents.
"What are we paying them taxes for?" asked Angela Harper, who was stranded in her home for several days.
"I tried to go in to work," she said. "My car was floating, and the water began to carry it away. I was very scared. I couldn't get out of my property until Thursday."
Harper said that though she heard emergency services were in the area, she didn't see any relief near her home, close to Orange and Hall boulevards.
"They told me there were fire-rescue trucks in the area," she said. "I didn't see any fire trucks. They said that Red Cross was handing out supplies, but I couldn't get to them because of the water."
Resident Ventoria Mowatt, who lives in the same area, said that she had tried to contact Indian Trail to cut her swale in the event of a storm.
"They told me it would take four to six months," she said. "I had to go out there and do it myself. I'm paying them taxes so these things don't happen."
ITID Supervisor Carlos Enriquez said that in addition to working with the SFWMD, Indian Trail is looking at alternative ways to manage water.
"We can look at water storage, or maybe an interlocal agreement with the city of West Palm Beach to pump into their M Canal," he said.
Additional ideas include another pump station at the L-8 Canal to the west, and bigger culverts and outflows.
"This has happened two times before, and we've looked within our means," Enriquez said. "Now we're saying: 'We're not going to do this anymore. We're not going to live with this quarter-inch outfall.' Something is going to get done; we just want to take the time and do it right."
But some residents, concerned about being in the peak of the hurricane season, worried that there wasn't time.
"I hope to God this never happens again," Harper said. "I don't think the area could handle it."
Above: Flooding in The Acreage after Tropical Storm Isaac.