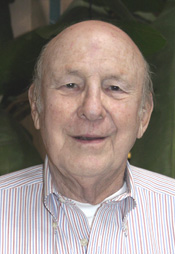 Ken Adams, a former Palm Beach County Commission chairman, horseman and a Wellington pioneer, spoke about the village's potential as an equestrian community at the monthly community forum hosted by Commissioner Jess Santamaria last week at the original Wellington Mall.
Santamaria said he had asked Adams to speak because equestrian issues in Wellington warrant further discussion in light of recent controversy over the Equestrian Village property.
Two years ago, Wellington Equestrian Partners proposed the development of a major dressage facility, along with commercial and hotel elements, on the site of the old Palm Beach Polo stadium. Dubbed Equestrian Village, the proposal won a number of necessary approvals from the previous Wellington Village Council.
However, those approvals were revoked when a new council was seated earlier this year. This put planned dressage shows in jeopardy, so the council in August agreed to suspend some of the revocations long enough to allow the 2013 Global Dressage Festival to be staged at the property.
Adams (sh0wn above) has been a part of the community for more than 30 years. "There is no one in Wellington who is as knowledgeable as he is, especially with the equestrian community, but all of Wellington as well because he was one of those who helped author the charter of Wellington when it was incorporated," Santamaria said.
Adams said that he led a committee 15 years ago that developed Wellington's comprehensive plan.
"We established, as far as I know, Florida's only equestrian preserve," Adams said. "We established an individual committee just for how to develop that equestrian preserve. What do we want an equestrian preserve to mean in Wellington? Questions like, 'What kind of commercial density or intensity do we want in that equestrian preserve?'"
Adams said that commercialism in the equestrian overlay zoning district drew much discussion, and disagreement, among committee members. He said the panel never developed anything for the village to act on.
"I sat in on that committee, and their first response was, 'We don't need any [commercial uses] and we don't want any,'" Adams said. "Then somebody said: 'Wait a minute. We need the guy to bring in the hay; and the manure's got to get out; and we need our veterinarian; and we need the guy that shoes the horses; and a horse has to have his dentist.'"
Others suggested that a produce stand and coffee shop might be desirable in the preserve. But Adams said the overlay was adopted with no specific provision for commercial uses.
"We haven't given any standards for commercial development in the equestrian preserve," Adams said. "Shouldn't we expect an ambitious developer to say, 'You know? Those folks need me to define that for them, and my vision is the tallest building in Wellington,' and here we go."
Adams thinks that was an error on the part of the original committee, and also probably on his part as chair of the charter committee, not to have followed up and pressured on that issue more. He said that each council in subsequent years failed to enact commercial land use codes for the equestrian district.
"There is no question they were initially much busier than any of us envisioned when they first incorporated, but if equestrian is anywhere near as important as every elected official agrees that it is, it is important for us to plan, so I'm delighted we're doing that now," he said.
The equestrian disciplines in Wellington — polo, dressage and show jumping — evolved on their own without monetary assistance from the village, Adams said. There are more than 20 privately owned polo fields in Wellington, covering enough area to hold 540 football fields, he said.
"Five-hundred-forty football fields of lush, open land, set aside, preserved and maintained without a penny of tax money, if you didn't even consider the some $40 million a year these folks bring into our communities," he said. "We haven't planned for it; we haven't helped it much in any way. What a fantastic gift."
Adams said that he wished the village would be more forward-thinking and supportive of equestrian disciplines.
"The sad thing that stirs me up from time to time is that there are other venues, other equestrian disciplines, that would have almost as awesome an impact in Wellington if we only told them we were interested and helped them get started and welcomed them here," he said. "Needless to say, the recent publicity has not helped… and we need to get beyond that as quickly as possible."
Adams pointed out that there are several major equestrian disciplines, and only a few can be found in Wellington. This leaves much room for growth and expansion.
"We're talking about a potential there that far exceeds Wellington's capability to deal with," he said.
Adams believes any future expansion must be well-planned due to space constraints.
"There isn't a better time in Wellington's history for people to get passionate about this issue — not passionate about bashing each other, but passionate about dreaming about what could be, what should be and what's within our reach in deciding what we want to reach for and what's the best way to do it," he said.
Adams said that the way for people to get what they want is to participate in government. "You participate, things will happen," he said. "You don't participate, bad things will happen."