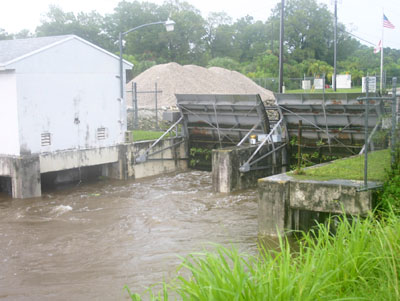 During the record rainfall associated with Tropical Storm Isaac, the Town of Loxahatchee Groves and the Loxahatchee Groves Water Control District worked together to avoid what could have been a much more serious situation, community leaders said at Tuesday's council meeting.
LGWCD Administrator Clete Saunier congratulated people who worked through the storm to keep culverts clear and water draining.
"I have never been more proud of the staff of the Loxahatchee Groves Water Control District," Saunier said, noting that the general feeling at the South Florida Water Management District was that the area would receive no more than 5 inches of rain due to the storm.
But on Sunday and Monday alone, there was more than 12 inches of rain within 18 hours.
"That kind of rainfall at that intensity is a significant storm," Saunier said. "Typically, even in your modern developments such as Wellington with sidewalks and streets, an 18-inch rainfall will flood everything up to within 6 inches of every finished floor elevation in that development. We are undeveloped property, which is to an advantage and a disadvantage in the sense that we don't have formal drainage structures or retainage basins and lakes that would allow us to evacuate some of this water."
The 12 inches of rainfall amounts to about 2 billion gallons of water that the LGWCD discharged through its gate structures. "There were problems sporadically throughout the district," Saunier said. "I know that most of the roads were inundated."
He recommended that the town and district cooperate in a public service campaign that would describe exactly what to expect from similar storm systems. However, he said it would not be financially feasible to build a system that would keep everything high and dry in the case of a similar storm.
"Let's face it, this is a swamp, and South Florida is based on a very low-lying marsh area, and we have to deal with that," Saunier said. "Most of us that have lived here for many years understand that. Some of the new folks don't understand."
He said the district is maintaining a level at the flood gates about a foot and a half lower than normal so the remaining water will continue to flow out of the northern area.
Saunier noted that the flooding damaged some of the semi-paved road surfaces. "I was very thankful that we did not have more damage than we did on the OGEM roads," he said. "There were a few failed pipes where we have some potholes, but not a whole-scale loss, which could have happened very easily, had we continued to get another 6 or so inches of rain."
Saunier said the SFWMD regulates stormwater release into the C-51 Basin.
"One of the unique advantages we have in being in this district is that our basin within our district has more allowable discharge than most other communities around us, and that includes Wellington, Indian Trail and everywhere else. That's one of the reasons we drain so much faster than they are," he said. "We're allowed discharges three times more than they are. That was established by the U.S. Army Corps of Engineers study of many, many years ago."
Saunier explained that the control structure installed on the C-51 Canal several years ago at State Road 7 divided the east basin from the west basin. "Everything that dumps east of that goes to the ocean," he said. "Everything that dumps west of that goes to the stormwater treatment areas to the west. That has improved our drainage dramatically. It has also increased our allowable discharge."
Saunier said he had received an e-mail from the SFWMD informing him that a roundtable discussion is planned for Wednesday, Sept. 12 and that all the area drainage districts are invited to discuss the after-effects of Isaac and what can be done in the future.
Mayor Dave Browning said he had talked to some of his neighbors, who measured well over a foot of rain. "I've heard some people say 20 inches at the north end," he said.
LGWCD Supervisor John Ryan said that one of his neighbors measured 20 inches of rain. "We know from that microburst a few years ago that different parts of the district can have dramatically different rainfalls," Ryan said. "We did get water in part of our house, too."
LGWCD Chairman Dave DeMarois said he was impressed with how quickly the water had drained off. "Ten years ago, the water would have been here for a minimum of two weeks," DeMarois said.
Much credit was given to LGWCD Supervisor Frank Schiola, a Riviera Beach firefighter who also functions as the town's solid waste liaison and spent most of the deluge monitoring culverts for blockages and streets for washouts and other dangerous situations.
Town Manager Mark Kutney said that Schiola was out Saturday and Sunday with John Choquette, owner of C&C Loader Service, which had equipment that could remove large items from the culvert mouths. "I want to thank both of them," Kutney said. "Mr. Schiola has been great in the tropical storm. He was out there being my eyes and ears when I couldn't get out there."
On Monday, Aug. 27, Kutney said he was out inspecting the damage. "As I rode around, it became clear to me that this was not going to be your normal event because as I was driving, it kept raining and the situation kept deteriorating," he said.
On Tuesday, Aug. 28, he had three teams operating a rapid damage assessment to try to get some numbers to the county, Kutney said. By that evening, the town and district both submitted damage assessment reports to the county, and on Friday he received word that the Federal Emergency Management Agency would be there assessing the damage Wednesday, Sept. 5.
Kutney also advised that the nurseries in town took major hits, with plants submerged four days or longer.
Schiola said he became concerned on Saturday when the rain started, and began to monitor culverts for blockage and free them up.
"The district had their people here on Saturday, and Sunday the rains kept on coming," he recalled.
Seeing several blockages that he could not free up with a shovel, he called Kutney and enlisted the help of Choquette.
"We spent from 2 in the afternoon to 10 p.m. Sunday clearing out culverts," Schiola said. "Mr. Kutney said, 'I don't care if they're district or town, we need to keep the water flowing.'"
Above: Water rushes through control structures.