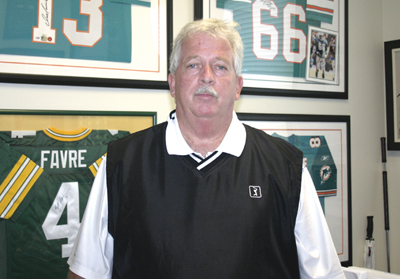 There has not been a day in his 35-year career that Mike Brady hasn't looked forward to coming to work. Starting his sixth week as tournament director at the Madison Green Golf Club, he loves coming to work even more now.
Brady came from the Inverrary Country Club in Lauderhill, where he was tournament director for four years.
"I've been doing golf tournaments for 35 years, and what I enjoy most is that I get to help people who don't quite know how to run a golf tournament," Brady told the Town-Crier as he sat in his office adorned with jerseys of Miami Dolphins players, posters of Elvis Presley and Major League Baseball player Jeff Conine, and photos of numerous professional golfers he's helped. "I will go and sit down with their committee and try to stay on top of them all the way through the process."
The reward for that is that he gets to see the good side of celebrities who are doing fundraising to help their foundations. "A lot of these celebrities, when they retire, they don't know what to do, so they start a foundation that normally will help children or women in distress," Brady said. "In return, because I do a lot of business with them, they help me at times."
For example, he recently was able to get seven pro football players to participate in a benefit tournament in Jupiter because he had helped them with their events. He was also able to get Chick-Fil-A to offer lunch at the event.
"There are a lot of little ways you can help people, and I just have that passion still to get up every day, and I have a lot of fun," said Brady, who is 61. "I enjoy doing my job every day."
Originally from Memphis, Tenn., Brady worked as a caddie to pay for his education in high school and college, where he majored in business. Right out of college, he started working for Jewel Food Stores in Chicago, where a vice president got him playing at Butler National Golf Club in Oak Brook.
Eventually he was asked to organize golf outings. "I started doing the outings, and I said, 'Hey, I can do this for a living,' and that's what I've been doing ever since," Brady recalled.
Brady said Madison Green owner Todd Schoenwetter asked him to come aboard and help get the venue recognized as one of the top golf and country clubs in Florida.
"We want to make this a place where you will love having your tournaments, and you will come into a place that has great experience," Brady said. "We've got two pros here who do a great job of running tournaments, Mark Rodgers and Brian Govi. Todd is putting together a really strong team where we can run some major events."
The first professional tournament under Brady's direction will be the Edge Tour Jan. 3-6, with a $75,000 purse, mainly for Florida-based pros, with part of the proceeds going to professional golfer Bernhard Langer's foundation, 4 Kids. "We want to showcase our golf course, and… the pro-am proceeds will go to his foundation," Brady said.
Langer is the leading money-winner on the Seniors Champions Tour, Brady said, adding that his daughter, Jackie Langer, will help run the tournament along with tour director Eric Kaplan.
The pro-am tournament will take place Thursday, Jan. 3. "We're going to bring a lot of celebrities and some pro golfers," he said. "It's going to cost $1,000 per foursome. We'll draw names of pros to play with that company's foursome."
The top three teams will receive pro shop gift certificates, followed by dinner and an auction, including a foursome to play a round of golf with Langer. All proceeds will benefit 4 Kids.
The tournament takes place that weekend. "We're going to try to get 128 to 144 pro golfers," he said. "They will play a three-day tournament for the prize money."
Brady's first big tournament at Madison Green will take place Sept. 29 — the second annual Kya's Smiles Golf Tournament in honor of Kya Bliss Kapur, a baby born to Pavan and Kristen Kapur of Boynton Beach, along with her twin sister, Jasmin, on Jan. 28, 2010.
At 8 weeks old, Kya was diagnosed with infant leukemia and sent to St. Jude Children's Research Hospital, where she endured multiple chemotherapies and medications. She died of a severe respiratory virus on March 19, 2011.
"We're doing a big benefit, and St. Jude corporate office in Memphis is coming here, and the tournament is already sold out with 144 to 160 golfers," he said. "That's a great tournament, and Chick-Fil-A is coming in to do the breakfast before."
Brady said an event he is really striving for is an LPGA tournament. "We're trying to put a bid in to bring the LPGA back to Madison Green in January 2014," he said, explaining that it will take a lot of work, as well as cooperation from the Village of Royal Palm Beach, the City of West Palm Beach and Palm Beach County.
"Our golf course is really getting in shape," he said. "We're qualified for it."
Brady is now trying to find two or three companies to pull together $3 million to sponsor the tournament. "That's our next project to work on," he said.
Brady has also visited local high schools to offer the course for interscholastic tournaments. "What I want to do is show the high schools that we want to work with them and let the kids expand their horizons of playing golf, so we're letting high school golf teams play for free," he said.
In return, he hopes schools' athletic teams will hold their benefit tournaments at Madison Green. "My job is to do a lot of stuff, but at the same time I'm bringing in some major tournaments," he said.
Looking at the walls of his office, he said he has great memories of all the thousands of tournaments he has organized.
"I sit here every day and I feel the people that are on these walls, because I've done stuff with all of them and they're just great human beings," Brady said. "One day I'd like to write a book on the good side of celebrities, because all you hear is the bad stuff, and I'm on that good side all the time."
The Madison Green Golf Club is located at 2001 Crestwood Blvd. North. For more info., call (561) 784-5225 or visit www.madisongreengolf.com.
Above: Mike Brady in his office at the Madison Green Golf Club.