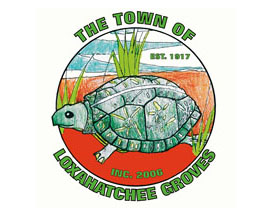 The Loxahatchee Groves Town Council conducted its first public hearing Tuesday on the budget for fiscal year 2012-13. At the meeting, the council formally set the town's property tax rate at 1.2 mills, the same rate as last year.
They also gave preliminary approval to a budget of $1,426,748, down from the current year's budget of $2,147,763.
There was no public comment on the tax rate. Councilman Ryan Liang made a motion to adopt the rate, which carried 5-0.
On the budget itself, Town Manager Mark Kutney said there were a couple of questions remaining to discuss, including the solid waste assessment with service provider Waste Pro.
Kutney explained that Waste Pro is proposing a semi-automated pickup that would be less expensive but would require a five-year contract in order for them to recoup their expenses of providing special waste cans and fitting their trucks with the equipment.
However, the town is scheduled to re-bid its waste contract next year, Kutney noted.
The solid waste fee is slated to go up with the conventional non-automated pickup, but the council approved a $100 per customer annual refund taken out of unassigned funds to lower the rate.
Without the automation, the monthly fee is slated to rise from $29.87 per property to $31.26 before the town's rebate.
Waste Pro Marketing Manager Patricia Christensen said a lower rate could be offered only in a five-year contract.
"We would be more than happy to provide you that lower rate with semiautomatic services, but we have to be able to recover our investment into the equipment that we would have to add," Christensen said. "There is about a $75,000 cost to provide the residents with the carts, in addition to modifying our trucks to be able to pick up those carts. We have an investment in both our equipment and our employees."
Vice Mayor Jim Rockett said the town has to issue a request for proposals next year.
"That is not an option," Rockett said. "Does that give you a different perspective? Because I'm interested in a partnership relationship with anybody who provides services for our town, but I get an uncomfortable feeling that you could do it for less if you would provide a different level of service, but you're kind of holding our feet to the fire. I feel a little bit like a club is over my head saying, 'You've got to extend the contract five years.' I don't like doing business with any vendor that way."
Christensen said that five years is the standard time period for a solid waste contract.
"I don't have authority to ask for anything less than that at this point," she said. "We would have to go back to our regional vice president and discuss that with him."
Rockett said he was disappointed that Waste Pro had not shown any more creativity in trying to reach a solution.
"I don't think you were creative enough in looking at what could be done to protect your costs," he said. "I understand what you're saying, you have a one-year commitment from us and you have a commitment in costs that's greater than the increase that you're getting for the next year."
Rockett said they would set the rate that evening based on what the council knows but asked Waste Pro representatives to see what they can do about reducing the rate.
Councilman Ryan Liang made a motion to adopt the 2012-13 budget, which carried 5-0.
The second and final budget hearing is set for Sept. 18.