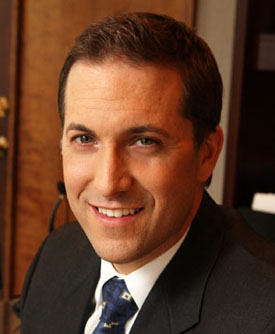 Former State Sen. Dave Aronberg hopes voters will recognize his varied experience and proven leadership skills, choosing him Nov. 6 to be Palm Beach County's next state attorney.
Aronberg, the Democratic nominee, faces Republican Dina Keever and independent candidate Robert Gershman in a three-way race. The winner will replace interim State Attorney Peter Antonacci, who took over earlier this year when former State Attorney Michael McAuliffe resigned to take a job in the private sector.
Aronberg, 41, is a South Florida native. He has a bachelor's degree in government and a law degree, both from Harvard University.
After graduation, he spent three years in corporate litigation, but felt he wanted work in public service. So he took a leave of absence to work for Bill Nelson, who was then serving as Florida's insurance commissioner.
"Together, we investigated European insurance companies that had stolen insurance policies from victims of the Holocaust," he said. "It was the largest consumer fraud case in the world."
In 1999, Aronberg was hired as an assistant attorney general, working in economic crimes. Most famously, he headed the state's fraud case against "Miss Cleo."
The next year, Aronberg was selected as a White House Fellow, serving as special assistant to the secretary of the Treasury Department. He served under presidents Bill Clinton and George W. Bush, focusing on international money laundering.
Aronberg was elected to the Florida Senate in 2002 as its youngest member. He served until 2010. While in office, he pointed to his work fighting so-called "pill mills."
He sat on the Medicaid task force and the Joint Legislative Committee on Everglades Oversight, and also focused on consumer protection laws.
In 2010, he ran for Florida attorney general, losing in the Democratic primary. After that election, the eventual winner, Republican Attorney General Pam Bondi, hired him as a special prosecutor to fight pill mills and other drug cases.
Aronberg said that his experience makes him the best candidate. He emphasized that, despite criticism, he has the necessary experience in the courtroom for the job. "I have prosecutorial experience," he said. "I was on the trial team that put away [gang leader] Futo Charles. I was a prosecutor on a heroin case in Fort Myers."
Furthermore, Aronberg said his experience out of the courtroom will be beneficial to the office.
"I think I have the best experience in and out of the courtroom," he said. "I am the only one in this race who has written our state laws and enforced them. I know how budgets are built. I have the full experience needed to be the CEO of the largest law firm in the county."
Aronberg said that his top accomplishments include creating a consumer protection division during his time as state senator. "We returned $4 million to people who had been ripped off," he said.
If elected, he said he would welcome oversight by the Palm Beach County Inspector General. "I have no problem as long as it's not a conflict of interest," Aronberg said. "If I am working closely with Sheryl Steckler, perhaps the oversight should come from someone else in the office that I don't talk to on a daily basis. I would want to be sure it has a real independent perspective."
Though Aronberg admitted that his opponents have more hours logged in court than he does, he said the position wouldn't require him to be in court.
"This is not a trial lawyer position," he said. "I know how a budget works. I know how to go to Tallahassee and fight for Palm Beach County. I can lobby for the changes in laws that are tying our hands."
Aronberg added that he has a better understanding of the community. "I know the priorities of this community," he said. "If you haven't been a part of the community, if you've never been to a civic meeting, then you don't understand the community."
Although Aronberg was glad that McAuliffe created the Public Integrity Unit, he said that McAuliffe did not handle the office well, pointing to the county's poor conviction rate. "We have to make sure we are charging cases correctly," he said.
If elected, Aronberg said he would make changes to the office, including how cases are brought in and charged.
"Peter Antonacci helped change that, but I would put it in stone," he said. "We have the lowest conviction rate in the state because of the system [put in place by McAuliffe]. We need to have independent experts deciding how the cases are charged."
He also said he would be less concerned with press releases, something he said McAuliffe pressured his attorneys to do. "Individual attorneys should not be pressured to fill out press releases about everything they are doing," Aronberg said. "This is not a machine to get me elected to higher office."
He said that several veteran prosecutors left the office under McAuliffe because they did not have the freedom to settle their own cases. "If I have no faith in them to settle their own cases, then they shouldn't be there," he said. "There needs to be a change in morale."
Aronberg said he would like the office to focus on domestic violence and economic crimes, two units that he said have been decimated by prior administrations.
Regarding the negative portrayal of his campaign in certain media outlets, Aronberg said that he knew there would be a backlash before he got into the race. "I was warned when I decided I was going to take on Michael McAuliffe," he said.
Aronberg asserted that Palm Beach Post Editorial Page Editor Randy Schultz had an overly close relationship with McAuliffe.
"They crossed the line in their relationship," he said. "Information was disclosed to the Post in exchange for favorable coverage. When I got into the race, [the Post] assigned an investigative team to dig up anything they could to destroy me."
Additionally, Aronberg said that he worked to get out information about "gross mismanagement" in the office that was being ignored by the regional media. "I'm proud I was able to get truthful information out," he said.
The Post recently published an article featuring allegations against Aronberg, including his relationship with millionaire Martin O'Boyle. Critics say that O'Boyle financed anti-McAuliffe propaganda to support Aronberg. "The stuff that has been reported is patently false," he said. "He had been doing this long before I got in the race."
Aronberg said that the media storm has taken the campaign away from the issues. "The voters deserve an election about the issues, and that's what I've focused on — not distractions," he said.
Aronberg said the voters should choose him because he will fight for the community.
"I've been a part of this community helping people with problems," he said. "I've fought for people. I've been doing it my whole career. If you don't have a burning desire to protect the families in these communities, you don't have a good enough reason to run for state attorney."
For more information, visit www.davearonberg.com.