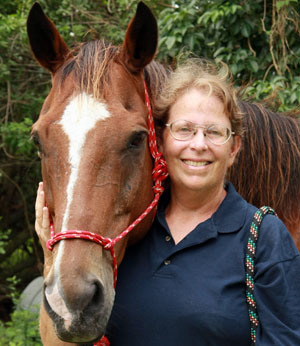 TAILS FROM THE TRAILS
For a while, a few years back, I used to tell my horses they were grazing on gold. You remember. I remember. You went to sleep and your house was worth one price, and you woke up and it was worth more. Things were pretty crazy for a bit, then reality hit and everything crumbled. Happily, things are looking up once more.
Matt Varney's in the middle of today's real-estate market. He's an associate with Wellington Equestrian Realty, and specializes in equestrian properties.
"I started out in Ocala," Varney said. "For six years, I was with Ocala Horse Properties. This is my third season in Wellington, though I also show some properties in Loxahatchee, White Fences and Homeland. Although both Ocala and Wellington have large horse populations and equestrian properties, a lot of people don't know the difference between the two."
Varney is happy to share his knowledge.
"Ocala farms tend to be larger with more acreage," he said. "Wellington farms are generally smaller. The cultural feel is also different. Ocala's a little more laid-back, while Wellington has the higher-level shows. My job is to help people find the property in the neighborhood which will best suit their needs."
Varney said the three things he tries to push his buyers to understand are how many acres they can afford, how many stalls will they need and how close they need to be to the show grounds. The closer to the shows, the more the land costs. "Those are the basic questions," he said. "We start with that, and then work within the buyer's budget."
There's a misconception that buyers think they'll have a wide choice of properties, Varney said. A good Realtor understands the market, knows the area, and truly "gets" a community's lifestyle, to make sure it will suit the client. "Once we've answered those questions realistically, there may only be two or three properties which fit the criteria," he said. "Right now, I have more buyers than properties. There's a shortage of good mid-level properties in the $800,000 to $1.5 million range."
For that price, you can find about 2 acres in Wellington with a 2,800- to 4,000-square-foot house and sometimes a small, four- to six-stall barn. "There are a lot of new families moving to this area," he said. "A smart buyer can start with something adequate, wait three to four years, then sell and move up to something bigger or more suitable."
Varney added that horse people tend to look at the barn and pastures first. "Houses can always be fixed up and enlarged," he said. "Horse people want the horses to be comfortable, first. A functional, turn-key horse farm is highly desirable."
Many buyers are interested in the Wellington area, he said, especially because of the new dressage events recently added, which have brought in a whole new group of riders.
"As long as Wellington continues to support equestrian sports and is proactive as to growth, there's no limit in how well it can go," Varney said. "This real estate holds its value and offers good deals with good equity. Wellington's an incredibly unique market and is currently doing better than other areas. Foreclosures are fewer and get rapidly snapped up. My job is to put my client into a property that will make them happy for years and will also be a good investment. Wellington real estate is a wise investment. That has been proven over and over."
So Wellington's doing just fine, and if you have a spare million or so, come on over. But what about the rest of us horse lovers who may be in a different financial bracket? Not to worry — equestrian properties in other horse-friendly communities are also doing well.
Carl and Cheri Knottnerus are brokers with Re/Max Prestige in Royal Palm Beach. This married couple has been in the business for 22 years, serving mostly the western communities, primarily The Acreage, Royal Palm Beach, Loxahatchee and, yes, Wellington. They've lived in The Acreage for 25 years, so they know the area well.
"When people are looking for an equestrian property, the barn and the pastures are what they look at first," Cheri explained. "The horses are more important than they are. They want a property that's laid out well, fenced and cross-fenced so they can rotate pastures and keep horses separated, if necessary. They want a barn with water and electric, a tack and feed room, and the more stalls, the better. The house is really secondary. They prefer the property be on dirt roads and near trails. Being in the middle of nowhere is just fine."
If you have an equestrian property and are thinking of selling, you'll get the most bang for your buck by fixing up things like rotted wood, broken fencing, and making sure the barn is neat, clean and presentable. A new coat of paint couldn't hurt.
And what can you expect to pay for these properties? "A lot in The Acreage, typically 1.25 acres, fenced with a two-stall barn, goes for about $180,000," Cheri said. "The lots in Loxahatchee Groves are generally 5 to 10 acres and go for $250,000 to $350,000 depending on the location and the size of the barn and house. Deer Run and Fox Trail, with 5-acre lots, tend to have larger houses, and are priced from $350,000 to $500,000."
She is upbeat about the market.
"The real-estate market is definitely picking up dramatically," Cheri said. "We're swamped. Prices are very fair right now, and the average listing time is 30 to 60 days. Foreclosures and short sales are being snapped up. This is a pretty good time to buy, or sell, an equestrian property in this area."
For more information, call Matt Varney at (561) 779-9992, or Carl and Cheri Knottnerus at (561) 753-3380.