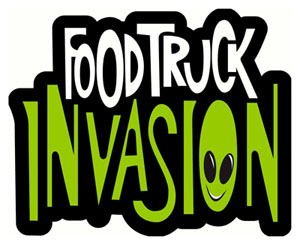 Offering a taste of gourmet cooking in a casual environment, the Food Truck Invasion is coming to the Wellington Amphitheater every Thursday evening through May 2013.
About 15 gourmet food trucks descended on the Wellington Amphitheater this Thursday from 5:30 to 10 p.m., offering a variety of food. The event will continue each week through the spring.
"It's going to be a picnic-style party with gourmet food," Food Truck Invasion organizer Steve Simon said.
Food trucks are a new trend in gourmet dining made popular by television shows such as The Great Food Truck Race on the Food Network.
"Food trucks have been around for many years in California," Simon said. "A chef might not have the money to open a restaurant, but enjoys putting different concoctions together."
Though the food is easily eaten on the go, it's a far cry from simple hot dogs or other event food.
"It's not just hot dogs and hamburgers," Simon said. "And if it is something like a hot dog, there's always add-ons that make it gourmet. We have a guy who makes Colombian hot dogs, and he adds toppings like cheeses, chips and more."
Simon said that the varieties of food include barbecue, Argentinian food, authentic Mexican food, cupcakes, fresh and frozen yogurt, and more.
And attendees can choose to try some of these each week. "The average person tries something from three different trucks," Simon said.
Guests will be able to enjoy their food on the lawn of the Wellington Amphitheater.
"They'll be in the parking lot next to the Wellington Amphitheater," Cultural Programs & Facilities Manager Joe Piconcelli said. "We'll have a DJ, and then once a month, there will be live entertainment."
The Food Truck Invasion has been a popular event in parts of South Florida.
"We saw them doing it down south," Piconcelli said. "We thought it was very interesting. When they do it, they get anywhere from 1,000 to 1,500 people."
The event is family-friendly and open to everyone.
"You can bring a blanket or chairs and sit on the grass and listen to music while you eat," Piconcelli said. "It's a great night out, and you don't have to cook."
Though many of the trucks take credit cards, Simon suggested bringing cash just in case.
Additionally, there are items geared especially for children, Simon said. "A lot of trucks have a kids menu," he said.
Piconcelli encouraged the whole community to come out and support the event.
"You can have a night out under the stars, and it's relatively inexpensive," he said.
Food trucks expected at the events include Best French Fries, Big Mike's BBQ, Crazydilla, Dolce Gourmet Cupcakes, Fry Daddy, Joji Yogurt, the Loaded Burger, Stocked N Loaded and more.
For a full list, or for more information, visit www.foodtruckinvasion.com or call (561) 791-4000.