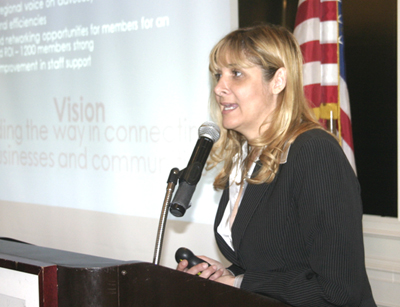 Central Palm Beach County Chamber of Commerce CEO Jaene Miranda reviewed the successes of the past year during a luncheon Monday at the Breakers West Country Club.
A major focus of the discussion was the recent merger of the Palms West and Greater Lake Worth chambers of commerce, which formed the Central Palm Beach County Chamber of Commerce.
"I think we would all agree that the biggest thing that has happened this year is our merger," Miranda said. "This is an initiative that began in 2011, and we made the announcement on Feb. 27. It was a very exciting thing for our organization because it really gave us the opportunity to create a strong regional voice for our businesses. It gave us the opportunity to join two organizations and improve their operational efficiencies. It expanded our businesses' networking from 800 to 1,200, and overall it gave us an opportunity to make things happen."
The merger expanded the chamber's territory from the Glades to the coast, and from Northlake Blvd. south to Lantana, representing 15 municipalities altogether.
Miranda said many volunteers worked long hours to enable the merger. "We appreciate everything that everyone did, including rebranding and marketing," she said. "We had to do everything from stationery to our web site, to redesigning and expanding our newsletter. We now have over 60,000 distribution for our newsletter. We get the word out every month about our activities and our members."
In addition to the merger, the chamber has been growing its groups and committees, including the Young Professionals led by chamber staff member Jessica Clasby and the Medical Committee led by Dr. David Soria, both of which have monthly, socially oriented meetings. The Equestrian Committee, led by staff member Mary Lou Bedford, launched last year under the guidance of Mason Phelps Jr. of Phelps Media Group, who helped develop the committee's initiatives.
The chamber now produces 13 signature events. "With the merger, we gained four additional events that we do on an annual basis," Miranda said.
The Lake Worth Street Painting Festival is one of them. "For those of you who have not been to this event, it is phenomenal," she said, inviting the community to the 2013 event Feb. 23-24 along Lake and Lucerne avenues in downtown Lake Worth.
The Royal Palm Art & Music Festival in Royal Palm Beach will return in March for its fourth year. This event includes street painting like the Lake Worth event, with added activities. "We have rides, we have kayaking, we have a lot of competitions," Miranda said. "This event keeps growing every year, and it's the only festival in the western communities that actually closes down the street for more than a few hours. We close Royal Palm Beach Blvd. down for three days."
Reggae Fest, which takes place in April, is another of the Lake Worth events. "It actually got rated the No. 1 South Florida music festival by New Times," Miranda said. "We beat out SunFest."
In May, the chamber hosts the Florida Green, Energy & Climate Conference/Expo at the Palm Beach County Convention Center in West Palm Beach. "We have speakers from all over the country come and speak on sustainability issues, all different industries where there is transportation, clean energy and more," she said. "We invite 100 municipal leaders from throughout Florida to join us during this conference. Through our foundation, we provide a grant to these individuals to come down. We pay for their hotel stay and their registration at the conference."
Summer events include Taste in the West, promoting the restaurant and food service industries, and a poker tournament at the Palm Beach Kennel Club. Wellington engineer Mike Sexton won last summer's tournament, which offered a $1,000 purse and a seat at the World Series of Poker tournament to be held at the Kennel Club.
The Tropical Triathlon in September is one of several athletic events sponsored by the chamber. "This one is the most extreme of what we have in our offerings," Miranda said. "They get to jump in the Atlantic Ocean and swim three-quarters of a mile, and then come out and bike another mile and then run 5 kilometers. This is a great event. Although Lake Worth has been doing this event for many years, this is the first year we have managed it."
October brings Blues, Brews & BBQ in Lake Worth and the Fall Festival in Wellington. Co-hosted by the village, more than 4,000 people attended this year's fall festival, Miranda said. The Farm City luncheon last month and three upcoming sold-out bus tours recognize the importance of agriculture to the county's economy. "It's important to support partners out in the west," Miranda said. "We have a luncheon and the three tours, where we take community leaders out there to actually see what happens out in the western agriculture areas."
SalsaFest in November celebrates the county's fastest-growing ethnic group. "We have 30 percent Hispanics in our central Palm Beach County market area," she said. "This is our way of giving our businesses the opportunity to market to this important segment of our population. The crowds are tremendous; the music is phenomenal; the involvement from the businesses is great."
The Holiday Parade, Holiday Mile and Holiday Park Tree Lighting this Sunday in Wellington continues to grow each year. "We welcome you all to come out again this Sunday and be part of this activity," she said. "It's a lot of fun for everyone."
The chamber also staged 57 networking events in 2012, including after-hours mixers, monthly luncheons and 10 breakfasts. It also sponsors five educational programs, including a leadership class and business planning academy. The chamber also awarded 10 $1,000 scholarships to local graduating seniors.
According to Miranda, the chamber generated $523,000 worth of economic impact in the local economy. "Those are the dollars we put back into the community, whether it be purchasing, printing, T-shirts or stage equipment," she said. "This is stuff we're giving back to the community. Last year, it was $419,000, so we had a 25 percent increase. If you add that to operations, which would cover everything from electric, lighting for both buildings, everything that would run our offices, salaries, etc., we had almost $1.4 million in impact to the community."
Learn more about the Central Palm Beach County Chamber at www.cpbchamber.com.
ABOVE: Central Palm Beach County Chamber CEO Jaene Miranda addresses chamber members at Monday's luncheon.