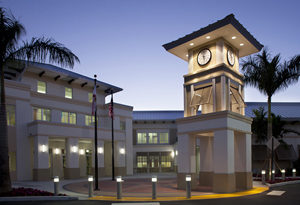 Citing concerns about residents' safety and sanity, members of Wellington's Planning, Zoning & Adjustment Board asked village staff Wednesday to place stricter conditions on proposed changes in the rules governing hours of operation for some Wellington businesses.
The proposed ordinance would have removed limits on the hours of operation for businesses within 300 feet of homes, as long as activity on the site was contained entirely indoors.
But at Wednesday's meeting, board members asked that the changes be reconsidered.
"I believe that hours of operation need to be strictly controlled," Board Member Paul Adams said. "We don't want to encourage anyone who wants to come in and be open until 5 a.m."
Discussion regarding the hours of operation for businesses began about two years ago when Dunkin' Donuts asked for extended hours at its new location on Forest Hill Blvd., Village Attorney Jeff Kurtz said.
The village code currently allows businesses within 300 feet of homes to operate only between 6 a.m. and 11 p.m., he explained.
"At that time, there was no relief mechanism," he said. "There was a staff acknowledgment that there are businesses that exist, and have existed throughout the history of Wellington, that have hours of operation beyond those time frames and are within 300 feet of a residence."
Wellington Principal Planner Bill Nemser explained that the ordinance would even the playing field for businesses throughout Wellington.
"If they're in excess of 300 feet [from homes], they are not currently required to comply with the hours of operation," he said. "So we looked at what the purpose of having a 300-foot requirement was."
He noted that many gyms are now 24-hour operations, and that occasionally movie theaters show midnight premieres of movies — all of which are prohibited within 300 feet of homes under the old code.
Nemser said that although there had been no complaints, hours were limited because of concerns about noise, light and other disruptive activity.
Nemser added that the staff's review took into account different scenarios, such as issues caused by drive-through windows, and found that the concerns would be governed by present village code.
"Each of those issues is covered by other existing codes," he said. "Any nuisance is already covered. It would become a code issue. I couldn't put my finger on what we're trying to restrict with some of these regulations."
Even alcohol sales are governed by state statutes, Nemser said.
He said staff members thought the hours of operation were unnecessary in light of other rules that would control issues that might concern residents.
"We thought it would make more sense to remove the restrictions on the hours of operation for businesses that are located exclusively indoors," he said.
Outdoor activities, however, would continue to be restricted, with hours from 6 a.m. to 11 p.m.
But board members expressed concerns that residents might be disturbed by businesses being open late.
Board Member Mike Drahos said he believed there should be regulations depending on the type of business.
"I would like to be able to get gas at 1 a.m. or see a movie at midnight," he said, "but I don't want a convenience store open 24 hours that is within 300 feet of someone's home."
Board Chair Craig Bachove agreed. "If you don't isolate the types of businesses and the hours they can operate, you're making more work for staff like code enforcement," he said. "If you set rules, it will keep those things from occurring down the road, rather than leaving it open and dealing with things when they happen."
Several members said they didn't want many businesses open 24 hours. "It's too much like Las Vegas," Board Member Marcia Radosevich said.
Adams agreed, noting that Wellington once allowed bars and other establishments to stay open late. "We were finding naked women in the bushes," he said. "We had teenagers with broken jaws. We had a real problem, and the council passed restrictions on bars and restaurants."
Drahos asked whether village staff would consider regulating hours by the type of business. "I think we need to make designations and think this out," he said.
Radosevich agreed. "I wonder if we could do a better job if we went back to the drawing board," she said. "If we're reacting this way, how do you think the people of Wellington will react if they find out there are no restrictions? I think we'd be lynched, and I'm not sure I would blame them."