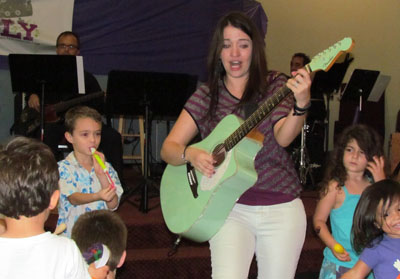 Combining her love of music, children and her faith, singer and Jewish educator Emily Aronoff Teck released her second album, Miss Emily Celebrates: Every Day, on Saturday, Jan. 12.
Teck, a Wellington resident, hosted several album release parties last weekend throughout Palm Beach County. The largest took place at Temple Shaarei Shalom in Boynton Beach, where more than 100 people attended to watch her perform.
Children and their families danced and sang as "Miss Emily" got them out of their seat with her live band and sing-along-style lyrics. Many of the attendees were supporters who attend the Jewish Community Center in Boynton Beach, one of the places where Teck performs monthly.
Music has always been a significant part of her life. While growing up in Georgia, with parents who encouraged her talent, Teck found she had a keen interest in music. As a teenager, she started working as a song leader.
"That's when I first learned how to song-lead young people," Teck said. "Judaism and music have always been in the forefront of my interests ever since."
Teck moved to Wellington two years ago from Boynton Beach with her husband, Jason, who coordinates the business side of her career. She began her career working as a music teacher at a preschool five years ago.
"I really enjoyed it and found that I had a passion for it," Teck said. "So I started writing my own music and working as a consultant and performer."
"Miss Emily" now travels to schools throughout the country doing musical performances that get children engaged while teaching them about Judaism. "I try to infuse Judaism with joy and fun in communities where sometimes the prayer service gets a reputation for being a little bit dull and boring," Teck said.
Making upbeat, fun music was a way for her to reach young children. Two years ago, she released her debut album, Miss Emily Celebrates: For Shabbat. "I did it because I thought it would be fun to go into the studio," Teck said. "I was right, and I had a terrific time."
For Teck's first album, she put her own spin on traditional religious music. But for her second album, Teck decided to write all new material and took inspiration from My People's Prayer Book, Volume 3. "I felt like there were many fundamental concepts that are important for young Jewish families to be learning," she said.
Teck has found a lack of modern Jewish music that young families and their small children can relate to.
"There are a lot of songs about Shabbat and Hanukkah, but I personally would argue that joy and thanking God are much more foundational to Judaism than Hanukkah," she said. "My goal is to create music that brings that to families."
Teck wants to get children and families excited about praising God. "They're surprised when I want them to dance and jump around during a prayer service," she said. "Most kids are really moved when they hear that it's rock 'n' roll music and not guitar classical style music."
Teck does not want to replace traditional Jewish music; she wants to add to it. "I think that the classic Jewish music still plays an important role in teaching these children," she said. "I'm not trying to replace cantorial music; I just want to introduce a different type of music."
Her music is typically for children younger than age 10. "I focus on pre-readers and their families, but most children under 10 like it," Teck said. "I'm hoping that my music will become more inclusive as I go along, but for now my focus is on young children and their families."
As an avid educator of Jewish children, Teck is planning on continuing her education by beginning her studies toward a doctorate in Jewish education. "I'm hoping that I could revolutionize the way that children and their families become engaged in their congregations, she said.
Teck performs at Temple B'nai Jacob in Wellington at 6 p.m. on the third Friday of every month.
There are 12 tracks on the new album, which is either available for download online for $10 or on CD for $15. For more information, or to purchase the album, visit www.missemilycelebrates.com.
ABOVE: Emily Aronoff Teck performs for a crowd of children.