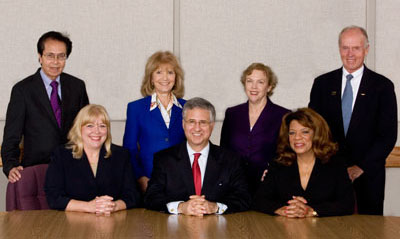 The Palm Beach County Commission approved a $100,000 contract Tuesday with the Legal Aid Society of Palm Beach County to assist workers who feel they have been unfairly denied their wages.
On Dec. 4, the commissioners established a policy condemning the denial of lawful wages to an employee and established a procedure for employees to recover back wages through a program administered by Legal Aid.
For members of People Engaged in Active Community Efforts (PEACE), who have lobbied more than a year for a wage theft ordinance, the resolution fell short of what they advocated.
PEACE representatives wanted an ordinance based on one that exists in Miami-Dade County, but Palm Beach County staff thought the Legal Aid Society could address the issue more effectively than Miami-Dade's setup. County staff asserted that the Miami-Dade model has lagged in actually collecting unpaid wages because of legal holdups.
On Tuesday, Commissioner Jess Santamaria said PEACE had asked for a 30-day postponement of approval of the contract with Legal Aid in order to work out remaining issues, and questioned county staff why an extension shouldn't be granted.
Assistant County Administrator Brad Merriman said it would delay implementing the program. "We reviewed the e-mail that was sent, and we are satisfied by the response from Legal Aid that those issues were resolved, so we don't feel it's necessary for any further delay," he said.
Merriman added that entering into a contract with Legal Aid remains the best solution because it has proven successful, advocating at no cost to clients, which would not be the case with a county ordinance.
According to the county staff report, involved parties did agree that Legal Aid's Wage Dispute Project will assist county residents with the collection of unpaid wages.
The Legal Aid program will cover the salary and benefits of a staff attorney assigned to the program, along with the support services, investigative needs, court processing and other costs. The program and its funding will be re-evaluated in a year.
The Wage Dispute Project will also utilize the 15th Judicial Circuit's Wage Dispute Docket and Wage Dispute Division created by an administrative order in December designed to increase fair and efficient resolution of those types of disputes.
Santamaria said he has seen the commissioners postpone numerous items in order to work out issues and for all parties to express their thoughts. "We have done this quite often," he said. "I just felt it fair and proper to give a 30-day extension."
Commissioner Priscilla Taylor made a motion to approve the Legal Aid contract, which carried 6-1 with Santamaria opposed.
ABOVE: The Palm Beach County Commission.