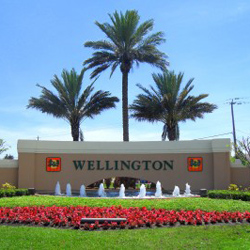 Members of Wellington's Planning, Zoning & Adjustment Board voted unanimously Wednesday to recommend approval of a master plan that will allow for two estate homes at White Birch Farm.
The property, located on Pierson Road east of South Shore Blvd., was once considered part of the controversial Equestrian Village development to the west, but when approval for that site's master plan was revoked, the owners of White Birch Farm opted to come in for a separate master plan.
The master plan change would show the separation of the two sites, as well as give White Birch Farm an official access point on Pierson Road.
Board members, however, did not approve a request for an additional access point on the northeast end of the property, nor did they approve a request for an "equestrian facility" designation.
Board Member Carol Coleman asked village staff for a definition of "equestrian facility," but planner Cory Cramer said there was not a concrete definition. "The definition is based on what is taking place on site," Cramer explained.
But Board Member Marcia Radosevich was concerned about approving something with no definition.
"We'd be voting on something that has no meaning," she said, asking why a change in designation is necessary.
Board Member Paul Adams said it was because its current designation as a tennis and polo facility is outdated.
Board Member Tim Shields wanted to know if the "equestrian facility" designation would allow anything more than the two estates on the property.
Wellington Director of Growth Management Bob Basehart explained that the designation would allow for some equestrian elements. "They could put paddocks in or training facilities," he said. "They can do equestrian activity."
However, these facilities could also be built under the site's current designation, Basehart said.
"The underlying comprehensive plan map is commercial recreation. I'd recommend that you don't try to get overly restrictive in the designations you attach to the property," he said.
Coleman wanted to know whether it included stables, and Basehart said it would.
Radosevich asked if a horse show could be held on the site. Basehart said a horse show would require approval from the Wellington Village Council.
Because the current designation would allow the applicant to operate as a polo facility, Radosevich suggested striking the change in designation.
Another issue of contention was an access point at the northeast corner of the property. Board members were in agreement, though, about making permanent a long-used access point on Pierson Road to enter the site. "That's been used for more than 30 years," Coleman said.
But a second access point requested by village staff concerned several board members.
Wellington Equestrian Preserve Committee Chair Cynthia Gardner said during public comment that the access would allow for eventual golf cart connectivity through Wellington.
"The purpose of that access is to be able to allow golf cart traffic to move from the Palm Beach Polo & Country Club along the eastern side of this property, down Southfields Road and either into the International Polo Club through the back entrance… or to give people another way of going to the horse show."
She noted that the Equestrian Preserve Committee is working to make golf carts legal on roadways in the Equestrian Preserve, as well as designating some areas for golf-cart traffic.
"We look at this as a huge complement to the polo club and to the equestrian community as a whole," she said.
But Mike Nelson, representing Palm Beach Polo, was against the access point. "I am against the village attempting to create an entry point into Palm Beach Polo, which is private property," he said.
Nelson noted that currently, there is a 12-foot canal crossing at that location, which is used by the club to access a pump station.
Coleman asked whether Nelson was in favor of the Pierson Road access, and he said he was. "I think that's wonderful," he said.
Village Engineer Bill Riebe said that for the Equestrian Preserve Committee's plans to be developed, Wellington would need the access.
"That has been our problem all along," he said. "Who goes first? The time to do it is now. [The applicant] wants something from Wellington that they do not have. Now is the time to make an exchange."
Adams agreed. "The only motivation is when a developer comes in and asks for something," he said. "That's your opportunity to do a public good."
But other board members felt that a required 25-foot easement for the site could serve as a multipurpose trail if needed.
"The applicant has agreed to the additional 25-foot easement," Coleman said. "That could be used for future golf cart access."
Coleman made a motion to recommend allowing the site access along Pierson Road and make changes to allow two single-family homes, but to deny a second access point on the site and retain its polo and tennis designation.
The motion carried unanimously.