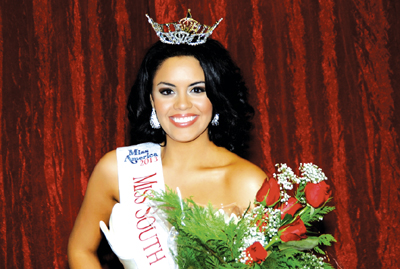 With the South Florida Fair wrapping up this weekend, Miss South Florida Fair 2013 Nicole Vega has been making her rounds at the fair and spreading the word about her platform issue, CROWN (Confident Radiant Outstanding Women Now), to young girls.
Vega, a Royal Palm Beach resident, is a junior at Florida Atlantic University who attended Berean Christian High School. She began competing in pageants at age 18 as a way to obtain scholarship money. "My guidance counselor suggested that I compete for Miss South Florida Fair," she recalled. "Before that, I had never competed in pageants."
Vega competed in the 2011 Miss South Florida fair pageant, part of the Miss America Organization, and placed as second runner-up, winning $750 in scholarship money. She also went on to compete in various other pageants and won Miss Miami 2011. "People say you end up loving or hating pageants, and I ended up loving it," Vega said. "I enjoy the entertaining aspect of it and challenging myself."
Competing has become a rewarding part of Vega's life. "It teaches you how to be confident, communicate and get out of your comfort zone," she said.
This year she decided to compete again for Miss South Florida Fair and received $3,000 in scholarship money to go along with the crown.
In preparation for the pageant, Vega used all the experience that she had learned from previous years to help her win. "Most importantly, I built my confidence level," she said. "If I did not believe that I could win the title of Miss South Florida Fair, then I would not accomplish all my goals to win the pageant."
In order to win, Vega had to show off one of her talents and communication abilities to the judges. She sang "The Prayer" by Josh Groban. "I had a vocal coach who helped me prepare," she said. "Interview-wise, I had 10 minutes with the judges, and I really had to be up-to-date on all aspects of pop culture, whether it be political or about the fair itself."
Each contestant must create and develop an issue, which the winner will use as part of her campaign and mission during and after competing.
Vega created her platform after realizing something about her personality. "I was dealing with self-esteem issues, as were many people around me," she said. "I noticed a lot of it had to do with the messages that the media constantly gives women about what beauty is."
Vega believes that media portrayals of beauty have negative effects on females, and her platform is a way to combat those problems. "It can really get to your confidence, and you can really start to feel bad about yourself because you don't look like the celebrities and models on TV and in magazines," she said. "I've created this platform to fight all those false messages that the media give us."
Vega has turned CROWN into a campaign targeted to young girls as well as her peers.
"I want them to love who they are, and that even if there are some areas that they would like to change, to never stop believing in themselves. Whenever they have a negative thought about themselves, replace it with a positive thought," she said.
CROWN is an idea close to Vega's heart because of her struggles with body image. "I've had times when I could not flip through magazines without comparing myself to the women in there, and I started to feel so insecure about myself," she said. "I started to replace those thoughts with positive ones."
As Miss South Florida Fair, Vega has been participating in various fair-related activities, from kissing a baby pig to making appearances at the petting zoo. Vega will be at the fair parades until its last day on Sunday, taking photos and talking to young girls.
"I enjoy giving hugs and letting the girls I meet touch my crown and sash while letting them know that I'm just like them," Vega said. "That puts a smile on their faces because they think I'm a princess."
To catch Vega at the South Florida Fair, see her at the last parade at 1 p.m. on Sunday, Feb. 3.
ABOVE: Miss South Florida Fair 2013 Nicole Vega.