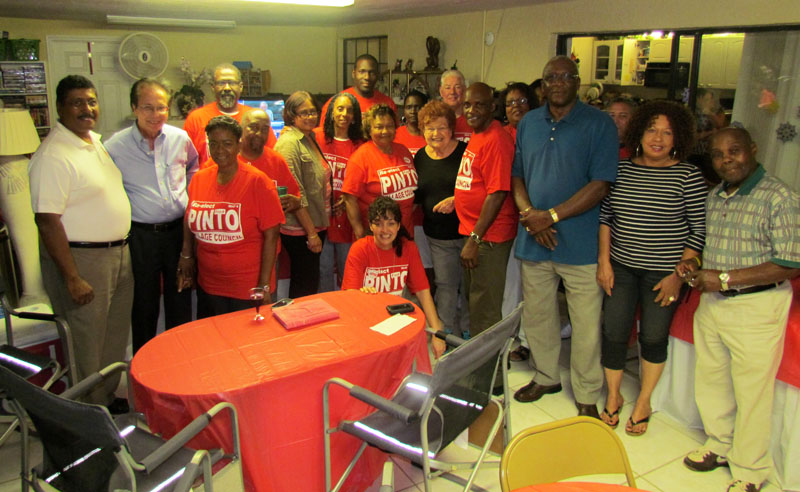 Royal Palm Beach Vice Mayor Fred Pinto easily won re-election last week, claiming a sixth two-year term.
"I'm absolutely delighted and thrilled to have the opportunity to continue to serve the citizens of this village," Pinto told the Town-Crier on Monday. "I thank everyone who came out to support me, and I look forward to continuing to try to get things done, and continuing to fight for and maintain our village's quality of life."
Pinto defeated challenger Justin Sallenbach by a two-to-one margin. Pinto took 817 votes (66.64 percent) to 409 votes (33.36 percent) for Sallenbach.
Pinto's top goals over the next two years include building a swimming facility somewhere at the new Royal Palm Beach Commons Park. He noted that the village does not currently have a public swimming pool. "Once we're comfortable with the cash flow, and we have all the vendor agreements in place, I want to propose that we look into putting in an aquatic center somewhere in that park," he said.
Pinto plans to ask the council to direct village staff to recommend a location for village-run swimming programs and athletic competitions. "I think that's something that's missing in the robust programs we offer now, particularly for our youth," he said.
If his fellow council members agree, Pinto said the village could initially issue a bond to pay for the project, but could pay off the debt with the sale of the former wastewater treatment plant property.
"I perceive us getting anywhere between $30 million and $35 million for that property, and with those funds, I look to liquidate any of those expenses that we may still have outstanding concerning Commons Park," Pinto said, noting that some of the Commons Park property has already been reserved for a senior living facility envisioned to be run by a private provider.
The council hired a consultant about a year ago to educate the council on senior living concepts. Pinto originally thought the village should run it, but the council seemed to reach the consensus that a private contractor should run it under conditions set by the council.
"I think everyone on the council got the understanding that this was not something that the town should go into business for, but in fact create a scenario where we have a third-party vendor come in and operate it," he said.
The concept needs to be refined to reflect the needs of the seniors who will use it, and Pinto said he wants it to be available to residents who live in the village.
"I've had a lot of people tell me they're approaching that point in their life where they would like to be able to go to a facility like that but they would like to not have to leave the area," he said.
Pinto said he might ask the council to invite the consultant back to help further clarify plans. He also doesn't want the council bound by financing arrangements from the state or federal government that would obligate the village to accept seniors from outside the village.
"If we get a third party to come in to do this, I'm going to be very interested in how they get financing, because what I don't want to see happen is that they get all their financing from the government, and then they are dictated on who can be there and what their rates are," he said. "I don't want something that's going to freeze out our residents."
Pinto is also contemplating a proposal to modify terms of service for council members from the current two-year terms to terms of three or four years. Council elections now take place every year, with the mayor's seat and the groups 1 and 3 council seats one year and the groups 2 and 4 council seats the next year.
"I want to get input on some of the surrounding cities," he said. "It seems to me that they are on three- or four-year cycles. I'm thinking probably a four-year cycle because that will give us every other year that we don't have an election."
Pinto noted that elections have gotten more expensive since Supervisor of Elections Susan Bucher revised the fees.
"She has pushed a lot of the fees and charges down to the local municipalities, whereas before they were handling out of her office," he said. "It's not just the actual physical dollars, there's the staff time, which also translates into money that gets invested in putting on the elections."
A referendum would be necessary to make the required charter change, he noted.
Pinto's most immediate concern is to get all the components of Commons Park working.
"We're going to be looking at putting on an event per month in that park, something that would be attractive and compelling for the residents to want to be a part of," he said. "I've heard nothing but great feedback about it, and people have started using it… I'm very happy. I'm very proud of that."
ABOVE: Vice Mayor Fred Pinto (left) with supporters on election night.