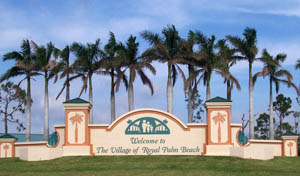 The Royal Palm Beach Planning & Zoning Commission recommended approval of a request by the Country Club Village Homeowners' Association last week to replace trees in the roadway buffer along Royal Palm Beach Blvd.
The trees in question had either died or were falling over.
Development Review Coordinator Kevin Erwin said the HOA was requesting to plant two silver buttonwoods and six pink tabebuias to replace eight cassia trees. "The applicant has removed some of the dead and dying landscape material," Erwin said. "The applicant is also proposing to replace the dead accent plantings with groupings of wax lilies."
Staff recommended approval of the application as submitted.
Commissioner Jackie Larson asked whether the request was the result of code enforcement action or the HOA did it voluntarily, and Erwin replied that code enforcement had informed them while they were removing the old trees that they would need to get approval to put in the new plantings.
Larson commended the HOA for taking on the project. "We've got a lot of dead vegetation in the village that needs to come out and be replaced," Larson said. "It's hard to be a tree city when so many trees are dying, so I commend you for doing it."
Vice Chairman Michael Newkirk asked whether the buffer area is properly irrigated, and an HOA representative said the trees are difficult to keep rooted since they're atop a berm.
Erwin added that cassias have a shallow root system, which had allowed the trees to fall over. "They blow over very easily," he said.
Commissioner Richard Becher said he drives on Royal Palm Beach Blvd. two or three times a day and had noticed that there are gaps in the screening, and the code requires continuous plantings.
Erwin said that there is a hedge behind the trees, but there may be some areas where it has died. "I was out looking at them the other day," Erwin said. "That's more of a maintenance issue. They wouldn't have to come back to you to add those back as long as it's the same species."
Chairwoman Barbara Powell asked about tabebuias' vulnerability to wind damage, and Erwin said the yellow tabebuias are more vulnerable. "The pinks are more hardy than the yellows," he said.
Commissioner Darrell Lange said that root anchors can be used to help improve wind resistance. "All they are is they go through the root and they go all the way through the berm," Lange said. "They help stand them up in storms."
Lange made a motion to approve the application, which carried 5-0.
In other business, the commission approved an application to replace the six previously approved monument signs at Connect Corporate Center at 9100 Belvedere Road with a single monument sign.
The sign would be located on Belvedere Road just east of State Road 7, adjacent to the Walmart plaza, Erwin said. The previous master sign plan was approved more than six years ago. The current master sign plan requires the tenant sign to be China red with black font. A color change was requested, making the color of the base sand, with a red background and white lettering. "The applicant is requesting a single 20-foot by 12-foot marquee sign in lieu of six previously approved monument signs," Erwin said.
Staff had recommended approval of the application as submitted. Erwin added that the six approved signs had never actually been built.
Lange said he liked the design of the new sign but was concerned about font styles since there was no requirement stipulated. "I'm a little concerned about that," he said. "Given our recent examples, I'm a little bit hesitant in letting it go wild."
Larson said the sign looked nice and asked whether the other sign approvals would be rescinded. Erwin said the old application would be rescinded and a tenant would have to come back and request approval of an individual monument sign.
Larson shared Lange's concern about each line conceivably being a different font. "I wouldn't mind putting in a condition that it all be the same font because I think it would look a lot better than a different font on each line," Larson said.
Becher asked about landscaping at the base of the sign, and Erwin said that was not in the application but could be included as a condition.
Larson made a motion to approve the application as submitted, with conditions about the font and landscaping. It carried 5-0.