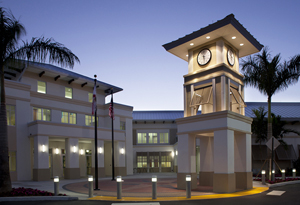 The Wellington Village Council voted 4-1 last week to alter the comprehensive plan and allow another fast-food restaurant in the Village Green Center on State Road 7 at Stribling Way.
Vice Mayor Howard Coates was the lone dissenter, but other council members cautioned the property owner that they wanted to see plans for other uses on the site before the item returns for second reading.
"I'll support this to go to second reading," Councilman Matt Willhite said. "But I want to see plans for retail in the back and other aspects back before second reading. I want to see that this project is going forward with additional uses other than fast-food restaurants in this location."
The proposed comprehensive plan change would allow the property owner to shift 14,738 square feet of space formerly allotted for office space to general use, and also would allow for a 4,272-square-foot fast-food restaurant.
Currently the property is home to a McDonald's with drive-through, a Taco Bell with drive-through and Buffalo Wild Wings, an eat-in restaurant.
Council members were concerned that another drive-through restaurant was too much.
"My concern is that it's another fast-food restaurant with a drive-through," Willhite said. "When we talk about the vision of Wellington, do we see a strip of fast-food restaurants along State Road 7?"
He noted that when the project first came to the council, long before anything was built, it was presented as a multi-use space.
"We were told it was going to have office space, restaurants, retail, banks and more," Willhite said. "That was what made this project attractive to us. I was hoping for a lot of these things. I wasn't hoping for fast food."
Coates agreed.
"That was one reason we agreed to the Taco Bell and the McDonald's," he said. "We didn't expect you to be back here in the middle of [construction] asking for another fast-food restaurant. You got the [two fast-food restaurants] and now you've taken the bank off the table, which was the incentive for the original approval."
Don Hearing, agent for the applicant, said that the original intention was to have a bank and plenty of retail space, but he noted that the business market is still recovering.
"If it weren't for the fast food and Buffalo Wild Wings, we wouldn't be able to bring you some of the other uses we hope to bring," he said. "All of these pieces work together to create an economic engine that will work."
Hearing noted that the property is waiting for approval to begin development on the two retail buildings.
"My staff is aggressively trying to bring in companies who will be good for Wellington," he said. "If it wasn't for what is in the front [of the property], we wouldn't be able to talk about what could happen in the back."
Willhite was still concerned about giving up so much office space allotment.
"We're giving up 33 percent of what could be those high-paying jobs in that office space," he said. "It feels like we're settling by accepting the things being built there now with today's market value rather than what will be marketable in the future."
Willhite said he would approve the preliminary reading of the changes, but wanted to see a plan for the future of the site before giving final approval.
"Show us what your overall plans are right now, and what your plans are in the future," he said. "I don't really think the plans are the same as they were when this came before us the first time."
Hearing said he didn't expect any other major changes.
"You might see us coming in for some conditional use approval for doctor's offices, orthodontists or other uses," he said. "These are the type of things I expect we'll come back for."
Councilwoman Anne Gerwig made a motion to approve the ordinance, which carried 4-1, with Coates opposed.
The comprehensive plan change must now be approved by the Florida Department of Economic Opportunity before returning to the council for final approval.