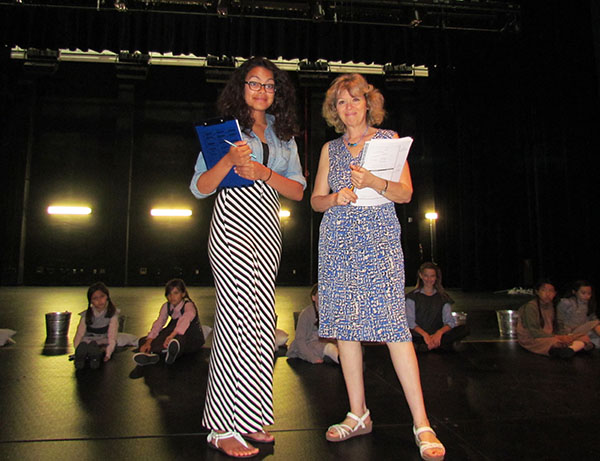 Karen Braunstein's dream of working with children and theater has come true. She founded the Wellington Children's Theatre last August to provide a theatrical forum for children in the western communities.
The theater will be putting on its second main stage production with the performance of the musical Annie Jr. on April 21, 26, 27 and 28 at the Wellington High School theater. Tickets are $12 for children and $20 for adults.
Braunstein has been working with children for more than 25 years at local synagogues and summer camps, directing shows and teaching voice and piano lessons. She first discovered her passion for directing children's theater in 1987. "I was asked to direct Joseph and the Amazing Technicolor Dreamcoat and totally fell in love with musical theater," she said.
Before working with children in theater, Braunstein earned a bachelor's degree in music at the New England Conservatory and has been a cantor for 25-plus years. "I've been doing stage performances, singing and acting, but it was a little different than musical theater," she said.
Braunstein searched several locations to open her theater, and decided that Wellington would be the best community. "It's a great niche for Wellington," she said. "There was a real need for a program to teach children the fundamentals of acting and musical performance."
But finding an appropriate venue for practices and performances was a difficult task. "Wellington does not have a black box theater that's a community performing arts center," Braunstein said. "Finding a venue has been tough. The ones that are available don't typically open their doors to outside performances."
After rigorously searching, Braunstein was fortunate enough to be offered use of Wellington High School's venue. "I was seriously considering choosing a venue outside of Wellington," she said. "I'm glad that I can keep it here because it's for the Wellington community, and I would like to keep it in the community."
The arrival of the Wellington Children's Theatre has created euphoria among Wellington's young thespians. The theater is open to children ages 3 to 18, and offers session workshops, classes and a summer theater camp. These sessions are taught at #1 Education Place in the original Wellington Mall, where Braunstein subleases space and prepares students for productions.
Having a children's theater in Wellington has made it more convenient for parents. "They are very excited that they have a program right in the heart of town where they can bring their children," Braunstein said. "Many have been looking for a program like ours, but just couldn't travel very far to other venues offering similar programs."
The Wellington Children's Theatre offers sessions for children of all ages, such as Broadway Babies and Acting Out, which are sessions for preschoolers and 6- or 7-year-olds. "These kids do theater games, improv, and I really try to convey to them the fundamentals of being a good actor in an age-appropriate and fun way," Braunstein said. "We also do vocal lessons and breathing."
For staged productions, older children practice through various activities, including musical theater workshops and audition prep workshops taught by former Dreyfoos School of the Arts Theater Department Dean Beverly Blanchette.
"We offer something for every child interested in theater," Braunstein said. "We have kids who can't sing, so we work with them on pitch, and there are kids who need help with acting and we assist them with that."
Seeing the improvement in the children's demeanor has been a rewarding feeling.
"I have kids who are very shy and have opened up," Braunstein said. "As we do more exercises, the children slowly come out of their shells and start taking risks."
Braunstein believes acting is all about taking risks. "Once they can grasp letting go and really focus, it just makes it a real joy to perform and gives them a great deal of confidence," she said.
For tickets to Annie Jr., visit www.wellingtonchildrenstheatre.com or call (561) 223-1928.
ABOVE: Palm Beach Atlantic University intern Michelle Santiago with Wellington Children's Theatre founder Karen Braunstein at a rehearsal for Annie Jr. at the Wellington High School theater.