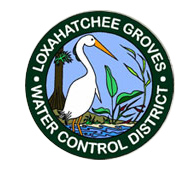 The Loxahatchee Groves Water Control District Board of Supervisors directed its staff Monday to negotiate a contract for road grading and maintenance with the Town of Loxahatchee Groves.
On May 7, the Loxahatchee Groves Town Council awarded a contract to the district for road grading, rock material, road repairs and emergency call-outs, LGWCD Administrator Steven Yohe said. A contract for mowing, vegetation removal and dumping fees was awarded to C&C Loader.
Supervisor Frank Schiola said he favored the contract but cautioned that he did not want to fall behind on district road maintenance. "I know the town roads need to be done, too, but we need to be mindful that if we have a grader breakdown, or something like that, we might not be able to keep up with it," he said.
Supervisor Don Widing said that as the district continues to upgrade its roads to open-graded emulsion mix (OGEM) paving, the labor intensity with watering and grading would diminish. "I'm confident that Mr. Yohe will keep a watchful eye on that," he said.
Supervisor John Ryan said it was a complicated bid, with responsibilities broken down into separate segments. The district was the second low bidder to supply gravel, but the town awarded the contract to the district in order that it not become too complicated. "My understanding was that the prices were firm, good for a year," Ryan said, adding that he would like to participate in negotiating details of the contract.
Widing said the contract is significant in bringing the district and the town into a mutually beneficial relationship after an initially rocky relationship.
"This is something that we've talked about ever since incorporation," Widing said. "The idea is to use the community's assets, our residents' money, and apply it back into both entities, kind of like an extension of a public works department to a typical municipality. It makes perfect sense to me, and I have confidence that the staff is going to make this work."
Widing made a motion to direct staff to enter into the grading contract agreement, and it carried 3-0 with Chairman David DeMarois and Supervisor Robert Snowball absent.
In other business, Yohe said he had made headway toward getting a quit claim from Southern States Land & Timber Company to release all claims to road easements to the district, in preparation for turning over paved roads to town jurisdiction.
Yohe said he had spoken with Stephanie Clement, property administrator for Southern States, on Thursday, May 2. She said they had received the district's April 19 cover letter, quit claim deed and attachments.
Clement discussed the package with Southern States Vice President Harry Smith, who called Yohe on May 10 and said the Southern States board is receptive to executing a quit-claim deed, and it was a matter of dollars.
"I mentioned to him that the board would be receptive to paying for his time and his attorney's time, and Ms. Clement's time, and let us know when his attorney provides his review," Yohe said. "He anticipated that would take about two weeks."
Ryan said he thought the letter and attachments are complete in terms of how the request was presented and as a reminder of the background of the district's involvement with Southern States, which goes back to the right-of-way deed acquired in 1917.
"While the overall acreage involved is approximately 220 acres, it's not contiguous, and it's basically committed to public use roads and canals," Ryan said.
Widing said he found the documents interesting from a historical standpoint. "It's a good read," he said. "It's a good historical piece. The vision of this company and the individuals involved back in the day, I don't think they realized just what this was really going to become."
Ryan pointed out that the original surveyors who carved out Loxahatchee Groves were part of Southern States Land & Timber.
"I think it's also interesting that some of the original families involved with Southern States Land & Timber had some official positions based on minutes of some of the early Loxahatchee Groves Drainage District meetings," he noted.