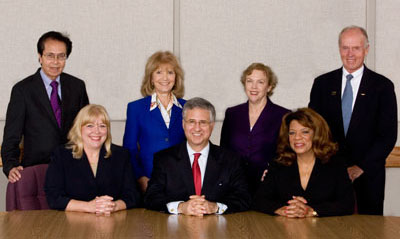 Palm Beach County commissioners gave preliminary approval to an ordinance Tuesday amending the county's traffic light camera ordinance with the understanding that they will hear a complete report on the status of traffic light cameras at a meeting in July.
County Engineer George Webb said the ordinance would change the method of paying fines for traffic violations caught on unmanned cameras from a traffic court to a special magistrate system.
"We anticipate that the State of Florida will be adopting new legislation," Webb said. "It's at the governor's desk. We haven't heard any issues with it. Every municipality and county government in the state dealing with these programs is in the process of updating these ordinances. This ordinance, in essence, is giving direction as far as the new process."
Instead of requiring violators to go to traffic court, they would have the option to go to a hearing officer similar to a code enforcement magistrate, Webb explained. "It's a process change," he said. "This has to be in place prior to July 1 if the bill does get signed by the governor, to allow us to continue the county red-light program."
Webb said each governmental body will be responsible for setting up its own magistrate program, explaining that the new law would include a provision for setting up administrative fees if a person is found guilty.
"Every jurisdiction is having to do this," Webb said. "We are planning on using our special masters that we have for code enforcement. We have started talking to them and gotten several positive responses."
Webb said the county now has about 60 such cases per month that go to traffic court. "We're not sure how many might switch over to a hearing officer if we do this," Webb said. "I think it would depend on if they feel they would get a better shot at a hearing officer or traffic court, or how much the potential cost might be."
Palm Beach County Mayor Steven Abrams described the state's change as a "semi-unfunded mandate," but Webb added that there is an opportunity to recover some of the cost. "The administrative fee is up to $250, and we've been working with the county attorney's office as far as how to potentially get that back to you to adopt, but that's not part of this ordinance."
Vice Mayor Priscilla Taylor said she thought there remains much confusion among citizens regarding the traffic light camera ordinance.
"I am just curious if you have done a study [on] how much money the county has made from this [and] if there is a pattern," she asked. "If people know there is a camera there, are you going to speed up or stop, which might lead to a rear-end [collision], so I'd like to know if that has increased."
Webb said the contract with the vendor that runs the camera system has the county paying a certain amount each month for each location. "We have never exceeded that, so we've never made a dime off of the county's red-light program," Webb said, adding that last year the county "owed" the vendor $200,000. "We just write it off the books at the end of the calendar year. That's how the process works. We've never had to spend any money on it, but we've never made money, unlike other jurisdictions around the state that have seen some big dollars coming in."
Webb said the vendor collects $4,500 per location if that amount is reached, and anything over that goes to the county. "If we collect $3,000 that month, it is put aside and the state gets their share, and we have money then to pay the vendor," he said. "If the next month we collect $5,000, we would put that toward the money that was owed the previous month. That's not what has been happening. We have always been running under, as far as the number of violations and the amount of dollars collected."
Taylor said she believes the program's effectiveness remains in question, and is also concerned about what it is doing to residents. "You don't have to go before the court if you run a red light," she said. "You can just send this in, and a lot of people don't realize that if you don't send it in, it goes on your license as a violation."
Taylor said she would like a closer look at the entire program.
Webb said his staff is preparing a detailed report on the program's status.
"You will be seeing next month, in July, an opportunity to renew this contract for a third and final time," Webb said. "We will be bringing a review of our locations, some of the city locations, so you'll see a sample of what happens at intersections with cameras. We're also going to give you examples of intersections without traffic cameras in the same general areas. We'll call those controls. They may not have a camera, but what's happening with accidents a quarter-mile away. We'll give you a report and you can decide whether you want to continue the program or not and whether you think it's beneficial or not."
Taylor reiterated that she would like to know whether the cameras are actually causing rear-end accidents. Webb said it will be included in the report, but that does not appear to be the case.
Commissioner Hal Valeche said he thought it would be more useful to compare the same intersection before the red-light camera was put in and after. "I'm sure you have data to go with that," Valeche said. "No two intersections are the same."
"We'll absolutely do that," Webb replied. "You'll see a before and after at the specific locations, but what we've seen is traffic counts have continued to be flat or drop, and we've seen accidents at intersections drop without any engineering or driver changes."
Commissioner Paulette Burdick asked whether signage is in place that is required by state statute, and staff said it is. Burdick added that she preferred for the administrative fees to cover only the costs.
Webb said he has to justify every portion of the costs with the county attorney's office. "We will be bringing that recommendation to the board," he said, explaining that they are attempting to cover only the costs.
Commissioner Shelley Vana said the governor has not signed the bill yet and asked what would happen if he decides to veto it. Webb said if he does, they would not propose changing the ordinance.
Taylor made a motion for preliminary approval, which carried unanimously.
ABOVE: The Palm Beach County Commission.