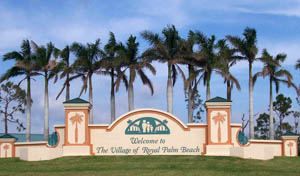 Flying disc golf supporters attended the Royal Palm Beach Village Council meeting Thursday, July 18 to push for their project, after learning that financing for the planned flying disc golf course might be used instead for a larger dog park.
At a budget workshop July 2, council members responded to residents' requests to increase the size of a planned dog park at the new Royal Palm Beach Commons Park, and shifted priority in its capital budget to an expanded dog park over a flying disc course recommended by staff.
During public comment July 18, Alexandra Munley of Bobwhite Road said she had read about the shift in priorities.
"I'm very confused what the issue is as to having one over the other," Munley said, noting that the cost estimate is $30,000 for the flying disc course and as much as $100,000 for a larger dog park.
Mayor Matty Mattioli said the budget is not finalized and another workshop is set for Thursday, Aug. 15.
"It was suggested [the dog park] was going to be done, but all of this is going to be discussed, I would presume at the next budget meeting," Mattioli said. "Whether they both can be done, I have no idea."
Munley said she is a physical education teacher and felt it would be great to be able to bring her students to a flying disc course.
Councilman Richard Valuntas explained to Munley that the plan for the park currently was not only a disc golf course, but also a dog park.
"The dog park people came in and said, basically, that's not enough. We need a bigger dog park and we should allot more money toward that," he said.
Valuntas said the choice was never either/or because they are both in the budget. It's just a question of prioritization.
"I had never heard from anyone until tonight, that [a flying disc course] was something anyone wanted in our community," he said. "People in our community had never expressed an interest to me about it."
Councilman David Swift agreed that he had not heard from residents favoring a flying disc course.
"I will tell you one thing, I have been approached by people who want a larger dog park for almost two years, and with great intensity in the last election period," Swift said. "No one has ever approached me about disc golf."
Swift asked Valuntas and Vice Mayor Jeff Hmara, the present and immediate past liaisons to the Recreation Advisory Board, whether a flying disc course had been brought up by residents, and they said it had not.
Hmara said he had read a letter supporting a flying disc course from Tim Finan, athletic director at Crestwood Middle School, who teaches flying disc classes.
"We hadn't realized there was that level of interest," Hmara said. "The idea of having a workshop allows us to have discussions about alternatives and possibilities, so it was never a matter of either/or. It was, if anything, deferring, but with the increased interest, we can step back and see if we can do both."
Finan, who was present to speak, said he had taught at Crestwood for more than 20 years. "I am a physical education teacher, athletic director, and this is a unit that I teach every year to 200 to 400 students," he said. "It was over 500 last year."
Finan said he felt $30,000 was an investment in a lifetime sport that is low-maintenance and will last for years. He said when the disc course was built at Okeeheelee Park, hundreds came after they found out it was there.
"With the ongoing fitness boom, it gives these kids something else to do," Finan said. "From my standpoint, it's about the children. I've been playing the sport for many years. I love it, and I guess I bring my passion to them."
Finan said he sets up an 11-hole portable course at Crestwood, but it has to be taken down at night. He explained that the game is played just like regular golf, and although only one disc is necessary, he has a bag of discs he equates to drivers, chippers and putters.
"I think it would be a really big improvement to the western communities," he said. "We've got two courses that are public, we've got one private course, and it's just not enough for this county."
Mattioli asked those interested to meet with Village Manager Ray Liggins and Parks & Recreation Director Lou Recchio to outline what they would like and how much it would cost to see if it can be fit into the budget.
Finan said he had walked the property that was earmarked for the course. "That is phenomenal property," he said. "The way they've already developed so much for the golf course, with the elevation, the banyan trees, the drainage, it's a beautiful piece of land."
He added that the parking and restrooms for the driving range and putting and chipping greens would be perfect for a course.