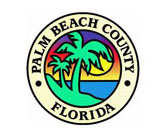 The Palm Beach County Commission approved a resolution Tuesday requesting aggressive flood control improvement efforts from the South Florida Water Management District and the U.S. Army Corps of Engineers in order to avoid future storm flooding.
The resolution encourages the SFWMD to cooperate with jurisdictions in central Palm Beach County that experienced Tropical Storm Isaac's flooding last year, to adjust discharge limitations in order to minimize flooding, and to expedite the redesign or repairs to the berm surrounding the J.W. Corbett Wildlife Management Area, which was on the brink of breaching after the August 2012 storm.
The resolution also asks the U.S. Army Corps to expedite repairs to the Herbert Hoover Dike surrounding Lake Okeechobee. Large quantities of its water have been released recently to lower the lake's level because of heavy rain this summer.
Palm Beach County Mayor Stephen Abrams took public comments before going to commissioner comments, beginning with Acreage resident Alex Larson, who alleged that a series of errors by various agencies led to prolonged street and yard flooding in The Acreage after Isaac.
Larson said the sale of the Mecca Farms property to the SFWMD to help flood control will give the entire county both more water storage and the ability to redistribute stormwater north and east.
County Administrator Bob Weisman took issue with Larson's assertions regarding storm response.
"Ms. Larson is entitled to [her opinion], but I do wish to respond," he said. "There was an excellent response from all of the agencies involved, including the water management district, the county and [the] Indian Trail [Improvement District]. I do not feel there were shortcomings. I think we responded well."
Acreage resident Anne Kuhl thanked the commissioners for considering the resolution.
"Your support for flood prevention in the county is very, very important," she said. "Tropical Storm Isaac was a wake-up call for us in The Acreage. At 18 feet to 22 feet above sea level, one of the highest areas in the county, to be sitting in your house and be trapped for up to two weeks, not able to drive out of your street, is very concerning."
Kuhl added that she is concerned about new Federal Emergency Management Agency flood maps that put most of the county in a flood zone and stand to raise insurance rates, but do not take into account improvements to the flood control system.
Former County Commissioner Jeff Koons noted that he has been involved with water issues in the county for 20 years. "As a West Palm Beach city commissioner, I was asked to chair the county's planning council on water, and I was a founding member of the Water Resources Task Force," he said.
Koons showed the commissioners a picture of a pump that 20 years ago took water out of The Acreage and put it into the M Canal feeding into the West Palm Beach Water Catchment Area. "I don't know why, but we didn't continue it," Koons said, adding that last year, the SFWMD, Palm Beach County and ITID came together to renew the program.
Koons said a Jan. 11 letter from former SFWMD Executive Director Melissa Meeker asked ITID to participate.
"The agreement would be West Palm Beach would build it and Indian Trail would operate it," Koons said, pointing out that ITID rejected the offer.
Koons said the water would go into the West Palm Beach Water Catchment Area and north into Commissioner Hal Valeche's district, into 10,000 acres of the county's natural areas, including the Loxahatchee Slough. "It also flows through Commissioner [Priscilla] Taylor's district," Koons added.
He said Palm Beach County Utilities was involved because it would benefit one of its well fields just south of Belvedere Road.
"The main beneficiary is Palm Beach County water systems," Koons said, pointing out that the agreement would pull Acreage water east instead of west as is done now. "Maybe Palm Beach County needs to be party to this agreement. It makes no sense for Indian Trail not to participate."
Palm Beach County Water Resources Manager Ken Todd said numerous objections have been raised to the FEMA maps. "Staff from not only the county but a number of municipalities sat down with FEMA and their consultant approximately two weeks ago, explaining the issues that we have," he said. "FEMA went back, they thought about all that they had heard, and they have actually pushed the date back about three months to give us time to work with them to correct the maps."
He said the maps would not become final until the end of 2014 or early 2015. "There's plenty of opportunities to work with them," Todd said.
Commissioner Mary Lou Berger said the FEMA maps are of national concern. "When Commissioner Taylor and I attended the National Association of Counties meeting, at the Energy, Environment and Land Use Steering Committee there was great discussion of the flood maps on a national basis," Berger said.
Commissioner Paulette Burdick said she had seen the damage caused to the Intracoastal Waterway by pushing recent floodwater out through the C-51 Canal, and accepted Koons' comments. "I agree that we need to look at flooding in Palm Beach County," Burdick said.
Burdick asked that the county continue to try to lead in looking at alternatives.
"I would ask that Mr. Todd, who is our water resources manager and very highly respected throughout the region and state, take a lead effort working with the South Florida Water Management District and Indian Trail," she said. "Recently, [ITID] changed its engineer, and perhaps they need a little bit of time to look at how we all can collaboratively work together."
Commissioner Jess Santamaria said the flooding from Tropical Storm Isaac was a good example of turning a negative into a positive.
"We saw the potential negative impacts of flooding resulting from a tropical storm," Santamaria said. "That wasn't even a real big one yet, but sooner or later there will be a big one that will cause a negative impact on our communities."
The good aspect of the flooding was it drew the attention of Gov. Rick Scott, he said.
"A number of constituents got involved and took advantage of that opportunity of the visit of Gov. Scott, because we started a consistent, regular communication with the governor over several months," he said.
Santamaria pointed out that Scott was able to get $4 million in funding to rebuild the Corbett berm. "That's why this resolution is important for all of us, to emphasize that the seriousness of flooding in Palm Beach County should be mitigated and minimized by active participation of both elected officials, as well as active members of the community, with respect to areas that clearly need a little bit of encouragement and pushing," Santamaria said.
Valeche made a motion to approve the resolution, seconded by Santamaria, which carried 6-0. Commissioner Shelley Vana was absent.