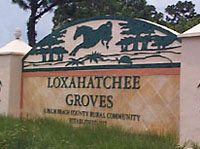 The Loxahatchee Groves Water Control District Board of Supervisors gave generally glowing reviews Monday to District Administrator Stephen Yohe for his first six months on the job.
Yohe was hired as district administrator in February, replacing longtime District Administrator Clete Saunier, who left in November 2012 over salary disagreements.
Yohe's performance rating on a scale of 5 was 4.37. That was based on six categories: he received 4.2 in leadership, 4.4 for planning and organization, 4.2 for fiscal responsibility, 4.4 for board interaction, 4.8 for community relations and 4.2 for priorities.
His contract calls for a 2 percent increase in Yohe's base salary of $84,000 at the end of six months, provided that the administrator's performance was satisfactory, as determined by a supermajority of the board, LGWCD Attorney Mary Viator said. The raise would be effective retroactively to his six-month anniversary on Aug. 12.
"With the performance evaluations as they are, it meets the threshold, which would entitle him to that," Viator said.
Supervisor Frank Schiola made a motion to accept the review. "Steve's done a great job," he said.
Supervisor John Ryan agreed. "In his first seven months, he has fully immersed himself not only in the history and responsibilities of the district, and the projects underway, but I think he's made an outstanding effort to be responsive to the residents and to really take a level of transparency in communication and coordination with the board members that is very welcome," Ryan said, adding that supervisors are kept aware weekly of activities in the district.
Supervisor Don Widing also supported Yohe. "The strength that I see with Mr. Yohe is his ability to communicate with the board," Widing said. "It's routine, it's regular, it's precise, it's not overreaching. We get it up to the minute, but not something that's saturating. I know what's going on, and it's an improvement in communications that is certainly welcome."
Schiola added that he had gone over his personal evaluation with Yohe. "I hope he stays on for many years to come," Schiola said, adding that he would like to get Yohe's annual review done before his anniversary in February. "I don't like doing anything afterward, especially when it comes to evaluations."
LGWCD Chairman Dave DeMarois said he agreed with the other supervisors' comments, adding that Yohe follows directions from the board, does not exceed them and sees that people adhere to them. "I appreciate that fact," he said. "You take the direction of the board and carry it forward for us."
Resident Marge Herzog, president of the Loxahatchee Groves Landowners' Association, confirmed Yohe's high ranking for community relations.
"The communication has been great," Herzog said. "The residents that have interacted with him have given positive feedback."
Herzog said staff from the Town of Loxahatchee Groves have been invited to make a state-of-the-town presentation at the LGLA meeting Thursday, Nov. 21, and she invited Yohe to participate. "I would like you to be part of it since you are part of town government," Herzog said.
Supervisors agreed that it was a good idea. "Steve's working relationship with the town is also one of the things that I feel has been greatly improved," Ryan said.
DeMarois added that it would also be good for Yohe to let LGLA members know where the district stands and how district money is being spent.
Town Councilman Jim Rockett added to their chorus of Yohe supporters. "I think more highly of him than you guys do," Rockett said. "You also deserve some credit for your selection, in identifying a great candidate. He is definitely doing a great job."
Before coming to the district, Yohe had been director of engineering for the Community Learning Outreach Center, where he also wrote the charter school application and several grant applications. Before that, he was senior project manager and engineer for O'Dell Land Development Consultants, where he designed and handled permitting for water, sewer, paving and drainage projects.
He also spent time working with the Housing Trust Group, the Village of North Palm Beach and the Public Building Authority of Knoxville, Tenn.
Prior to that, Yohe worked for many years with the John D. and Catherine T. MacArthur Foundation, where he was director of engineering and later deputy director of Florida operations. He earned his degree from the University of Florida in 1976.