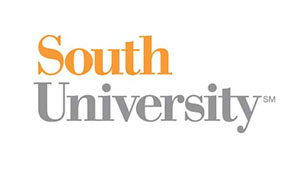 The Royal Palm Beach Planning & Zoning Commission approved a site plan modification Monday for South University to convert the street running between its two buildings into a student courtyard.
The university has two buildings located on a 10-acre campus at the northeast corner of Belvedere Road and State Road 7.
Site Plan Coordinator Kevin Erwin said owner Corporate Center West wants to convert one of the driveways coming off Belvedere Road into a courtyard free of vehicle traffic for students going back and forth between the buildings.
The courtyard will feature bricked paving, planters and benches, with directional sign changes for traffic as well as additional lighting on the buildings and clock tower. Additional signage will designate the university's four colleges: Health Professions, Arts and Sciences, Nursing and Business.
Erwin said the university will block off the area with decorative planters and install benches so students have a place to pause between classes. "They will have a protected area to do that free of traffic," he said.
Planner Donaldson Hearing, representing the applicant, said the facility has grown since it was established in 2008. He noted that three buildings have been approved for the site, and the third building is planned to be built next year. It will also be occupied by South University.
Hearing said the plaza could be easily converted back to a driveway if the uses for the property ever change. "The facility is very well landscaped, as you can see," he said, showing pictures of the campus. "We're certainly very proud of the project and would ask for your approval."
Commissioner Richard Becher said his only concern was using the planters to close off the area to traffic. Hearing said traffic will also have directional signs to eliminate possible confusion.
"We're also putting a contrasting brick paver within the plaza, so you can see where the vehicle turn movement would be," Hearing said. "The pots are just an added benefit, more of a crash barrier than anything else. They are designed so that you can walk through them, but a vehicle cannot get through."
He added that vehicular traffic will be only minimally affected by the closing, and cars will still have three points of access, two from Belvedere and one from SR 7, with traffic flow completely around the buildings.
"This will make it safer for students, because students do cross back and forth," Hearing said. "It will create an outdoor environment for students at the college."
Becher asked whether any consideration was given to using gates to reduce the chance of pedestrian traffic accidents, and Hearing said the design was intended to give vehicular traffic a clear indication of where drivers are supposed to go.
"We could do gates, but we thought that this was a better contextual solution," Hearing said.
Erwin said the design is very much like the courtyard on the village hall campus, which utilizes planters and pavers to close the area to vehicular traffic.
Commission Alternate Felicia Matula made a motion to approve the application, which passed 4-0.