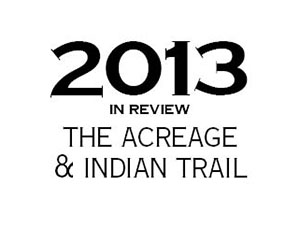 The Indian Trail Improvement District took steps toward a new future in 2013, with sweeping changes in top management including the hiring of a new manager and a new engineer/hydrologist, as well as some contentious politics on a divided board of supervisors.
The board also scrapped plans for a community center in The Acreage and committed to a newly intensified focus on drainage problems. The district starts 2014 with a new team in place, led by newly appointed ITID President Carol Jacobs.
ITID Rejects Water Pump Agreement With WPB
In a 3-2 vote, the ITID board rejected a proposed water pump agreement with the City of West Palm Beach on Feb. 15. The decision to discontinue negotiations over the agreement came after the board listened to protracted arguments from residents against the idea and a unanimous request by the Acreage Landowners' Association to stop the talks.
The proposed agreement would have been to study the feasibility of establishing a permanent pump structure at the southern end of ITID's L Canal that would redirect stormwater discharge from ITID's M-1 Basin into the West Palm Beach Water Catchment Area via West Palm Beach's M Canal.
Proponents said the idea would provide ITID with a permanent avenue of extra stormwater discharge that was utilized during the flooding that followed Tropical Storm Isaac through a temporary agreement with West Palm Beach using temporary pumps.
Opponents said they did not trust West Palm Beach to hold to its agreements, and feared the sometimes drought-stricken city would take water from The Acreage during dry periods when the community needs to retain its water.
ITID Refocuses On Drainage Improvements
The ITID board conducted a public hearing May 13 on its draft budget for fiscal year 2013-14 and emphasized holding the line on assessments while still making major drainage improvements.
Key goals of the budget were a comprehensive drainage plan, in-house canal improvements, telemetry to continue the automation of manually operated water control structures, in-house mowing and a road improvement schedule.
A majority of the budget is allocated to maintenance of the district's 389 miles of unpaved roads and 70 miles of paved roads.
The overall proposed budget was up from $9.6 million to $10.8 million, due largely to an increased focus on drainage. The average assessment increase for all active units is 1.48 percent, with the average assessment being $426 a year.
SFWMD Begins Plans To Reinforce Corbett Dike
South Florida Water Management District officials conducted a public workshop, April 26 regarding a planned levee to reinforce the berm separating the J.W. Corbett Wildlife Management Area from The Acreage.
SFWMD officials said the need to strengthen the levee became apparent in August 2012 when Tropical Storm Isaac dumped about 15 inches of rain on The Acreage, which brought flooding to the community and high water levels in the Corbett area that exerted increased pressure on the existing berm separating Corbett from residents in the northern reaches of The Acreage.
After temporary measures were put in place, Gov. Rick Scott directed the SFWMD and other agencies to come together and develop a plan to strengthen the integrity of the existing berm. Scott later wrote $8 million into his proposed budget, which was reduced by the legislature to $4 million. Officials hope to get more money for the project in next year's budget.
Foy Tapped As ITID Engineer
On July 10, the board hired Jay Foy of Stormwater J Engineering to serve as both district engineer and hydrologist. ITID's contract with its previous engineering firm, Engenuity Group, expired Sept. 30.
Foy was ITID's engineer from 1991 to 2005, and hydrologist in conjunction with Craig A. Smith from 2005 to 2008. Foy also sits on two Federal Emergency Management Agency committees, including the flood insurance mapping committee.
Foy was involved in most of the development of the M-1 Basin, including the main floodgate and inverted siphons draining canals underneath some of the main roads, as well as the impoundment outfalls.
During his interview, Foy said he wants to change the paradigm under which the district operates. "There's a paradigm out there that says if you build in the swamp, you get what you deserve. That's wrong," he said. "A quarter-inch per day is failure to serve the public. We need to get more than that."
Administrator Quickel Leaves Indian Trail
The ITID Board of Supervisors accepted the resignation of District Administrator Tanya Quickel on June 28, asking her to leave immediately instead of giving her the option of remaining for a 60-day transition period.
After months of contention, with two board members seeking to change to a less powerful manager position, Quickel submitted her resignation June 10. Supervisor Carol Jacobs made a motion to put finance department staffer Jim Shallman in charge until a replacement could be found, which carried unanimously.
Quickel's June resignation followed a contentious six months, which kicked off with Quickel first offering to leave in December 2012. After leaving ITID, Quickel took a job with Wellington as chief financial officer.
ITID Board Scraps Community Center Plans
On Aug. 7, the ITID supervisors rescinded their prior designation of $3.7 million to build a community center at Acreage Community Park. It was the latest chapter in a decade-long debate over whether a community center is needed and whether ITID is the proper organization to build and operate it.
The community center appeared to be on the verge of reality last year, until Tropical Storm Isaac and a sharply contested election refocused ITID on drainage issues.
After hearing hours of input from residents on what ITID's priorities should be, supervisors scrapped plans for the building and decided instead to refocus on drainage improvements. The board did agree, however, to get cost estimates for additional outdoor park amenities, including more athletic fields, and to see how much of the work could be done in-house.
Supervisor Gary Dunkley, who was elected on a pledge to improve drainage in The Acreage, made a motion to un-designate the money for a community center and instead conduct a cost analysis for development of other outdoor amenities.
Shallman New Manager
The ITID board voted in October to give Interim District Manager Jim Shallman a six-month probationary period in the post after deciding to stop the drawn-out selection process for a permanent manager that it went through over the summer after Tayna Quickel left.
At a special meeting Oct. 4, Supervisor Carol Jacobs said she was disappointed with the interview process and the applicants. She suggested keeping Shallman, previously a finance department staffer, for a probationary period, allowing him to hire the people needed to fill vacant office and finance staff positions.
Further, Jacobs said that she wanted the manager, operations and maintenance director, and parks and recreation director all to answer directly to the board.
Supervisor Gary Dunkley made a motion to maintain Shallman for a six-month period with full hiring and firing authority, with an evaluation after that time and the protection to go back to his former position if the board chose to find another manager.
Hamlin House Work Proceeds
The long-delayed Hamlin House project at Nicole Hornstein Equestrian Park in The Acreage got a major push forward on Sept. 18 when the supervisors directed work to move forward with a contractor rather than as a high school construction academy project.
The board met at Hamlin House to give the roughly 40 residents attending an idea of what the 5-acre horse ranch west of the park looked like. The project had started in early 2011, and the Seminole Ridge High School Construction Academy came in for a few days in the summer of 2012 and did some demolition work and then moved on to other projects after Hamlin House ran into permitting issues.
At the height of the housing market, the property was listed at $775,000. After the crash, ITID got it for $269,000. In 2011, the district invested some money in the project with the goal of making it a public meeting house for clubs and organizations.
Jacobs Elected ITID President
ITID starts 2014 with a new president. On Dec. 18, Supervisor Michelle Damone nominated Supervisor Carol Jacobs for the post, replacing Supervisor Jennifer Hager. Hager and Supervisor Gary Dunkley dissented in the 3-2 vote.
Damone also nominated herself for treasurer to replace Dunkley and was elected on another 3-2 tally. Damone said her decision stemmed from Dunkley's appointment of former ITID Supervisor Penny Riccio, a longtime political foe of Damone's, to be his assistant treasurer.
Damone nominated Bair to be vice president, which also carried 3-2. Then she made a motion for the district's attorney, Mary Viator, to remain as secretary, which carried 3-2, and for Dunkley to serve as assistant secretary, which also carried 3-2.