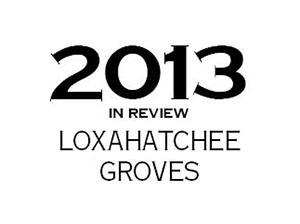 While the Loxahatchee Groves Water Control District began 2013 by hiring a new administrator, voters in the Town of Loxahatchee Groves narrowly re-elected one councilman and the town clerk turned aside a challenge to Palm Beach State College's planned new campus.
Later in the year, both bodies turned their attention to baby steps toward consolidation of responsibilities, and the town focused on the threat to its rural lifestyle posed by potential development of the former Callery-Judge Grove land.
Yohe Starts As LGWCD Chief
The Loxahatchee Groves Water Control District Board of Supervisors approved a contract with engineer Stephen Yohe to be their new district administrator Feb. 11, replacing longtime administrator Clete Saunier, who left in late 2012 over salary disagreements.
The board quickly went over details of the contract, including a car allowance, administrator responsibilities and terms of severance. It provides a base salary of $84,000 with a possible 2 percent merit raise after six months (which Yohe received) and a 3 percent merit raise after a year if the board gives a satisfactory performance rating, as well as other benefits including a $400 car allowance, $100 phone allowance, health insurance, retirement plan, vacation and sick time.
Yohe had been director of engineering for the Community Learning Outreach Center since June 2010, where he also wrote the charter school application and several grant applications. Before that, he was senior project manager and engineer for O'Dell Land Development Consultants, where he designed and handled permitting for water, sewer, paving and drainage projects.
Yohe also worked for many years with the John D. and Catherine T. MacArthur Foundation, where he was director of engineering and later deputy director of Florida operations. He earned his degree from the University of Florida in 1976.
Petition Against PBSC Campus Rejected
In a 4-1 decision March 19, the town council agreed with Town Clerk Susan Eichhorn that a petition calling for a referendum over the planned Palm Beach State College campus on Southern Blvd. failed to meet legal requirements.
An initiative committee circulated the petition calling for the repeal of two ordinances allowing the campus, gathering more than 250 signatures.
The clerk found two grounds for insufficiency: that the petition did not have the text of the ordinances attached; and that the affidavit indicated that the text was available to the individuals who signed the petition.
Eichhorn said she had received what was supposed to be a complete package by the committee, but did not see the full text of the ordinance attached in the package that was delivered. She also did not see language that indicated that the text of the ordinance had been attached.
While opponents are still fighting the campus in court, PBSC officials voted in October to spend up to $4 million for architectural design, infrastructure and site work on the project.
Jim Rockett Wins New Term
Loxahatchee Groves Vice Mayor Jim Rockett won a narrow re-election victory March 12, defeating challenger Todd McLendon in the race for Seat 2 on the council.
Rockett beat McLendon by just 30 votes in a race with a total turnout of 594 voters, just over 25 percent of those eligible.
McLendon's campaign had emphasized what he called the council's non-responsiveness to the public. He is one of the leaders of the group demanding a referendum on PBSC's planned Loxahatchee Groves campus. The bitter campaign included accusations from both sides that their opponents were spreading misinformation.
Seat 4 challenger L.W. Lucas pulled out of the race, leaving the Seat 4 incumbent, Mayor Dave Browning, unchallenged.
Minto Battle Plan Undertaken
Loxahatchee Groves council members took steps Nov. 19 to oppose the development of Minto West, formerly Callery-Judge Grove.
Council members said the developers had been cherry-picking communities within a 5-mile radius to which to compare its proposed 6,500-home development, painting an unrealistic picture of what the area is like.
Minto recently purchased the 3,800-acre Callery-Judge Grove property for $51 million and is preparing to ask for up to 6,500 homes and about 1.4 million square feet of workplace and community-serving commercial uses. The land currently has a future land-use approval for up to 2,996 dwelling units and up to 235,000 square feet of non-residential uses.
Former Councilman Dennis Lipp, who was recently appointed to the Palm Beach County Planning Commission, suggested that the council seek an opinion from the Florida Attorney General's Office for a definition of "surrounding" communities, explaining that Minto West had skipped over the adjacent Loxahatchee Groves and Acreage communities to developments such as Madison Green in Royal Palm Beach for references to compatible neighborhoods.
Lox Council OKs Commercial Plans At Southern And B
The Loxahatchee Groves Town Council granted approval in November to long-anticipated zoning changes to commercial use for two properties at the northern corners of Southern Blvd. and B Road.
The parcels are the 21.73-acre site at the northwest corner known as Loxahatchee Groves Commons and the 90.33-acre site on the northeast corner known as Groves Town Center.
The zoning for both properties was changed from the town's zoning designation of agricultural residential to multiple land uses that will allow for low-intensity commercial, office, institutional and residential uses.
LGWCD Budget Includes Assessment Increase
The LGWCD gave final approval to its 2014 budget at a meeting Sept. 11. The new budget increases assessments by $15 per acre to help pay for clearing canals and improving drainage.
The increase would raise the district's assessment to between $107 and $113 per acre, depending on the property. The cost is higher for those along unpaved roads because of grading and dust watering.
The LGWCD's 2014 budget totals $1.611 million, slightly more than the current year's $1.607 million.
Big Dog Gets OK For Groves Location
The council approved the final reading of an ordinance in June amending the land-use code that will allow Big Dog Ranch Rescue to locate in the community with accessory uses that include veterinary care and dog boarding.
Big Dog had not selected a specific site, but the conditions of the ordinance will restrict their operation to locations on Southern or Okeechobee boulevards through a special exception.
Representatives of the nonprofit said they had outgrown their existing animal rescue shelter behind the Lowe's Home Improvement warehouse at the intersection of State Road 7 and Southern Blvd. The town's Planning & Zoning Commission recommended approval of the amendment with conditions that the minimum lot size be no less than 10 acres and that animal boarding and vet care services be allowed as accessory uses only on collector roads such as Okeechobee or Southern.
Big Dog representatives said its present location is not ideal for what they want, and were looking at a $3 million development of new facilities for the dogs. The current facility was designed for rescued wildlife other than dogs.
Although the land-use code allowed animal rescue operations anywhere in the agricultural residential district, representatives said Big Dog needed approval for veterinary care and dog boarding.
LGWCD Rejects Paying Land Company For Road Title
On June 10, the LGWCD board countered a request by Southern States Land & Timber for $200,000 in exchange for quit-claim title to the district's road easements by inviting its representatives to visit, so they'll see the liabilities they could face by trying to retain those claims.
The district is working to transfer title of its recently paved roads to Loxahatchee Groves, and it had asked Southern States to give up any claims it might have to the rights-of-way in order to give the town clear title.
Southern States' claimed titles date back 100 years, to a period when the company owned much of the land in central Palm Beach County. During the supervisors' discussion, however, it was unclear whether the company actually had any claim remaining at all.
LGWCD Administrator Stephen Yohe said his staff had sent a letter asking for the quit claim, and that Harry Smith, the firm's vice president, sent a letter dated May 14 offering to provide a quit-claim deed for the roads subject to the 1918 right-of-way agreement between Southern States and the LGWCD for a payment of $200,000. Yohe sent a letter June 3 declining the offer and inviting Smith to visit the subject roads and canals so he would recognize the benefits to his company if it would quit claiming any interest to those tracts.
Delegation Approves Two Easement Bills
The Palm Beach County Legislative Delegation approved two local bills Dec. 17 that would transfer control of road and canal easements from the LGWCD to the town. Lobbyist David Ramba, representing both governments, said the first bill is similar to a previous one that transferred newly paved portions of A, C and D roads from the district to the town.
The second bill would allow for the dedication and use of canal maintenance easements for horse trails, noting that the town's comprehensive plan, when it was created, provided for connections between different locations and that the routes have been used for years as horse trails.
The bills now head to Tallahassee for approval.