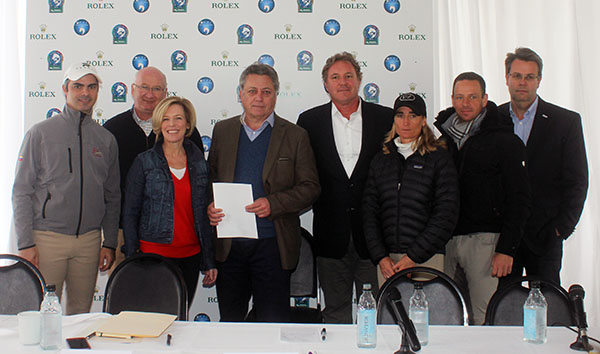 The 2014 equestrian season is in full swing with the opening of the FTI Consulting Winter Equestrian Festival and the Adequan Global Dressage Festival. Both kicked off this week with high-level jumping and dressage competition.
Show promoters Equestrian Sport Productions held an opening press conference Tuesday at the Palm Beach International Equestrian Center to usher in the new season, which runs through March 30.
"This is going to be an exciting year for us," CEO Mark Bellissimo said. "We've gone through some major transitions over the last few years, and I think this venue and this event has become one of the top in the world."
Bellissimo was joined on the panel by top equestrians, including Canadian Olympic gold medalist Eric Lamaze, Brazilian Olympic gold medalist Rodrigo Pessoa, FEI World Cup Finals winner Meredith Michaels-Beerbaum, world champion hunter rider Havens Schatt and Olympic dressage rider David Marcus.
Bellissimo noted that both festivals have grown thanks to the Wellington Equestrian Partners, a group of equestrian families who invested in the shows.
"I think we have the infrastructure now that can support a truly world-class show," he said. "All in all, we are very excited about where we are and the future. I think that is a real testament to the energy and the passion for the sport, as well as the strong team we have assembled here. I think we will see equal growth in dressage."
Bellissimo said he expects the two festivals to continue to grow. "We think both of these circuits will establish themselves in the next couple of years," he said. "The third phase of our development is to turn these venues into a world-class setting for both sports and entertainment."
Returning as title sponsors this year are FTI Consulting and Adequan, but the Winter Equestrian Festival also boasts a new sponsor in Rolex.
"We have a new relationship with Rolex that I think is going to take us to a different level," Bellissimo said. "Thank you to Rolex for their unbelievable faith in us. I think this will be a turning point in Wellington across all of the disciplines that we have here. We will continue to work hard and invest in those things that will make us better."
Pessoa said having Rolex as a sponsor will improve the level of competition at WEF.
"It's a wonderful thing, the arrival of Rolex in Wellington," he said. "They are a brand that needs no presentation. They have been very big in equestrian sports and other sports. They will definitely attract new sponsors to this show."
Lamaze said Wellington has grown from a place where you bring your horse to train to a competitive environment that attracts the top riders and horses in the world. "I've been coming to Wellington for more than 20 years," he said. "Now we actually train all summer and make a plan to compete our best horses here."
Michaels-Beerbaum said her top horses Shutterfly and Checkmate got their feet wet at WEF before returning to compete in high-level competition. "This has been a wonderful place to bring up horses, but it's not just that now," she said. "It's an amazing event with tremendous prize money. We can bring along our young horses and also compete against the best in the world, get world-ranking points and prize money. It's absolutely ideal for all of us."
WEF has also boosted hunter competition, offering more prize money for top hunter riders than ever before. This year, hunters will be able to compete for $100,000 in the USHJA/WCHR Peter Wetherill Palm Beach Hunter Spectacular on Saturday, Feb. 15 as part of the Saturday Night Lights events.
"The [number] of classes offered for hunters, and for every level of horse and rider, is just amazing," Schatt said.
The 12 weeks of the Global Dressage Festival are bigger than ever, offering seven CDIs along with the Nations Cup, Bellissimo said.
Marcus said the Global Dressage Festival has been the answer to a void in world-class dressage facilities in the United States.
"We didn't really have a world-class venue that compares with what has been done with the jumpers," he said. "To have that now is a real asset in our preparation. Combined with the CDI schedule we have this year, it has been really exciting to have this venue, where we know we have the best footing in the world, the best stabling and real, world-class venues that make us able to do the best job we can."
Bellissimo also announced a new partnership with the world-famous Jumping Chantilly in France. Chantilly hosts some of the top shows in Europe, and with the new partnership, competitors of both WEF and Chantilly will have the opportunity to compete across the world.
Bellissimo explained that the winner of the Jumping Chantilly Grand Prix class in France will be invited to compete at WEF in 2015. Meanwhile, the winner of the Artisan Farm Young Rider Grand Prix Series at WEF will be given a free wild-card entry to the Chantilly Jumping CSI 2* class in France.
President of Jumping Chantilly Gérard Manzinali was on hand to discuss the partnership.
"Wellington and Chantilly are considered the equestrian capitals of their respective countries," he said. "It was natural for Mr. Bellissimo and I to create a partnership with our shows."
The Winter Equestrian Festival continues this year with its Saturday Night Lights competition, featuring family fun and top equestrian events under the lights in the International Arena. The series kicks off Saturday, Jan. 11 with the popular Battle of the Sexes at 7 p.m.
For more information, visit www.equestriansport.com.
ABOVE: On hand to discuss the 2014 FTI Consulting Winter Equestrian Festival and the Adequan Global Dressage Festival were (L-R) Rodrigo Pessoa, Michael Stone, Meredith Michaels-Beerbaum, Gérard Manzinali, Mark Bellissimo, Havens Schatt, David Marcus and Thomas Baur.