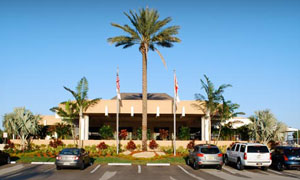 The Wellington Village Council voted Tuesday to negotiate with the village's top-choice contractor to rebuild the Wellington Community Center and build a new Wellington Tennis Center.
In a 3-1 vote, council members directed staff to negotiate with Pirtle Construction. Vice Mayor Howard Coates dissented, while Councilwoman Anne Gerwig did not vote.
Coates said the proposed $13.8 million price tag for the project was too high. "The original budget was $10.5 million for this project," he said. "The lowest bid is $3.3 million more than our budget — that's about 33 percent more."
But Councilman Matt Willhite noted that the vote was to enter into negotiations with the company, meaning the price could come down.
"The vote tonight is for us to direct staff to negotiate the price and see if we can come closer to [the budget]," he said.
Last year, council members voted to move the Wellington Tennis Center from its longtime home at the current Wellington Community Center to a vacant, village-owned parcel on Lyons Road near the Village Walk community.
Willhite said building a new community center would save Wellington in the long run.
"I think [the building] is at the end of its life," he said. "The savings is in bringing it up to today's standards and today's codes. The facility doesn't meet ADA requirements. There is a cost savings associated with rebuilding it. We could put this off for another day, but I think we need to invest now. We've put it off for too long."
Mayor Bob Margolis asked if negotiating is common for projects like this. Village Manager Paul Schofield said it is. "It's more common than not that we would negotiate," he said.
Margolis noted that many people — including himself — were critical when Wellington built Village Hall. "I didn't know if we should spend the money," Margolis said. "I eat my words. I was wrong on that decision. I think if we can work out negotiations, we should do that. I think the naysayers will come back and say that this council made a good decision."
Coates asked how the difference in cost would be funded if negotiations did not lower the contract price. Schofield said there is money in the capital budget, but said he believed Wellington could negotiate successfully.
"The contractor is here today, and I am sure he realizes that the council is not happy with the $13.8 million price," Schofield said. "I think we will be able to get a better price than that. There are some things in the capital budget that can be moved. There's not $3.3 million sitting there to throw at this. We would have to re-prioritize."
Schofield said that Wellington first got estimates for the cost of construction several years ago. "We were at the tail end of the recession," he said. "The prices have risen since then."
Coates said he was worried that Wellington would commit to a contract that would run over budget. "Do we need to revisit whether this project makes economic and financial sense for the village?" he asked. "This is much higher than originally contemplated."
During public comment, several residents were opposed to the project — mostly because it involves relocating the tennis center.
Resident Judy Rosner said the change was inconvenient.
"You approved a change for the tennis center that inconveniences just about every user of the facility and impinges on quiet residential communities," she said. "How can you justify a new $15 million expenditure for such extravagant purchases?"
Mike Nelson said the tennis center has been at the heart of Wellington, making it accessible for the entire community.
"One of the reasons you're moving the tennis property is because you need parking," he said, noting that Wellington's purchase of the Lake Wellington Professional Centre provides plenty of parking. "That parking lot is clear by 5 p.m. You're going to spend $13 million to move a tennis center that you don't need to move."
Willhite said that although the tennis center is widely used, its location on Lake Wellington doesn't make sense. "The tennis players don't care about the view," he said. "It's in a great location, but it has no bearing on how they play tennis."
Further, he said that Wellington needs the space occupied by the tennis center to expand the community center.
"By relocating the tennis center, we open up the space for the community center to allow for more activities," he said. "If we don't move the tennis center, we're stuck with the footprint we have now."
Willhite said that tennis players come from all parts of the village, including in the Village Walk and Olympia communities.
"I don't think we're going to lose players," he said. "What I have heard from players is that they are here not only for the great facility, but for the person running it. They tell me again and again, they are here for Tommy Cheatham and if he goes, they go. When we were renegotiating his contract, this room was full of supporters saying they would follow Mr. Cheatham wherever he goes."
Willhite made a motion to direct staff to negotiate with the company, which passed 3-1 with Coates opposed.
Gerwig recused herself due to a possible conflict of interest, since the company she works for has done business in the past with one of the firms involved in the project.
Schofield said his staff would bring the council a contract that will show the source of any extra funding.
"At the point we bring a contract back to you, that recommendation will show how it is to be funded and what impact it will have on the budget," he said. "We can't recommend to you a project for construction if we don't have the money on hand to do it."
ABOVE: The current Wellington Community Center.