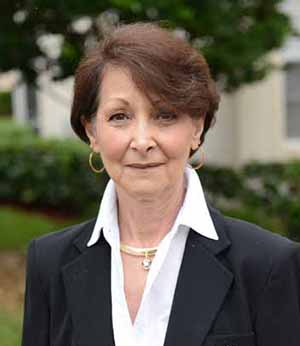 A challenger has emerged to compete for Seat 2 on the Wellington Village Council. Sharon Lascola announced last week that she would run for the seat, currently held by Councilwoman Anne Gerwig. Gerwig is seeking a second term on the council.
Candidates have until mid-February to qualify for the Tuesday, March 11 ballot. Seat 3, held by Vice Mayor Howard Coates, is also up for grabs. Coates faces a challenge from Matt Kurit.
Lascola, 66, is a 26-year resident of Wellington. She told the Town-Crier this week that she chose to run for office to be a voice of compromise and an advocate for senior citizens.
"I was watching the politics going on, and there were things I just didn't agree with," Lascola said. "I want to be a voice for seniors and stick up for seniors and families."
A New York native, Lascola bought a home in Wellington in 1980 with her late husband, August. She ran a hair salon for 13 years in Amherst, N.Y., and also worked in marketing. When her husband was diagnosed with cancer, Lascola sold the business so they could move to Florida.
"My husband's cousins lived here, and we just loved it," she said. "We joined the Wellington Club when it was first initiated. This was our Utopia."
Lascola's husband died in 1993, and in 2005, she moved to Central Florida, where she did promotional work. In 2012, she retired and returned to Wellington to care for her mother. Lascola now lives in the Mayfair community.
Since then, she has been involved with the Wellington Seniors Club and the Florida Alliance for Retired Americans.
Lascola said she saw bickering among council members, which prompted her to file to run against Gerwig. "They don't get along," she said of council members. "She [Gerwig] can't work with them. I'm a pragmatic person. I know how to compromise. I can communicate, yet be a strong voice."
If elected, Lascola said she would push for more senior services, noting that the redevelopment of the Wellington Community Center, which could provide needed space for seniors, has lagged.
"There has been no development," she said. "This is something that has been discussed for more than seven years. Seniors thought they would have a community center by now. I want to see this community center built for seniors. That is my vision."
Lascola believes the issue has been swept aside to focus on other matters in Wellington. "The senior advisory board feels it has been put on the back burner because of the lawsuits in the village," she said.
Lascola envisions a center with more programming for seniors, as well as a place for caretakers to bring seniors for activities and other care.
"My mom has early dementia, and there is no place I can take her to be watched for the day," she said. "They have services like this in North Palm Beach and Greenacres. As people get older, they need more care. But sometimes the caregivers need time to themselves."
Regarding development in the village, Lascola said she is a proponent of "responsible development," but not bending to the pressure of special interests.
"When I came to Wellington, it had a truly small-town atmosphere," she said. "I'm not against development if it's done properly, but things have to be done properly."
Similarly, Lascola said she would push for responsible spending by the council. "I support being conservative fiscally," she said. "When you have a business, you have to work with what you've got. You can't spend outside your means."
She said voters should choose her because she will fight for what is best for them. "I have integrity," Lascola said. "People who know me know I will fight for what I think is right. I won't back down. I will fight for what I believe is good for Wellington."
Follow Lascola's campaign on Facebook by visiting www.facebook.com/SharonLascolaforWellingtonVillageCouncil.
Gerwig, 49, moved to Wellington 23 years ago with her husband, Alan, and raised their three children in the village. She is director of client communications for Alan Gerwig & Associates, her husband's engineering firm.
Gerwig was active for many years in the school system, serving as an executive board member on the Binks Forest Elementary School Parent Teacher Association and as a business partner with its School Advisory Council.
Gerwig was elected to the Wellington Village Council in 2010 and serves on several boards, including the Treasure Coast Regional Planning Council, the Metropolitan Planning Organization and the Palm Beach County League of Cities Education Committee.
She said she is seeking re-election to continue to be a voice for residents. "I've found serving residents fulfilling," she said. "I think I have consistently been a voice for residents on the council."
Gerwig noted that she pushed for more senior involvement, voting for the formation of the Senior Advisory Committee. "I strive to have more community involvement in the village," she said. "I wanted more input from residents, and I felt it was particularly important to have our seniors' voices heard."
The Senior Transportation Program is something Gerwig said she advocated strongly for. "It was a no-brainer to provide our seniors with transportation to give them the freedom to get around," she said.
She said she has also fought to save residents money — be it in taxes or in penalties for code violations. "I've consistently advocated for lower taxes," Gerwig said. "I have voted to lower the millage rate each year. I also did not support raising code enforcement fines for residents. I felt we have a good system for code enforcement."
Gerwig said she was instrumental in rewriting code enforcement courtesy notices in language that is easier to understand for residents, hoping to make it easier for them to make necessary changes to avoid fines. "We do want compliance," she said. "We're not here to be wielding power without regard."
Gerwig said she pushed for more funding for programs at the Wellington Amphitheater and helped create the popular Spring Musical Preview, showcasing local talent. "I thought it was the perfect thing to highlight our school's musicals and show our local talent," she said.
Although Gerwig said she has been a supporter of the equestrian industry in Wellington, she has still pushed for compliance at local venues.
"I think the equestrian community enhances what we have," she said. "There is no way we would have a tax rate of 2.47 mills with the level of services we have if we didn't have those $8 million properties."
Regarding the controversy surrounding the Equestrian Village property, Gerwig said she was supportive of the project but did vote for limitations.
"I stood up for what I believed in," she said. "I try to look at what the industry brings us and whether it will be good for the community. If I don't think it is, I say so."
Gerwig added that she has treated all applicants with the same level of scrutiny. "If you look at the votes, I think you can see that," she said. "I treat everyone and every project the same."
If re-elected, Gerwig said she would push to maintain Wellington's quality of life. "I'm interested in making sure we maintain our status as the equestrian capital of the world as well as our quality of life," she said. "I've always found Wellington to be a place where everyone can be a part of the community. I think we can work together to continue to do that."
Gerwig wants residents to choose her so she can continue her work as a voice for residents. "I want to thank everyone for their support," she said. "I've gotten amazing feedback from residents, and I want to continue to work to make things better for them."
For more information, visit www.annegerwigcampaign.com.
ABOVE: Sharon Lascola