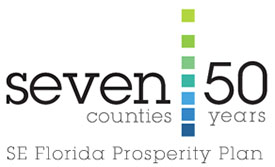 Southeast Florida's Seven50 Plan — which aims to plan for the next 50 years across a seven-county area — faces a hard road to approval, with opposition mounting from those who think the plan will bring just more, bigger government.
Three of the seven counties originally participating in the plan, Indian River, St. Lucie and Martin, recently pulled out of the project, leaving only Palm Beach, Broward, Miami-Dade and Monroe counties.
Vice Mayor Jeff Hmara, the Royal Palm Beach Village Council's appointee to the Treasure Coast Regional Planning Council, attended a December meeting, where the Seven50 Plan was discussed. The plan is described as a "blueprint for ensuring economic prosperity and the best possible quality of life for Southeast Florida." It describes what the counties anticipate looking like in 50 years, utilizing many concepts from the former Department of Community Affairs, now the Department of Economic Opportunity.
"It is nearly complete," Hmara said at a December council meeting, explaining that it was a three-year regional study financed by the federal Department of Housing & Urban Development. The final version will come before the planning council on Wednesday, Jan. 15.
One of the presentations was given by HUD Senior Advisor for Fair Housing Janet Hostetler. "She gave a brief overview of the study from a HUD perspective, which was an interesting insight, since it is a national-level series of studies that are being conducted," Hmara said.
Hmara noted that Hostetler also pointed out that there is a lot of what she classified as "misinformation" about the study.
"She explained that the real intent of the study was to get the South Florida planning councils, counties, municipalities and the public involved in a brainstorming activity to identify options for future growth, looking 50 years down the road," Hmara said. "That's a bit of a stretch, to say the least, but the activity of identifying good sources for such information seems to be worthwhile."
Hmara noted that the draft document is available online at www.seven50.org.
"We may want to visit it when we revisit our strategic plan for an update," he said.
Councilman Fred Pinto said he was not sold on the merits of the Seven50 Plan.
"I have attended several presentations, and the tone and focus of those presentations about this all tell me that there is a notion in place that says down the road, we should give up home rule, that we should give up planning our own communities and turn that over to a small group of people who will do it on a regional level," Pinto said. "I am not at all happy so far about what I have heard about this Seven50 movement."
Pinto added that there are a host of political issues in play at both the state and federal levels that the council and residents need to become aware of. "We need to do our homework," he said. "From a staff standpoint, the Seven50 Plan ensures that they will have a place to work for the next 50 years, but doesn't ensure at all to me that the citizens will still have a say over what happens in their communities."
Pinto said he had expressed his concerns recently to Treasure Coast Regional Planning Council Executive Director Mike Busha, an advocate of the plan.
Hmara said Pinto's concerns were addressed several times during the meeting. "It's a valid concern, and it's interesting because he used the same phrase, which is 'home rule,' and that's a near and dear possession of ours, and we choose to hang on to it. We fight to hang on to it," he said.
Hmara agreed that there is a notion that the concept is a highly orchestrated effort to take away decision-making at lower levels of government. However, he added that his research suggests otherwise.
"What I did was talk to a number of different individuals about their understanding of the Seven50 Plan," Hmara told the Town-Crier this week. "I got input from people who I trust and have reason to be looking at this, people at the League of Cities, people in the offices of our state representatives, and the response that I got unanimously was this looks like a credible, large-scale, long-range plan."