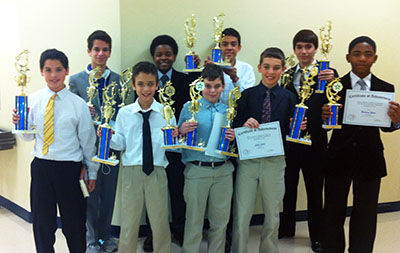 Polo Park Middle School students did well at the Palm Beach County District Future Business Leaders of America (FBLA) Competition for middle schools and high schools.
The awards ceremony was held Wednesday, Jan. 22 at Palm Beach Gardens High School. This is the fifth year that Polo Park has competed in the annual event. The mission of the FBLA is to bring business and education together in a positive working relationship.
First place award winners were: Theodore Lester, keyboarding applications; Colby Gullo, spreadsheet applications; Katie Schrank, business math; and Nicholas Benjung, introduction to computers.
Second place winners were: Kevin Labra, keyboarding applications; Adam Fabrikant, spreadsheet applications; Logan Fenimore, FBLA principles and procedures; and Ross Blumstein and Ryan Shnider, web page design.
Third place winners were: Chelsea Fenimore and Emily Spear, computer slide show; Renard Gowie, public speaking; Steve Ruiz, introduction to computers; and Kevin Shulman, introduction to business communications.
Fourth place winners were: Rashard Gowie, career exploration; Garret Gold and Dylan Soto, computer slide show; and Xavier Cruz and Jake Levy, web page design.
Ben Shaevitz won fifth place in public speaking, while Oliver Tutak won seventh place in desktop publishing and Alexis Blumberg and Gabriela Cabrera won ninth place in desktop publishing.
ABOVE: Polo Park Middle School FBLA students with their awards.