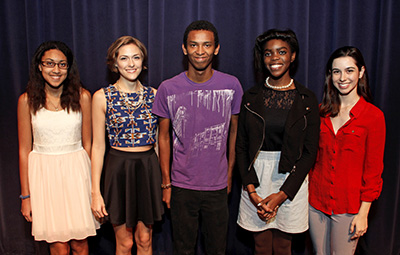 Miles Coon, director of the Palm Beach Poetry Festival, and Blaise Allen, the festival's director of community outreach, recently honored the winners of the annual Palm Beach County High School Poetry Contest.
The first place prize (two passes to the festival and $100) went to Abigail Miller, a senior at the Dreyfoos School of the Arts in West Palm Beach, for her poem, Crescent Moons.
The next four winners, who each received two festival passes and $25, were:
• Kenneth Haliburton, a junior at the Riviera Beach Maritime Academy, for his poem, Handbrake Turn.
• Juliana Diatezua, a senior at Wellington High School, for her poem, Ways to Disappear.
• Tessa Bravata, a Dreyfoos senior, for her poem, Rebel Gum.
• Tiffany Abreu, a Dreyfoos sophomore, for her poem, Wisps.
Open to Palm Beach County public and private high school students, a pre-selection committee of Lorraine Stanchich-Brown and Adele Alexandre reviewed 366 entries, narrowing the list to 25 finalists.
The winners were then chosen by Dr. Jeff Morgan of Lynn University.
In addition to the festival passes and cash prizes, the poems by the winning students were posted on the festival's web site at www.palmbeachpoetryfestival.org.
ABOVE: Winners Tiffany Abreu, Abigail Miller, Kenneth Haliburton, Juliana Diatezua and Tessa Bravata.