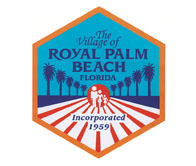 The Royal Palm Beach Recreation Advisory Board unanimously approved the installation of a Blue Star memorial marker at Veterans Park on Monday.
Rosita Arastoff, chair of the District 10 Blue Star Memorial Marker Program of the Florida Federation of Garden Clubs, made a presentation to the board earlier this year, asking to install and dedicate a Blue Star Memorial By-Way marker at Veterans Park.
Arastoff was back before the board this week. "I am here on behalf of the 18 garden clubs in District 10," she said.
She explained that the Blue Star markers were originally designed in 1917 and displayed on homes during World War I and World War II, indicating that the household had a family member serving in the armed forces. "To this day, the Department of Defense oversees the use of this banner," Arastoff said.
The Blue Star Marker Program began in 1944 when the New Jersey Council of Garden Clubs planted 8,000 dogwood trees along a stretch of U.S. 22 as a living memorial to veterans of World War II. Since then, about 3,000 memorial markers have been installed across the country, designating about 70,000 miles of Blue Star highways as tributes to veterans.
"Some of you may have noticed Blue Star markers along highways," Arastoff said, pointing out that in 1947, the Florida Legislature designated U.S. 1 as the state's first Blue Star Memorial Highway, and in 1949, Florida's first Blue Star marker was dedicated in Key West at the terminus of U.S. 1.
Today, Florida has 12 Blue Star memorial highways, including U.S. 441 and U.S. 98.
"The Florida Federation of Garden Clubs worked closely with the legislature to develop the Blue Star program here in our state," Arastoff said, explaining that District 10 of the Florida Federation of Garden Clubs encompasses Indian River, St. Lucie, Okeechobee, Glades, Martin, Hendry and Palm Beach counties.
In 1981, a smaller marker was approved to be placed in areas such as parks, civic and historical grounds, and veterans' cemeteries. In 2012, a Blue Star marker was installed at Veterans Park in Stuart.
"This is the type of marker we have in mind for your park," she said, explaining that 15 Blue Star markers have been dedicated within District 10. "The national garden clubs and our 1,200-plus members of the garden clubs of District 10 would be honored to have one of our Blue Star markers join the other tributes in Veterans Park in Royal Palm Beach."
Board Chair John Ruffa said he had seen the markers and wondered what their significance was.
"I guess my question would be, why has it taken so long, with all the veterans and beautiful parks that we have?" Ruffa said.
Arastoff said that club members are sometimes hard-pressed to get to all the areas they would like. She said her job over the past year has been to find all the markers they have in District 10.
"That's how I found this location, and I thought this would be a perfect place for a marker," she said. "We do encourage garden clubs to find more places."
Arastoff said a specific location in Veterans Park had not been selected but that it would probably be a prominent location.
"Our hope is to get it approved and possibly dedicate it on Veterans Day at Veterans Park," Recreation Superintendent Mike Mikolaichik said.
Board Member John Riordan made a motion to recommend approval of the marker, which carried 5-0.
In other business, Royal Palm Beach Wildcats Youth Football League President Michael Wallace said his league is having problems with people tearing up the playing fields they use at Seminole Palms Park.
He said the village is now responsible for maintaining the fields, which have been leased from Palm Beach County.
"We have a bit of an issue with how many people are getting on the fields," Wallace said. "We are trying to address that. We keep people off the fields as much as possible."
The league has one primary field, number 11, that they play their games on. "That field, for some reason, gets the most use," he said. "People just jump on the field to do whatever. When it's raining, we stay off the field. If it gets too squishy, we stay off it."
Other people do not show the same consideration, he said, and the fields get holes that are dangerous for players. The village tries to repair them, but problems keep recurring.
Wallace said there is no protection for the fields, which have fencing around the perimeter but have openings so anyone who wants to can use them. "There needs to be some protection around those fields," he said. "People go on there and destroy them."
He said there is also a safety issue where people can wander onto the fields during football games, placing themselves and players at risk. "There's no barrier between the players and the people on the sidelines."
Wallace asked whether there was some way that RPB could put in fencing or find some means of controlling access to the fields.
Mikolaichik said that any changes would have to go through the county, since the village leases the fields. Wallace said he would research the costs and feasibility of fencing and report back to the committee.