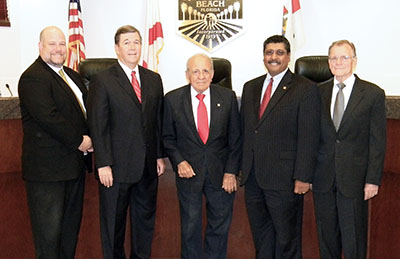 By Briana D'Andrea
Royal Palm Beach's old wastewater treatment plant property is one step closer to seeing new life as a single-family home community.
In a 4-1 decision, the Royal Palm Beach Village Council approved a conceptual rezoning plan last week for the 151-acre property. Mayor Matty Mattioli cast the dissenting vote.
Village Manager Ray Liggins presented an extensive description of the different options, in terms of numbers of homes and square footage, for the proposed single-family residential community.
The site is at the north end of Crestwood Blvd., next to H.L. Johnson Elementary School. It neighbors the Saratoga Pines and Madison Green communities.
At the council's previous meeting, Liggins and representatives of Urban Kilday Design Studios suggested that council members approve a plan with three different sizes of homes.
The initial plan was for 10 percent of the property to be made up of 75-foot by 120-foot lots for estate homes, 15 percent for 65-foot frontage single-family homes and 75 percent for 55-foot frontage patio homes, for a total of 400 lots.
However, council members found that proposal to be a little too dense, directing staff to lower the number of 55-foot lots, which in turn would increase the average lot size.
"After listening to the comments at the last meeting and subsequent conversation with the council, I realize that I did not do a good job representing the market plan as it relates to the compatibility to the area and Royal Palm Beach," Liggins said.
Liggins noted that there will be a public park at the property for the use of neighboring residents. Additionally, the single-family residential community is designed to be developed in relation to the area, meaning that the sizes and prices of the homes would be compatible with those in surrounding communities.
Liggins said larger lots are not ideal for the market, and that they would be too expensive in view of average residents' incomes.
"We do not know what the final number of lots will be. That will be based on detailed survey, planning, engineering and permitting, with each potential purchaser applying their product and expertise, resulting in a plethora of configurations, each with a different number of homes," Liggins said. "We want to encourage that creativity from the experts in the business, not restructure it with concrete parameters like the number of lots."
Village staff recommended that the council decide between two options, one with 30 percent for 65-foot lots and 60 percent 55-foot lots, and the other having 45 percent each for 65-foot lots and 55-foot lots. In each case, the remaining 10 percent of lots would have 75-foot frontages.
Liggins added that it was important for the council to give potential purchasers a fair assessment of what their vision is for the property.
Huntington Woods resident Laurel Bennett, who ran unsuccessfully for mayor earlier this year, brought up her concerns about traffic.
"We already have issues with the traffic. To me, 400 homes means 800 additional cars, because at 400 homes, that's two per house," she said.
Councilman Fred Pinto was pleased that the property would be consistent with the area.
"The density is less than what is surrounding them now; that was my goal," he said. "We've had concerns about traffic in the 12 years I've been here, and we will have concerns with traffic 12 years from now. We are far, far ahead of the game."
Vice Mayor David Swift was happy with the two revised options suggested by Liggins.
"I'm supportive of what the village manager has shown you," he said. "The density that I'm looking for is the 10/30/60 or the 10/45/45. That is less than the surrounding communities, and you need to understand that. We worked hard to come up with something compatible with surrounding communities. We've listened to you and tried to come up with something that will provide a fair return for all the taxpayers of the village."
Mattioli, however, objected to the entire concept.
"We are going to pay a half a million dollars to sell this land," he said. "I suggested that we have an R-2 or an R-3 zoning; we choose one of them, [and then] the developers know exactly how many homes they're going to put in there. It's far less than what we are talking about today. Why we're going through all this is beyond me."
Councilman Richard Valuntas made a suggestion to meet somewhere in the middle of the two proposed ideas, suggesting a 10/40/50 ratio. "It gives a little more flexibility to help market the property more," he said.
The council approved the recommendation with that change.
Liggins noted that there will be multiple opportunities at future meetings to review the project as a whole with a more specific level of detail.