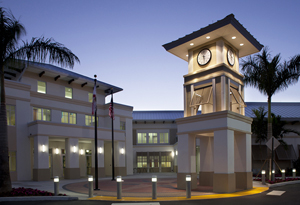 The Village of Wellington and Wellington Presbyterian Church are working diligently to gather food and supplies to help families in Wellington who need assistance in filling their Thanksgiving tables.
Partnering this year to provide families with a satisfying meal through the Hometown Holiday Food Drive are InterFaith, the Palm Beach County Sheriff's Office, Whole Foods Market, Ultima Fitness and Walgreens.
Families in need will receive a gift card to Publix for a turkey or ham, a pie from Whole Foods and sides such as mashed potatoes, stuffing, cornbread, cranberry sauce, gravy and vegetables.
"Right now, we need help. We're short on food," said Meridith Tuckwood, community services specialist with the Village of Wellington. "We need the community to rally."
Looking at the list, Tuckwood said that mashed potatoes, stuffing and vegetables are most needed, along with cornbread and cranberry sauce.
More than 115 families need food, she said, and every donation helps.
Nonperishable food gifts can be dropped off at various locations throughout Wellington, including the Wellington Community Center, the Wellington Municipal Complex, Village Park on Pierson Road, Ultima Fitness, the Lake Wellington Professional Centre, Walgreens in the Wellington Marketplace and the Palm Beach County Sheriff's Office District 8 substation.
"These little things that people do are huge victories," Tuckwood said. "Even if you're only giving one thing — if everyone gave one thing, we'd be done."
Additionally, store gift cards can be given, which will be used to purchase staples such as the potatoes, stuffing and vegetables to be distributed.
"There's no better gift than giving. You can change someone's life without even realizing," Tuckwood said.
Just a few small items can make a world of difference to a family in need. Donations are tax-deductible through Wellington Presbyterian Church.
Food donations are requested by Monday, Nov. 17, though a last-minute check for donations will occur on Wednesday, Nov. 19.
Residents in need of assistance may call (561) 791-4796, (561) 307-2900 or (561) 793-1007 before Nov. 19 to register to receive a holiday meal.
For more information, or to become a sponsor, call Tuckwood at (561) 753-2476 or visit www.wellingtonfl.gov.