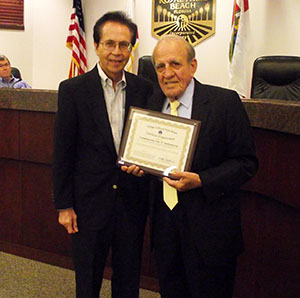 Former County Commissioner Jess Santamaria received a certificate of appreciation from the Royal Palm Beach Village Council last week for his eight years of service on the Palm Beach County Commission.
Among the many things Santamaria was able to accomplish for the village, Mayor Matty Mattioli pointed out, was just recently securing $68,895 for the completion of two additional pavilions for the new dog park at Royal Palm Beach Commons Park.
"The dog park was built recently with only enough funds for the construction of one pavilion," Mattioli said at the Dec. 4 meeting. "The $68,895 identified by Mr. Santamaria allowed us to award, contract and construct all three pavilions, one for each section of the dog park. I was there today, and they were already excavating for drainage. Jess, without your help, I think the dog park would have been a year away."
Santamaria, who lives in Royal Palm Beach, said the status of the dog park and the possible need for additional funding came to his attention through Village Manager Ray Liggins.
"I thought in my last time at the county commission, let's see what I could dig up," he said. "So I did a little searching around and found a little funding that could add up to this dog park. Both my children and grandchildren are dog lovers, so they are looking forward to getting this dog park started so they can make good use of it."
Santamaria said it had been a privilege to serve as a county commissioner.
"Although my eight-year term is over, I like the title public servant, so you can be sure I'll be joining you to continue serving the public, especially the public in the western communities," he said.
Santamaria also commented on Councilman Jeff Hmara's report on the Treasure Coast Regional Planning Council, where he is an alternate, and the county commission's recent decision after considerable public comment to remain with the TCRPC rather than switch to the South Florida Regional Planning Council to join with Miami-Dade and Broward counties.
Santamaria said the idea was an attempt by some commissioners to become less like Martin and St. Lucie counties and more like Broward and Dade counties.
"That should be quite disturbing for many of us," Santamaria said. "I have heard some of you, and myself included, repeatedly say we don't want the Browardization of Palm Beach County. I hope everybody takes this very seriously."
He noted that 37 of the 38 county municipalities had approved resolutions or were in the process of approving resolutions opposing the switch.
"That pressure was quite successful in temporarily getting the commission not to vote to join Broward and Dade," he said. "This was probably a temporary postponement of the final decision. There is still some effort to do something. What that something is should be watched with respect to Broward and Dade."
Santamaria said he feels it all boils down to more development.
"My own guess is that there are some powers that want additional development, commercialization and emulation of Broward, and that should really be watched very closely by this village, as well as the other 37 municipalities," he said.
ABOVE: Jess Santamaria accepts a certificate of appreciation from RPB Mayor Matty Mattioli.